The new Nokia all-you-can-eat music service launched this week in UK and the first impressions already started pouring in.
The first Comes With Music devices include the Nokia 5310, purportedly the best selling music phone in the world, and the Nokia N95 8GB. Nokia 5800 XpressMusic will follow too, once released. We somehow wonder why they left the latest XpressMusic phones out of business (Nokia 5220 and 5320), but we guess they are trying to squeeze as much sales as possible from this now elderly couple.
The carrier-free Nokia 5310 Comes With Music edition sets you back 130 GBP (around 170 euro or 225 US dollars). For that you get 1-year unlimited music downloads. So far Nokia haven't cut a deal with a carrier on the Isles to offer unlimited over-the-air music downloads so you're bound to using a computer and Nokia Music for PC app for doing your download weight-lifting.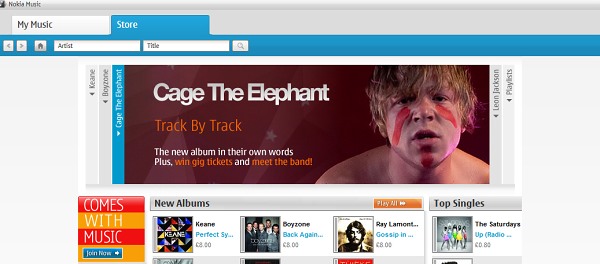 All the downloaded tracks are DRM protected so you can't really play them on other devices or burn them on a CD. That's not covered by the subscription and you'd have to buy them individually if you want (raging from between 0.80 GBP to 8 GBP) to do that.
Still, you can transfer the downloaded tracks to a new computer, but you can change computers only once every three months. If you accidentally delete your music however, you can download it again up to two years after your subscription has ended. However there's always the risk of Nokia shutting down the service leaving you with no option to playback your tracks.
There are other downers too - the tracks in the Nokia Music Store are encoded at 128Kbps - 192Kbps, which is in the lower spectrum of quality though it is still acceptable. The available titles are mostly mainstream and they take quite some time to transfer to the handset (Nokia 5310 in this case). Transferring a single album can take over 3 minutes. And finally there seem to be huge gaps in the Comes With Music catalog, which we hope they will fill soon.
You can learn more about Nokia Comes With Music over at the official Nokia website here.
k
The first "all you can eat" music download service that lets users copy tracks to any device with no strings attached has launched in the UK today. Unlike Nokia Comes With Music, the Datz Music Lounge is all in MP3 and therefore doesn't tie you up wi...
?
Actually, sim-free from the Nokia Store, it is 160 GBP, 130 being the network subsidised version
ADVERTISEMENTS