The Lumia and Asha range of handsets may have been the focus of the Nokia World event but that's not all that Nokia had to show.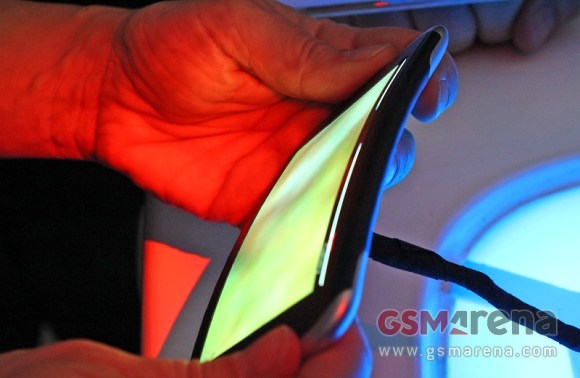 One of the more interesting things on display was a Nokia phone with a flexible OLED display called the 'Nokia kinetic device'. The device comes with a large flexible OLED display that you can bend from the middle or from around the edges.
But being able to bend is not its only feature. It actually uses that ability to control the UI on the device. You can, for example, zoom in and out by bending it from the middle. You can scroll through a list by bending it from around the edges.





Nokia kinetic prototype live photos
The advantage of this method is that it can be used without looking at the display and also when you're using gloves, something that capacitive touchscreens cannot do. The downside is that you have to use both hands and it's not terribly convenient, with far too much effort being required to flex the device compared to simply tapping on the screen.
Update: We got our hands on the prototype at Nokia World and we'll be posting a video of our experience with it later. Our first impressions are overwhelming. It's a must-see device that easily redefines what you thought was possible in mobile phones.
First of all, we've never seen a screen with such wide viewing angles - there's virtually NO shift in colors or contrast no matter how you look at it. The contrast itself is also nice - with nicely deep blacks. The resolution of the screen is WVGA and it looks great. On top of the screen there's some sort of plastic protection as obviously glass won't bend. Unfortunately, that means it could be prone to scratches in real-life use.
The device is just a prototype with no current plans of being put into production. But who knows, we might just see them in the future, and not necessarily from Nokia.
D
I think that Samsung present some kind of flexible display, not a flexible phone(eve prototype) so keep learning;)
B
That's what they said when Computers were invented. The best part is watching someone eat their own words. Just saying, you know.
P
I'd like to had one SmartPhone like this or a Wrist Phone like this. ;)
ADVERTISEMENTS