A good phonebook
Symbian handsets have an excellent phonebook. There is storage space for a practically unlimited number of contacts and fields with all the available memory potentially usable for the purpose. Contacts can be freely ordered by first or last name and can naturally be searched by gradual typing of any of the names.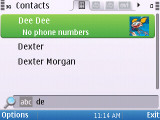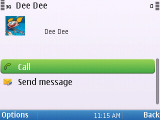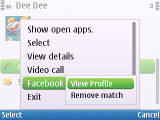 Contact list • searching • viewing contact details • linking to the Facebook profile
Editing a contact offers a great variety of preset fields and you can replicate each of them as many times as you like.
Personal ringtones and videos can also be assigned to a contact. If you prefer you may group your contacts and give each group a specific ringtone.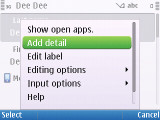 An enormous variety of fields is available when editing a contact
Synchronization is also nice and easy although you do need the Ovi Suite for things to go smoothly. Sending and receiving contacts via SMS or Bluetooth is also a piece of cake.
The Call log on the Nokia E5 is organized and efficient, typical Symbian. It holds up to 20 call records in each of the tabs for outgoing, received and missed calls. These are all accessed by pressing the Call key on the homescreen.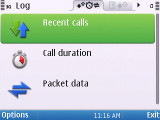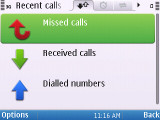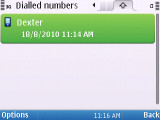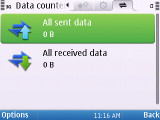 The call log is there to keep track of your communications
If you enter the Log application from the main menu, you'll see a detailed list of all your network communications for the past 30 days. These include messages, calls and data.
Telephony
Signal reception is good on the Nokia E5, though we did get an occasional dropped call in areas of very poor coverage. In-call voice quality is great with loud, crisp sound. Vibration is also strong enough to make sure you never miss an incoming call or message.
Smart dialing, a staple of the Eseries is of course available on the E5.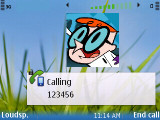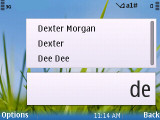 Calling Dexter on the Nokia E5
The results from our loudspeaker test are at your disposal - Nokia E5 turned out to be a good performer. Check out the table showing how it stacks up beside some of the handsets we've put to the same test.
| | | | | |
| --- | --- | --- | --- | --- |
| Speakerphone test | Voice, dB | Pink noise/ Music, dB | Ringing phone, dB | Overal score |
| Nokia E72 | 65.7 | 60.2 | 66.3 | Below Average |
| BlackBerry Bold 9000 | 70.0 | 66.6 | 68.9 | Average |
| Sony Ericsson Aspen | 71.0 | 66.6 | 75.7 | Good |
| Nokia E5 | 75.1 | 66.2 | 75.7 | Good |
| Nokia C3 | 75.8 | 66.6 | 77.5 | Very Good |
| LG GW300 | 78.6 | 75.7 | 80.7 | Excellent |
You can find more information about the test itself and the whole list of tested devices here.
Corporate messaging can do Twitter too
The Nokia E5 has great messaging capabilities. With a comfortable QWERTY keyboard and solid software support, managing your correspondence is as good as it gets on this kind of devices.
The E5 handles all common message types - SMS, MMS and email. It also supports more specialized ones like Microsoft Office Communicator (which is a replacement for the Microsoft Exchange Messaging server) and the most popular social networking platforms.
Texts and MMS share an editor. Things are pretty straightforward here so you'll get the hang of it right away.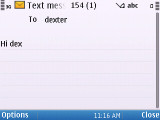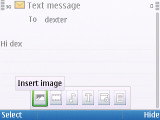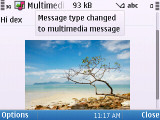 Turning an SMS into MMS is as simple as adding any multimedia content
The email client is also quite similar to what previous Symbian powered phones have offered. The app can automatically detect the settings for over 1000 email service providers, all you have to do is enter your username and password.
There is support for attachments, signatures and basically most of the things you can think of, so the Nokia E5 can meet almost any emailing needs. There's even a preinstalled document viewer on the E5 so you can view attached office files.
The Microsoft Office Communicator is available through the Contacts app in two separate tabs. Each company can set up their own Communications Server, which allows for IM style chatting with co-workers. This covers group chats, showing personal availability and also quick ways to email or call a contact.
If you've been using some IM program for work, the Communicator comes as a "serious" replacement. It's available for select other Nokias (both S60 and S40) – check the Ovi Store.
The Nokia E5 also supports Ovi Chat, which is a part of Ovi Contacts, as well as Facebook, Twitter and MySpace – we'll cover those in their own sections.
Ovi Contacts for personal chatting
The Ovi Contacts app comes preinstalled on the Nokia E5 but you can also install it on most other Nokia smartphones. It integrates tightly with the Contact list and you can easily switch between the two.
Contacts are synced with the Ovi cloud (along with calendar items and notes) and they can either be existing Ovi Contacts or G-Talk users (that's Google's own IM service, which is also integrated into Gmail).
Thanks to the Ovi Contacts and Ovi Chat integration, you will be able to chat in real time with all your Ovi/Google Talk-connected contacts, change your status messages and mood, and all that kind of social stuff.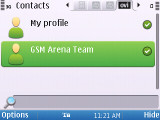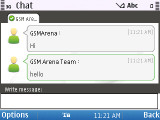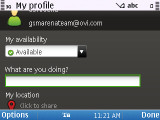 Ovi Contacts is a capable IM client
Ovi Contacts can also be used to share the name and artist info of the track you're currently playing. Using the built-in GPS receiver, it can share your location too.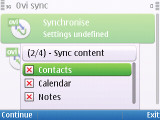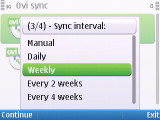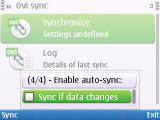 You can use Ovi Sync to synchronize your contacts and organizer items with the cloud
While you probably don't have many contacts using Ovi for chat, chances are quite a few of them have a Gmail account and they can use that to chat with you. They could use iGoogle as well or a desktop client such as G-Talk. Multi-protocol clients can usually handle G-Talk too.