Great image gallery
The image gallery used on the Nokia E5 is the Nseries Gallery that's been around for quite a while. It offers all the needed functionality and works quite fast.
Photos can be organized by Albums and you can add tags to them – so even if you have a vast photo collection, the Nokia E5 will keep things neatly in order.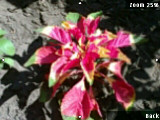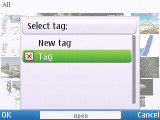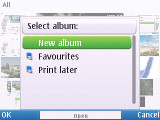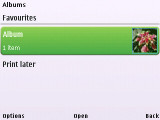 Zooming in • Tags and Albums keep things organized
Zooming and panning are fast and smooth even for 5MP photos. Not that we expected anything different from a 600MHz processor pushing images to a QVGA screen.
Using the Home Media app, you can easily share photos, videos and music from your phone over Wi-Fi with DLNA capable devices and also play files from those devices directly on the Nokia E5.
A decent music player
There's little diversity in Symbian music players – the one on the Nokia E5 is the exact same one found on Xseries devices (not that it's a reason to complain in this case). It handles the most common audio formats - MP3, AAC, eAAC+ and WMA, and the standard 3.5mm audio jack is a welcome perk.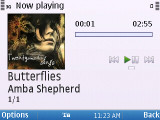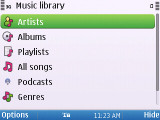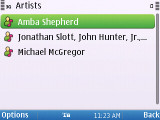 The music player "Now playing" interface
Sorting your songs by artist, album, genre and composer is automatic and searching tracks by gradual typing of the desired name is also available.
It is worth noting that the 1200mAh battery of the E5 is supposed to play music up to 38 hours on a single charge. That's two and a half days – music fans should be pleased.
The player comes with five equalizer presets and, should they seem insufficient, you can edit them or create new ones in a matter of seconds. There are also Bass Booster and Stereo Widening options.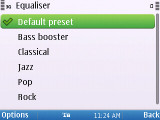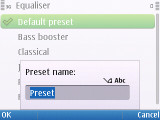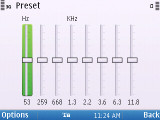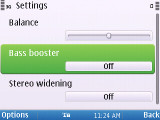 Five equalizer presets are available • creating a new one • Bass Booster and Stereo widening are here
Audio quality is great
Nokia E5 is rather quiet when headphones are attached but provides one of the cleanest outputs we have seen so far. It did greatly in every aspect of our test and given its price rage, that's a pretty good achievement.
The frequency response is perfect and none of the other readings is anything to frown at either. From noise levels through dynamic range and distortion levels to stereo crosstalk, the readings are just great, comparable to the best in class.
Here go the results so you can compare it to some of the other handsets we have tested.
| | | | | | | |
| --- | --- | --- | --- | --- | --- | --- |
| Test | Frequency response | Noise level | Dynamic range | THD | IMD + Noise | Stereo crosstalk |
| Nokia E5 | +0.07, -0.40 | -90.0 | 90.1 | 0.0063 | 0.016 | -91.5 |
| Nokia E72 | +0.05, -0.26 | -88.3 | 88.2 | 0.012 | 0.024 | -88.8 |
| Nokia C6 | +0.11, -0.80 | -90.5 | 90.2 | 0.0091 | 0.884 | -90.4 |
| Nokia C5 | +0.05, -0.25 | -87.6 | 87.4 | 0.0046 | 0.019 | -87.8 |
| Nokia C3 | +0.07, -0.63 | -89.2 | 89.3 | 0.012 | 0.021 | -70.3 |
| Sony Ericsson Aspen | +0.12, -1.11 | -79.5 | 82.5 | 0.025 | 0.082 | -79.8 |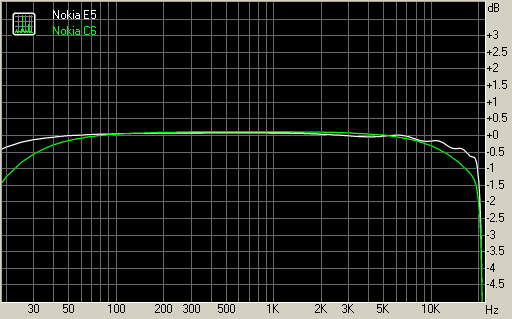 Nokia E5 vs Nokia C6 frequency response graphs
You can learn more about the whole testing process here.
Video player does the job
Nokia E5 features Real player (as Symbian phones typically do). You can browse and watch your videos in the gallery, file manager and the Video Centre – they'll be handled by the Real player either way, the only difference will be in the layout and the browsing experience.
With such a small screen though, video playback is not this phone's strongest suit. And to confirm that, you'll need to install a third-party player if you want a taste of DivX/XviD video.
FM radio with RDS and Internet radio
The FM radio on Nokia E5 has a nice simple interface and can automatically scan and save the available stations in your area. RDS is supported of course.
And if you get bored with local radio stations, you can switch on the Internet radio and listen to a long list of stations broadcasting on the World Wide Web. Station directories are available per country and per genre so finding something you like wouldn't be a problem.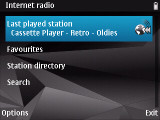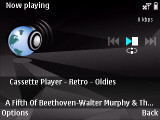 The Internet radio can tune in to stations from all over the world
Keep in mind that Internet radio uses your phone's data connection, so make sure it fits your data plan. The connection bitrate can help reduce traffic if you're not on an unlimited plan.
The Shazam app is available and ready to perform TrackID duties if you need it.