Phonebook is unchanged, no need to
The phonebook of the Nokia E52 hasn't evolved too much from the E75. It still does a tremendous job though, offering storage space for a virtually unlimited number of contacts and fields and all the available memory potentially usable for that purpose. We can't imagine anyone managing to fill that up. You are also treated to as many fields for each contact as you like and some other nice extras, so there's very little reason to complain.
Contacts can be freely ordered by first or last name, and can naturally be searched by gradual typing of any name. You can pick whether you want the SIM contacts, the service numbers or the phone memory contacts to be displayed or alternatively show them all at the same time.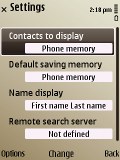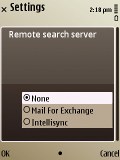 Some of the available settings
Predictive search, contact database back-up as well as grouping are also available. The final nice extra is the setting to search for contacts on a remote server (Mail for Exchange or Intellisync).
Editing a contact offers an enormous variety of preset fields and you can replicate each of them as many times as you like. You can also create new fields if you are able to think of any. Personal ringtones and video can also be assigned. If you prefer, you may group your contacts and give a specific ringtone to each group.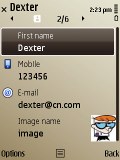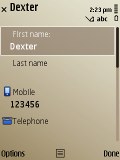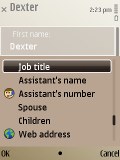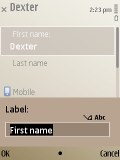 Good luck trying to find a field that Nokia missed • you can even rename a label
The Call log application can hold up to 20 call records in each of the tabs for outgoing, received and missed calls. These are all accessed by pressing the Call key in standby.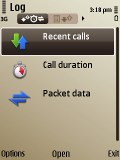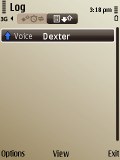 Detailed info of your past communications is to be found in the call log
If you access the Log application from the main menu, you'll see a detailed list of all your network communications for the past 30 days. These include messages, calls and data transfers. You can even filter the entries (by contact or by type), a useful feature if you're looking for a specific call.
Telephony has to be good
With Nokia E52 you are extremely unlikely to experience any reception issues. Sound during calls is very clear and free of any interferences. It's not too loud at the loudest setting but it will do great unless you're in a very noise environment. Like quite a number of Nokia handsets, the E52 features advanced noise cancelling, which usually works quite nice elimination background noise around you.
Nokia E52 also has a Smart dialing feature, which helps you quickly find a contact straight on the standby screen.
Nokia E52 features the advanced Communication Manager out of the box, which the E75 lacked. With this quite useful application you can opt for various settings - accepting only calls from your contacts, from all non-private numbers or from anyone. You can create your own filters with quite extensive settings - including rejecting a call with SMS.
In addition you can set up different ringing profiles that can be scheduled to activate at a given time (hour and day). You can even enable an option to have the E52 say the name of the caller.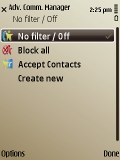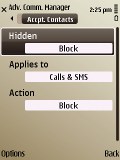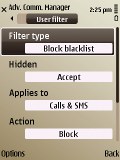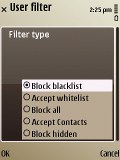 The advanced communication manager
The Nokia E52 also has support for VoIP calls - you just enter your account details and you are all set.
We conducted our traditional speakerphone test with Nokia E52 and it achieved an average result. Here is how it compares to same of the other handsets we have tested. You can find information on the actual testing process, along with the full list of tested devices here.
| | | | | |
| --- | --- | --- | --- | --- |
| Speakerphone test | Voice, dB | Pink noise/ Music, dB | Ringing phone, dB | Overal score |
| Nokia E75 | 64.8 | 60.7 | 65.9 | Below Average |
| Nokia E63 | 64.6 | 62.1 | 69.0 | Below Average |
| Nokia E51 | 67.0 | 65.7 | 71.2 | Average |
| Nokia E52 | 66.6 | 64.6 | 75.7 | Average |
| Nokia E71 | 68.0 | 66.5 | 76.2 | Good |
| Nokia 5320 XpressMusic | 74.3 | 66.6 | 78.3 | Very Good |
| Nokia 6500 classic | 74.7 | 75.7 | 83.8 | Excellent |
Great messaging
The E-series devices are mostly about messaging and connectivity so we are not surprised that they got this part right. The Nokia E52 offers only a standard phone keypad but the keys are big and comfortable to type on. The E52 is a wiz at all sorts of messages and won't shy away from viewing and even editing attached office documents.
There are three message editors aboard: SMS and MMS share the first one, audio and e-mail have their own. The SMS editor is the familiar application for all Symbian S60 smartphones.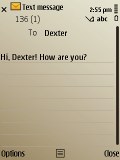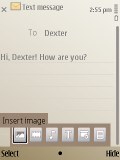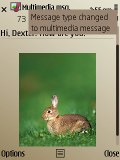 An SMS automatically turns into an MMS when you insert some multimedia content
It goes without saying that a delivery report can be activated. The reports pop up on screen, once the message reaches the addressee and are subsequently saved in a separate folder in the messaging sub-menu.
When you are exiting the message editor without having sent the message, the editor prompts you to either save it to the Drafts folder or discard it.
The audio message, albeit technically a type of MMS, was obviously deemed worthy of a dedicated editor. It allows you to either record the message on the spot or use a previously recorded sound clip.
The new email client (first featured on E75) has better looks and better messaging organization than the ones in the past. Each of the folders of your mailbox can now be sorted by whatever filters you might like and can then be searched if necessary.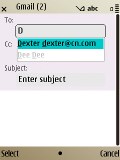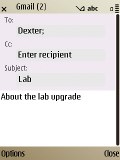 Composing an email on the E52 is as easy as it gets
You can also select what the folders preview should look like, i.e. how many lines should be given to each entry, whether title dividers should be applied etc.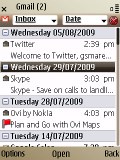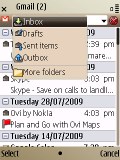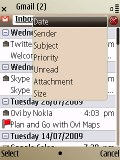 You can sort your email much like on a desktop computer email client
The email client supports a wide range of personal and corporate email standards such as IBM Lotus Notes Traveller, Microsoft Exchange, Gmail, Yahoo! Mail etc.
Encryption is also enabled, as well as mobile VPN support for connecting to secure corporate Intranets.
It seems Nokia has got everything covered except for Blackberry Connect support, which might turn out to be a deal breaker for some potential E52 buyers.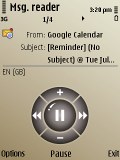 The Message reader can read your messages while you're driving
Quite naturally, the Nokia E52 supports the ultra easy email setup we've been treated to recently. If you are using any public email service (it has to be among the over 1000 supported providers), all you have to do is enter your email address and password to start enjoying email-on-the-go. The Nokia E52 takes care of downloading all the relevant settings to get you going in no time.
On the whole, the E52 is great at keeping you up to date, but if you email more often than you call then you perhaps should look towards the E55, or E72. Either way though, a great email client and the ability to view and edit office documents will really help keep you up to date while you're away from the office.