Web browser agrees with YouTube
Browsing the internet on a Nokia smartphone is definitely a positive experience. The E55 is no exception with its excellent page rendering - most web pages look like they do on a desktop computer.
The virtual mouse cursor is easy to control and generally works great. The D-pad control is not as comfortable as Samsung's optical joystick (think Samsung i7110, for instance) or BlackBerry's trackball but still does the job.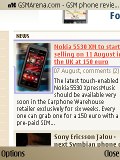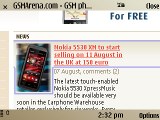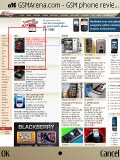 Browsing GSMArena.com on the E55
A mini-map can be activated and it even appears by itself when you scroll longer, which helps you navigate complex websites without excessive scrolling. The zoom level is also easily adjustable at the expense of only a few key presses. The web browser also offers fullscreen view mode.
Along with the usual key shortcuts, the browser in E55 offers a toolbar, which can be launched by pressing 1 or long pressing on the center key on an empty area of the page. You can customize which shortcuts are on the toolbar - up to seven shortcuts like "Subscribe to feeds" or "Bookmark manager".
The Nokia E55 browser features built-in full Flash support. It handled many of the Flash sites we threw at it, but chocked on others (games most often). Flash content for version 9 and up seem to be the culprit.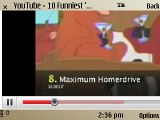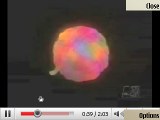 Flash video handled seamlessly
Flash video is mostly not a problem for the E55 web browser - you can watch video on the full-featured versions of YouTube, DailyMotion and the like. Not all however, Vimeo didn't work, for instance.
Top-notch PIM and Office 2007 support
Time-management is another business phone virtue. There's no wonder then that the Nokia E55 has one of the most elaborate organizer packages we've seen. There are a lot of nice applications, all very user-friendly and functional.
The trip starts with the calendar. It has four different types of view - to-do, weekly, daily and agenda as well as five types of events available for setting up - Meeting, Meeting request, Memo, Anniversary and To-do.
The agenda view mode is relatively new to Nokia handsets and is really nice - it allows the dates of the month and the events for the selected day to appear simultaneously on the screen.
Mobile office is also duly covered, with seamless handling of Word, Excel and Powerpoint files. Furthermore, unlike most other Nokia handsets out there, editing documents is supported right out of the box.
With the Nokia E55 you won't need to pay extra for editing your office documents. And there's another thing you get for free - support for Office 2007 documents (.docx, etc.)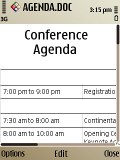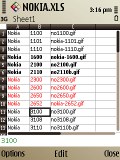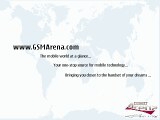 The E55 also supports document editing out of the box
A PDF reader is also part of the Nokia E55 preinstalled content and a ZIP manager allows extracting archived files straight from your phone.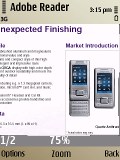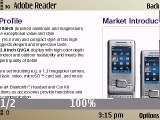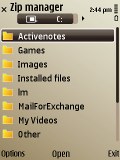 A PDF reader is also available • ZIP manager
The other pre-bundled organizing and time-management applications are: a great unit converter, calculator and voice recorder, as well as the Notes application. We are not going to get into detail with them, as their functionality and performance are familiar enough.
The ActiveNotes application is also on board allowing multimedia content to be added to your notes.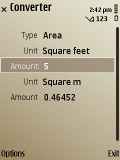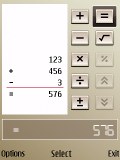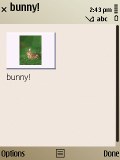 Some of the other organizer apps: unit converter, calculator and ActiveNotes
The Nokia E55 alarm clock application allows a huge number of alarms to be set, each with its own name and start time. You can also customize the snooze time from the settings menu.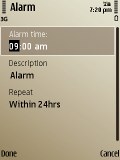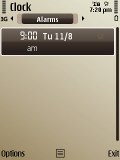 The E55 allows dozens of alarms to be set simultanelously
The useful "Search" application is also present on the Nokia E55. Its reserved space in the active stand-by menu no longer comes as a surprise. After all, an application this useful really deserves to be conveniently placed.
The application itself finds almost every item in your Nokia based on a given keyword. From messages to settings, every bit of data is checked and results are then listed.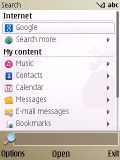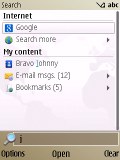 If it's on the phone the Search app will find it
Finally, the Nokia E55 features a dictionary with a really rich database. English comes pre-installed but you can also download dozens of other languages for free from the Nokia website.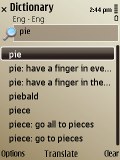 The dictionary has a rich database
The World Traveler app helps you when visiting a new city - it'll display weather forecast, it also offers a world clock, info on foreign currency, flights and even a 3D globe that marks your home and current location.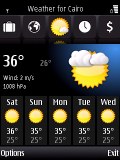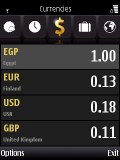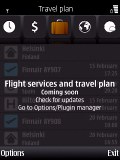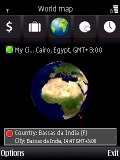 The traveler app can be quite helpful when travelling abroad
Thanks to the wireless presenter you can handle presentations straight from your phone.