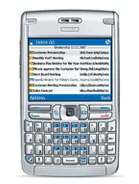 M
No, this phone is for Cingular or Rogers carrier. It has been hacked down so people in North America have to pay for all Data usage of the phone. I'll just get an E61 to solve this problem.
y
Hey Jakobsen....No 3G network in the US...who is it targeting...us Blackberry users..no utility? you obviously havent had a chance to use this device..like most people on here
Ø
No Wifi and no 3g at 140 grams? Whats the market for this phone? Those that buy this phone is probably the same ones that buy the 8800 Sirocco - overpriced, low battery heavy and no utility!
y
this phone targets multiple types of users and also accomodates corporate and government employees who cannot physically take a camera phone inot the workplace due to security and privacy reasons. No wifi because Cingular ordered it from Nokia that way. I've personally seen this phone and this is gonna make a splash. No, it is not taking a step backward, it is taking a giant step forward. It comes preloaded with every push email client out there, 16million color screen (far better than anything outhere). Oh and wait till you see the web browser...SICK!!!
w
whats this...... a degraded version of e61. tsk tsk tsk !...whats happening to NOKIA
N
well, e62, is gr8 blackberry,look alike, but in silver.
i liked its wide screen thats it ......
well look for e series guys...
nitya here
?
The way Nokia is going they maybe bakrupped.This phone is already obsolete before its released.I mean if they dont start getting theses types of phones to a sub 120grams and wifi then they are in serious trouble.
k
the e62 does not have wi-fi because its being released in the US by Cingular. If there was wi-fi (wlan) less people would subscribe to Cingular's $19.99 unlimited data plan. Take out the wi-fi and Cingular makes more money. Cingular also has thier "8125" which does have wi-fi...so im thinking they dont want to offer too many devices with wi-fi on their network, and of course they are going to cut the wi-fi from other manufacturer's devices and not thier own branded one. I think thier 8125 is made by HTC or something, but it is recognized as a Cingular's device.
J
i know, i was thinking about buying it as well.. no camera as well... grrrr.. any other nice pda phone that has at least a 1.3mpxl cam with wlan, edge, bluetooth, etc??? under $500
r
well its basically for all the blackberry buffs in the states who dont use wifi or 3g.. this cuts the cost.. so they be willing to spend on a nokia that can do their work plus maybe stream and play music and videos and edit attachments which of course u cant do in a blackberry.
P
I am unable to understand why they have reduced some features from E-61, like wlan 3g etc.
Total of 335 user reviews and opinions for Nokia E62.