Display is the same
Nokia E63 has a 2.36" 16M-color QVGA screen. That`s the same display found in the Nokia E71 and back then sacrificing screen estate to make the phone more compact and pocket-friendly seemed right. But again, maybe not all Nokia E61 upgraders will agree.



The 2.36" landscape display of Nokia E63
Size aside, the screen performance is great, with excellent contrast and vivid image. Sunlight legibility is commendable as usual with Nokia TFT screens.
Keyboard is more comfortable
The Nokia E63 QWERTY keyboard is an almost complete replica of what we had with the E71. There are a few minor changes but the overall usability is unaffected. The most important novelty has nothing to do with typing. Pressing and holding the space bar in standby powers up the LED so you can use your handset a flashlight. That's a nice little perk and it even works with the keyboard locked.



The QWERTY keyboard is quite comfortable to use
The other obvious change is the size of the actual space bar: its size has been reduced compared to E71 and now the bottom row accommodates two extra keys. Our team is divided over whether a parenthesis symbol and a standalone Ctrl key are a bargain over a big nice space bar.
Anyway, the rest is no news if you've read our E71 review and in the case of these here couple of Nokia messengers no news is good news.
You shouldn't expect regular desktop typing speed and you'll certainly have to look at the keypad but you can achieve pretty decent results with the E63. If you are into texting, you are sure to get used to it quickly and start speeding your way through messages in no time.
The controls above the keypad are also quite handy, obviously copying the E71 and the E51 layout. Those include the two soft keys, the Call and End keys (the red one now doubles as a power key and shortcut to ringing profiles), the Menu key and three so-called one-touch keys.
One-touch keys can be set as shortcuts to any application you like, never mind the icons on them might suggest otherwise. Furthermore, you can assign two applications per key, making use of the press and press-and-hold function on all of them.
The D-pad is equally pleasing. Its ample size and tactility do add to the excellent mark on ergonomics for E63. Still, you should be warned that the Nokia E63 lacks touch sensitive Navi wheel functionality as it was suggested earlier on when the device was fort announced.
Still, a try-before-buy is advisable for people with larger fingers, as the QWERTY keypad knobs might not feel as comfortable to them.
The keys backlighting is quite adequate to make the phone no problem to handle in the dark.
Same user interface as E71
Nokia E63 runs on Symbian 9.2 with Series60 3rd Edition UI. It comes with Feature Pack 1 but it also brings in a number of enhancements inherent to Feature Pack 2.
Nokia E63 is powered by a single 369 MHz CPU and has 128MB of RAM . In Symbian terms this means that navigating the menus is fast with instant response to key presses and no delays whatsoever. Memory Full warnings are highly unlikely and you should make quite an effort to deplete the available memory.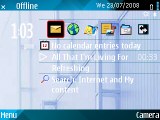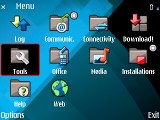 The Symbian S60 UI in landscape mode
The phone's main menu has two view modes: a 4 x 3 grid of icons and a list. However with the E63 you cannot even opt for having animated icons as with most other Nokia phones. This is probably just another way of reiterating the business targeting of the phone. At least the font size is configurable depending on your preferences.
The circle next to the icon of a running application is a well known Symbian indication reminding users to quit unwanted applications that are still running in the background.
The active standby mode goes without saying on Nokia E63. This is a nice and convenient way to bring shortcuts to all favorite applications to your home screen. You can even assign shortcuts to websites of your choice for quicker access. Furthermore, each of the one-touch keys can be customized to access any feature (actually two per key) of choice.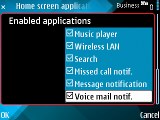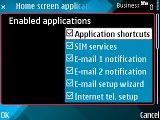 A lot of different applications and notifications can be set to appear on the stand-by screen
The two soft keys' functions can also vary. If active standby is off you can also assign shortcuts to the directions of the D-pad. Luckily, although the keypad lock pattern is the usual quick successive pressing of the left selection key and the Fn key, the left key no longer lags before acting, like it used to on previous models.
There is also an automatic key lock on the E63. It gets activated upon a user-defined interval with the options ranging from 5 seconds to an hour. This option can also be disabled if the user sees fit.
As of E 71, a nifty feature allows you to toggle between two different phone setups - the so-called Mode Switch. Each of them can be customized with its own theme and homescreen applications for maximizing usability. This way you can have a leisure and business profile and alternate them at the expense of a single click.
The built-in memory is 120MB, which is a decent count by all means. Unfortunately, there is no memory card included in the retail package.
As we managed to confirm, Nokia E63 has no problem handling an 16GB microSD card. Accessing applications or any other files on the memory card is quick and you probably won't notice any difference compared to accessing ones in the phone memory.
As with any Symbian phone, there is a built-in voice recognition system. It is launched by holding the right soft key and is doing a good job, being fully speaker-independent and recognizing a very high percentage of the user commands.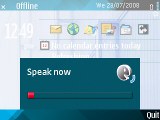 The built-in voice recognition system works really well
And finally, there's the same feature as on the E71 - the Remote Wipe. It's not a new feature per se, but up until now it was usually reserved for corporate scenarios. Now it's available to everyone.
In case your Nokia E63 gets stolen or lost, you simply need to send a coded SMS to your SIM card number. The phone then gets locked down and upon three unsuccessful attempts of unlocking it, it's wiped clean of all personal or sensitive info. You might not get your Nokia E63 back, but at least nobody will access your personal data either.
Customization
There are five preinstalled themes on Nokia E63. The rest is left to the imagination of the user, as you can download as many other themes as you wish. Before doing that though, make sure you they are meant for landscape QVGA or you might run into compatibility issues.