Phonebook
The phonebook of Nokia E63 isn't any different from other Symbian handsets. We aren't really surprised by the lack of change, as it can hardly mean any more business. It is simply great - offering storage space for a virtually unlimited number of contacts and fields, with all the available memory potentially usable for the purpose. We can hardly imagine anyone filling that up.
Contacts can be freely ordered by first or last name, and can naturally be searched by gradual typing of any name.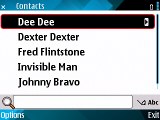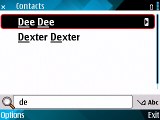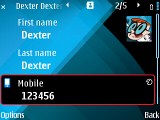 The phonebook offers searching by gradual typing of the name
Editing a contact offers an enormous variety of preset fields and you can replicate each of them as many times as you like. You can also create new fields if you happen to be able to think of any. Personal ringtones and video are also available for assigning. If you prefer, you may group your contacts and give a specific ringtone to each group.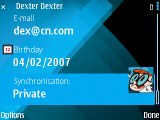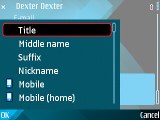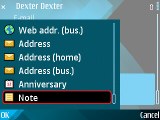 An enormous number of fields is available when creating editing a contact
The Call log application, although not exactly a part of the phonebook, is also one of the Symbian elements. It can hold up to 20 call records in each of the tabs for outgoing, received and missed calls. These are all accessed by pressing the Call key in standby.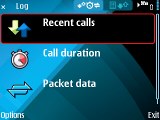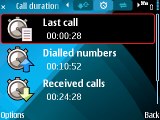 The call log can give you detailed information for your recent communications
If you access the Log application from the main menu, you'll see a detailed list of all your network communications for the past 30 days. These include messages, calls and data transfers. You can even filter the entries (by contact or by type), a useful feature if you're looking for a specific call.
Telephony
With Nokia E63 you are extremely unlikely to experience any reception issues. Sound during calls is very clear and free of any interferences. The vibration is also strong enough to make sure you never miss an incoming call or message.
Nokia E63 features the really nice smart dialing feature, which helps you quickly find a contact straight from the standby screen. All you need to do is punch in a few letters and all contacts with names (first or last) containing them get displayed.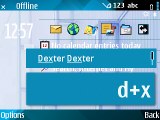 The smart dial is very convenient
Unfortunately Nokia E63 is short of the advanced call manager Nokia E71 has preinstalled. Anyway, it's available via the Download section in the main menu. The Advanced call manager is powerful tool for filtering your incoming calls.
You can opt for various settings - accepting only calls from your contacts, from all non-private numbers or from anyone. In addition you can set up different ringing profiles that can be scheduled to activate at a certain time (hour and day).
Finally, you can also set the behavior of the phone when rejecting a call - busy tone, reject with SMS or answering machine are some of the options.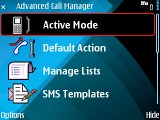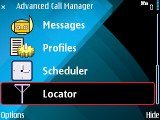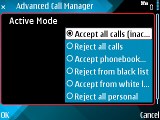 The advanced call manager application
The Nokia E63 also has support for VoIP calls - you just enter your account details and you are all set.
We conducted our traditional speakerphone test with Nokia E63. Here is how it ranked among a few of the other handsets we have tested. You can find information on the actual testing process, along with the full list of tested devices here.
| | | | | |
| --- | --- | --- | --- | --- |
| Speakerphone test | Voice, dB | Pink noise/ Music, dB | Ringing phone, dB | Overal score |
| Nokia E63 | 64.6 | 62.1 | 69.0 | Below Average |
| Nokia E51 | 67.0 | 65.7 | 71.2 | Average |
| Nokia E71 | 68.0 | 66.5 | 76.2 | Good |
| Sony Ericsson W960 | 72.3 | 73.5 | 76.7 | Very Good |
| Samsung i8510 INNOV8 | 78.9 | 75.7 | 77.5 | Excellent |
Messaging in its prime
What we have here is Eseries, Symbian and QWERTY, end of story. The full-fledged keyboard and the software support make for a great messenger. From a nice and intuitive editor to advanced predictive input and error correction - it's all there.
There are four message editors aboard: SMS, MMS, audio and e-mail. The SMS editor is the well known intuitive application for all Symbian S60 smartphones. It has a counter of the characters left to the limit of 160. There is also an indicator in brackets showing the number of separate parts the message will be divided into for sending.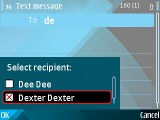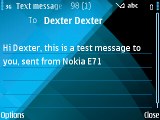 The SMS editor is really nice to use
It goes without saying that a delivery report can be activated. The reports pop up on screen, once the message reaches the addressee and are subsequently saved in a separate folder in the messaging sub-menu. When you are exiting the message editor without having sent the message, the editor prompts saving it to the Drafts folder or discarding it.
The MMS editor has virtually the same interface as the one we just described, with the added subject line being the only difference.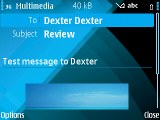 The MMS editor is identical to the SMS one if it wasn't for the added subject line
The audio message, albeit technically a type of MMS, was obviously deemed important enough. There is a separate editor, which can either record the message on the spot or use a previously recorded sound clip.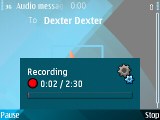 Audio message editor allows recording the audio clip on the spot
Email is the highlight in the Nokia E63, as it supports a wide range of personal and corporate email standards such as Microsoft Exchange, Gmail, Yahoo! Mail, Hotmail, Nokia Intellisync Wireless Email solution, along with System Seven and Visto Mobile. Encryption is also available, as well as mobile VPN support for connecting to secure corporate Intranets.
It seems Nokia have got everything covered except for Blackberry Connect support. The company has said that since they are offering a push email service similar to that of Blackberry Connect, they would no longer offer Blackberry Connect support starting with Nokia E71 and E66.
It's a really odd decision and it clearly shows that selling their email service to end customers is more important to Nokia than selling their handsets. While this may sound perfectly reasonable to Nokia marketing, it might turn out as a deal-breaker to some potential E-series buyers.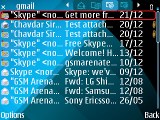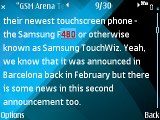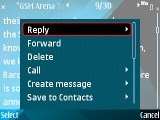 The email client is truly great
Anyways, Nokia have added some features, which are a benefit over competing devices. First of all, it's the ultra easy email setup. If you are using any public email service (it has to be among the over 1000 supported providers), all you have to do is enter your email address and password to start enjoying email-on-the-go. Nokia E63 takes care of downloading all the relevant settings to get you going in no time.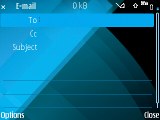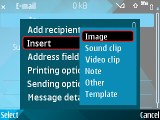 Composing an email on the Nokia E63
The client can download headers only or entire messages, and can be set to automatically check mail at a given interval. There is also support for attachments, signatures and basically everything you can think of. Push email support is also on board, so we can hardly think of anything the E63 lacks in this department - except for the BlackBerry connectivity.
As a whole, Nokia E63 is a dream texting device as is its bigger brother Nokia E71. It might not be the best but it sure is among the most pocketable messengers out there.