Uncompromising music player
Full featured music abilities are not supposed to be make-or-break in a device like Nokia E63. However this doesn't make the onboard music player any less of a good application. After all, the Symbian S60 music player is a seasoned performer and it didn't cost Nokia anything to just put it in the E63 too.
The lack of dedicated music keys is easily overcome by the smooth D-pad control. There is a huge number of audio formats supported including MP3, AAC, eAAC+ and WMA. M3U playlists are also managed seamlessly and transferred files are added to the music library trouble-free by choosing the refresh option.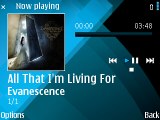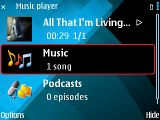 Music player on Symbian: no worries
Filtering tracks by artist, album, genre and composer is automatic and searching tracks by gradual typing is also at hand. Tracks are uploaded to Nokia E63 via Bluetooth, USB or by simple download. You can also use a card reader for that purpose and transfer them directly to your memory card. Upon completing a USB transfer, the phone automatically prompts scanning for new music tracks and, if allowed to do so, adds the new ones to the music library.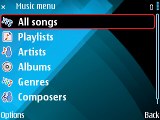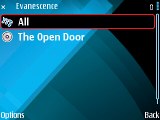 Filtering tracks by various criteria is available
The player comes with five equalizer presets and stereo widening effect. You can also create new equalizer presets if the preloaded ones won't do.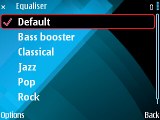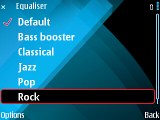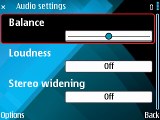 The equalizer presets and the other audio settings
Finally, Nokia E63 includes support for the A2DP Bluetooth profile of course, which allows listening to music on a Bluetooth stereo headset.
Audio quality
We had a bad feeling about this one and our test materialized our worries. The Nokia E63 achieved one of the worst results in our audio quality test we have ever seen. Apart from the decent (notice we are not saying good) total harmonic distortion and intermodulation distortion levels there is little good news about its performance.
The frequency response is way off target. In fact we haven't ever seen a retail version of a handset to score worse than the E63 on this one -almost as if an equalizer is turned on constantly. The Noise level, dynamic range, and stereo crosstalk reading also fall seriously short of being impressive.
It is quite clear that Nokia E63 isn't the handset for the audiophiles but its business-mindedness might serve it as a good excuse here. Than again, the results are so bad that the possibility that this might be a unit-specific problems shouldn't be completely ruled out. Anyway here go the results for you to check out.
| | | | | | | |
| --- | --- | --- | --- | --- | --- | --- |
| Test | Frequency response | Noise level | Dynamic range | THD | IMD + Noise | Stereo crosstalk |
| Nokia E63 | +2.63, -2.38 | -75.0 | 75.3 | 0.018 | 0.102 | -74.9 |
| Nokia E71 | +0.74, -1.26 | -74.5 | 74.7 | 0.016 | 0.097 | -75.8 |
| Nokia E66 | +0.74, -0.84 | -72.3 | 72.5 | 0.021 | 0.102 | -72.9 |
| Nokia N78 | +0.30, -1.59 | -76.1 | 76.1 | 0.014 | 0.548 | -72.7 |
| Nokia N81 | +0.39, -1.13 | -86.6 | 95.8 | 0.041 | 0.040 | -69.9 |
| Samsung i550 | +0.74, -0.76 | -90.8 | 86.9 | 0.0024 | 0.033 | -89.1 |
| Sony Ericsson W980 | +0.31, -1.25 | -86.0 | 89.4 | 0.037 | 0.828 | -86.3 |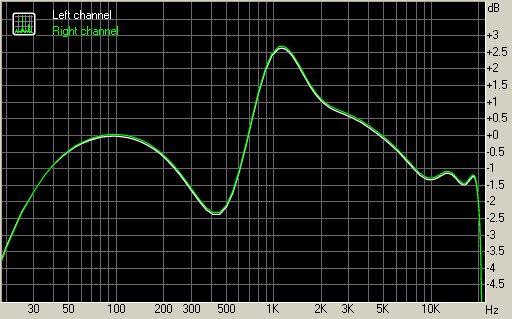 Nokia E63 frequency response graph
You can find more info about the testing process here.
Video player
Nokia E63 features the Real player for playing your video clips. The video player only works in landscape mode, which is quite reasonable given the screen orientation. Portrait videos are rare enough anyway.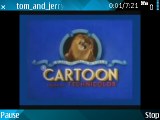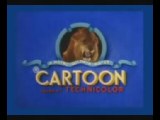 The video player in normal and fullscreen modes
Luckily, there is also a fullscreen mode, which is quite enjoyable on the generously-sized screen. Furthermore, the soft-key functions are hidden in full screen, so that they don't stand in the way and only pop up when a key is pressed.
FM radio
If you get bored with the preinstalled content on your Nokia E63 (and you have some free time between appointments), you can always turn the radio on for a break. The FM radio can automatically scan and save the available stations in your area.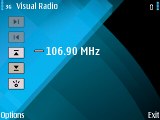 The FM radio interface is somewhat basic but nice and easy to use
The proprietary Visual radio client uses data connection to enhance the radio experience by adding graphics and visuals to the audio content broadcast by Visual Radio compatible stations. We would have preferred RDS.
Image gallery
The gallery of Nokia E63 doesn't have the rotating 3D view we are used to seeing in the Nseries but it is completely on par in terms of functionality.
No changes are to be seen here in terms of features - you can easily browse images and zoom in up to 8x. Overall, picture browsing and zooming is fast and even comparably large files are sure not to bother you too much. We have seen a couple of Nokia handsets do even better but the E63 is doing more than fine, and it's not really meant to be a multimedia gadget.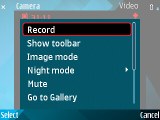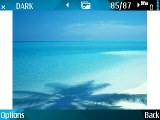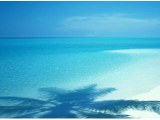 The image gallery allows fullscreen viewing and zooming in up to 800%
The gallery file-management features (which even include sending multiple files at a time) are basically doubled by the file manager.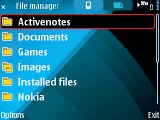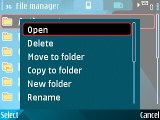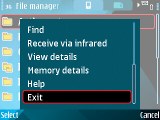 The Symbian file manager can do almost anything you can think of with your files