E-series: all about connectivity
All right, after a few tumbles, we're back where Nokia E66 knows better than make compromises. The phone has it all in terms of connectivity.
From the seemingly outdated Infrared through Bluetooth v2.0 and USB v2.0 to Wi-Fi - Nokia E66 has it all. 3G comes with HSDPA support for the fastest network data transfers around.
A hot-swappable card slot is also on board, which can sometimes just be the quickest way of transferring data.
Web browser
The internet browser on Symbian devices is one of their best applications. Nokia E66 makes no exceptions with great page rendering and lots of customizable options. The adjustable font size, zoom level and text wrap are all there.
The virtual mouse cursor takes browsing another level up. It is easy to control and works like a charm. A mini-map can be activated to help navigating large sites where lots of scrolling is required. The web browser also offers landscape view and fullscreen is also available.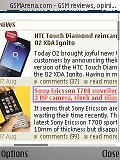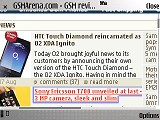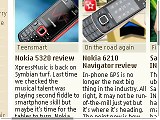 The web browser is really good
Even though the web browser is one of the most RAM-hungry applications, with the E66 you are extremely unlikely to run out of RAM even if you load very heavy web pages and have a few applications running in the background. The ample 2.4" display also contributes to the great browsing experience.
The final touches to the Nokia E66 browser are the built-in full Java and Flash support. This means that there is virtually no online content that your E66 can't handle. Even flash videos on the desktop-targeted YouTube and the likes are no problem, without needing a separate client.
Organizer
Time-management is one of the most important among them business phone virtues. That's why we wouldn't expect any less than the best from Nokia E66 and luckily that is exactly what we get. There are a lot of nice applications, all very user-friendly and functional.
Much like the E71, E66 has a calendar slightly different from other Symbian devices. The month view mode now allows the events for the selected day to also appear on the screen.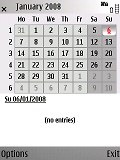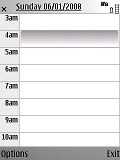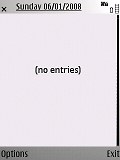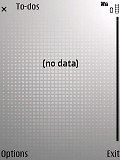 The calendar has received a face-lift
The other three view modes are to-do, weekly and daily and there are four types of events available for setting up - Meeting, Memo, Anniversary and To-do. Each of them has its own unique fields and some allow an alarm to be activated at a preset time to act as a reminder.
The Mobile office was the slight disappointment for us. It can still handle Word, Excel and and Powerpoint files but, unlike E71, editing isn't supported right out of the box. The extra dig aside, that's not something we would have expected in a business handset.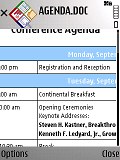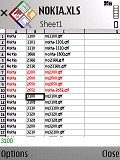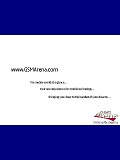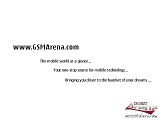 The Quickoffice handles .doc, .xls and .ppt files seamless but doesn't support editing out-of-the-box
Additionly, there is a number of other updates and upgrades for the Quickoffice that come for a price but none of those is really essential and most users can do just fine without them.
A PDF reader is also part of the Nokia E66 preinstalled content and a ZIP manager allows extracting archived files straight from your phone.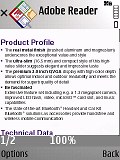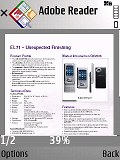 The Adobe Reader is also here to tackle .pdf files
The other prebundled organizing and time-management applications are: a great unit converter, calculator and voice recorder, as well as the Notes application. We are not going to get into detail with them, as their functionality and performance are familiar enough. The ActiveNotes application is also on board allowing multimedia content to be added to your notes.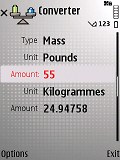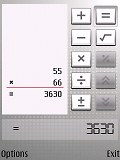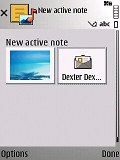 The unit converter, the calculator and the Active notes applications
The Nokia E66 alarm clock application is also very nice. It allows a practically unlimited number of alarms to be set, each with its own name, set-off time and trigger days.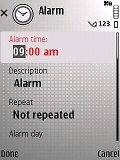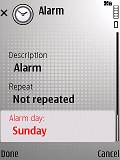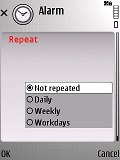 You can set as many alarms as you want on your Nokia E66, each with its own name and repeat pattern
Thanks to the wireless presenter you can handle presentations straight from your phone.
The printer application enables printing content straight from your Nokia E66.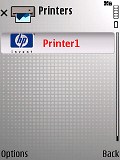 Printing pictures or documents straight from your phone is also possible
There is also a scanning application, which uses the camera to scan business cards or text. Much like in the E71, it doesn't do too well though, failing to recognize most of the words correctly.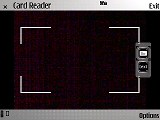 The scanner application isn't much of a treat
The Sports tracker application allows you to keep track of you recent workouts and follow your improvement in time.
The useful "Search" application is also present in Nokia E66. Its reserved line in the active stand-by menu no longer comes as a surprise. After all, an application this useful really deserves to be conveniently placed. The application itself finds almost every item in your Nokia based on a given keyword. From messages to settings, every bit of data is checked and results are then listed.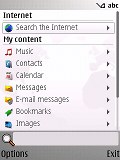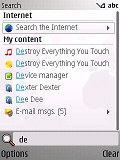 The search application does a great job
Finally, Nokia E66 features a dictionary with a rather rich database. English comes pre-installed and you can also download dozens of other languages for free from the Nokia download center.