GPS navigation
One of the last things to cover in Nokia E66 is the built-in GPS receiver. Its sensitivity isn't the best you can find on the market but it can do the job if you aren't on a hurry. Our guess is that the receiver itself is the same as the one used in Nokia E71. It takes its time getting initial lock and that can be as much as 10 minutes if you cold-start it in a moving car.
The added A-GPS functionality can notably reduce this time but still won't do wonders. However, this is not a Navigator, so we probably shouldn't be too demanding. Anyway, initial lock time with A-GPS is significantly better and rarely exceeds a minute.
Nokia E66 comes with Nokia Maps application pre-installed. The 2.0 version is nice to work with and has very detailed map coverage of a huge number of countries and a lot of extras such as traffic information, voice-guided navigation and so on. Furthermore, Nokia E66 comes with a free three-month license for voice-guided navigation. The rest of the extra features however have to be purchased separately.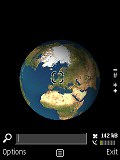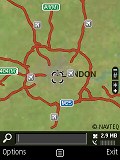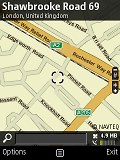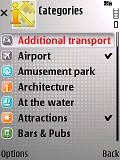 Nokia Maps application • There are a lot of POI available
In case you don't want to use Nokia Maps, you can go for a third-party application, as there are quite a lot of those available on the market.
Nokia Maps is not bad though and, with the complimentary license included, we see no reason for changing it. It has decent looks and easily customizable route planning algorithm. Toll roads and motorways can be avoided and so can tunnels and ferries. Route selection can be set to either fastest or shortest. The app is also usable for pedestrian navigation or you can switch the GPS receiver off and simply use the phone as an electronic map.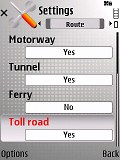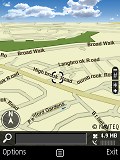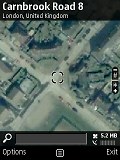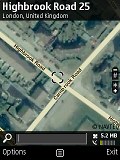 Route calculating algorithm can easily be customized • The other available view modes: 3D, satellite and hybrid
The overall impression of the Nokia E66 GPS functionality is positive, with only the chip sensitivity allowing room for improvement. Still, the E66 can do the job just fine, except for those rare occasions when you will be in such a hurry that 5 or 10 minutes might be make or brake.
We already mentioned that the E66 went on for 6 hours in our dedicated GPS test. An impressive number by all means and you can check it against some other phones we have put to the same challenge.
Here's how some other tested devices fared:
Asus P750 - 6 h
HTC Touch Cruise - 3 h 30 min
HTC Touch Diamond - 2 h 20 min
HTC TyTN II - 4 h
Nokia E71 - 14 h
Nokia 6210 Navigator - 4 h
Samsung i900 Omnia - 4 h 20 min
Games are also on
Business tools like the Nokia E66 aren't keen on games but we guess it doesn't hurt having some aboard. Especially when the two preinstalled titles are so good. The first is a collection of card games including15 games.
The second one is an arcade-style car racer with rather decent graphics. The Racing Thunder has a really simple gameplay but isn't nearly as easy getting good at.
If you are to take gaming more seriously than that, sky is the limit, as there is an enormous amount of games for Symbian online.
Final words
To begin with the upgrader's point of view, we'd say a jump from E65 to the E66 is totally worth it. The phone has improved in nearly every area compared to its predecessor and addresses most of its issues. The price tag is still slightly on the steep side but we guess it will be a great bargain in no time. And even as it stands now, the Nokia E66 still is a great purchase.
Maximizing the reach with one and the same styling and feature sets used across different form factor is no news in the industry. Think Nokia 6500 classic and slide, or the Samsung Soul lineup, if you will. With Nokia E66 and E71 though, it's so easy on the user with almost complete replicas available in different design.
In general, Nokia E66 is as good for business as its QWERTY peer. It might not have the stamina and keypad of the powerful E71 but that was hardly the objective in the first place. We like the E66 for being a worthy alternative in terms of shape and looks, without compromising performance. It adds a pinch of fun to the whole thing too, coming out as more of an all-round device than strictly a business tool.