Nokia E71 pops up in nicer colors, no word on their availability yet

The successful Nokia E71 has just got its facelift. Folks, it can't be more official than that - we've spotted the images on Nokia's own website. The E71 will appear on the shelves in two new hot colors - red/silver and black. And it's going to be soon, hopefully.
Both new color versions look hotter than the original ones and we just can't wait to see them in person.
The black variety is… black, while the other one combines silver steel and red plastic (the buttons, on the sides and the area around the camera and beneath the battery cover).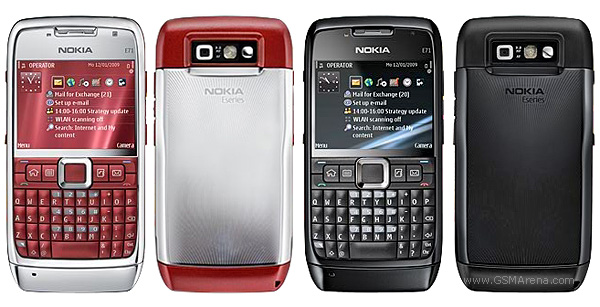 Again, there's a lot of steel all over E71's body - just as we like it. Our only hope is that Nokia have finally decided to get rid of the awkward red power button (in the black version, at least).
Behind the spanking new paint jobs you'll still find all that what made Nokia E71 one of the most desired handsets of 2008 and even put it among the nominees for the 14th Global Mobile Awards.
After the serious firmware update and that cool facelift, Nokia E71 seems ready to steal some of these awards for sure.
Unfortunately, Nokia don't mention when we can expect the black and red/silver Nokia E71. While you're waiting, follow that link for our comprehensive review of Nokia E71.
?
blessed love i really love this phone i would like one in black red silver if it comes in this colors
j
e71 rules i used to have a galaxy spica but got bored of it so ive tried e71 i've been using it for 6months and stil loving it...love the design of the phone it's nice black and red rules
m
you call that "nicer colors" ..it's the same lame try as the 6300 black and red ... total knock-off, not aven the same build/material quality !
ADVERTISEMENTS