Great Symbian phonebook
The phonebook of the Nokia E72 does a tremendous job, offering storage space for a virtually unlimited number of contacts and fields with all the available memory potentially usable for that purpose. You are also treated to as many fields for each contact as you like and some other nice extras, so there's no reason to complain.
Contacts can be freely ordered by first or last name, and can naturally be searched by gradual typing of any name. You can pick whether you want the SIM contacts, the service numbers or the phone memory contacts to be displayed or alternatively show them all at the same time.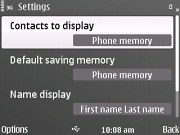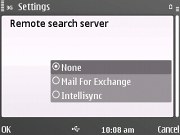 Some of the available settings
Predictive search, contact list back-up, as well as grouping, are also available.
Editing a contact offers an enormous variety of preset fields and you can replicate each of them as many times as you like. You can also create new fields if you are able to think of any.
Personal ringtones and video can also be assigned. If you prefer, you may group your contacts and give each group a specific ringtone.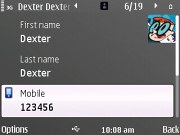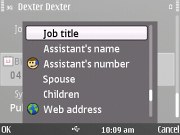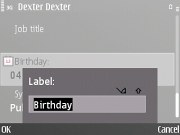 Good luck trying to find a field that Nokia missed • you can even rename labels
The Call log application can hold up to 20 call records in each of the tabs for outgoing, received and missed calls. These are all accessed by pressing the Call key in standby.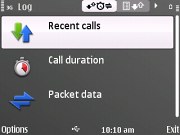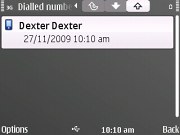 Detailed info of your past communications is to be found in the call log
If you access the Log application from the main menu, you'll see a detailed list of all your network communications for the past 30 days. These include messages, calls and data transfers. You can even filter the entries (by contact or by type), a useful feature if you're looking for a specific call.
Telephony: calls good, loudspeaker quiet
With Nokia E72 you are unlikely to experience any reception issues. Sound during calls is very clear and free of any interferences. It's not too loud at the loudest setting but it will do great unless you're in a very noise setting. Like quite a number of Nokia handsets, the E72 features advanced noise cancelling, which usually works quite nice to filter background noise.
Nokia E72 also has a Smart dialing feature, which helps you quickly find a contact straight on the standby screen.
Nokia E72 didn't come with the Advanced Communication Manager application out of the box and the free version available in the Ovi Store is just a trial worth 20 calls. Shame this top-of-the-line business model lacks such a helpful app for filtering calls based on black and whitelists.
The Nokia E72 also has support for VoIP calls - you just contact your VoIP service provider and get the internet call connection settings, then you are all set.
We conducted our traditional speakerphone test with Nokia E72 and it performed rather poorly, scoring Below Average. Here is how it compares to same of the other handsets we have tested. You can find information on the actual testing process, along with the full list of tested devices here.
| | | | | |
| --- | --- | --- | --- | --- |
| Speakerphone test | Voice, dB | Pink noise/ Music, dB | Ringing phone, dB | Overall score |
| Nokia E72 | 65.7 | 60.2 | 66.3 | Below Average |
| Samsung B7610 OmniaPRO | 66.6 | 64.7 | 72.2 | Average |
| Nokia E71 | 68.0 | 66.5 | 76.2 | Good |
| HTC Touch Pro2 | 74.6 | 70.0 | 78.1 | Very Good |
| Sony Ericsson XPERIA X1 | 75.5 | 66.6 | 82.7 | Very Good |
| HTC Touch HD | 77.7 | 73.7 | 76.7 | Excellent |
The business of messaging
Eseries devices are mostly about messaging and connectivity and who would know that better than the supreme Nokia E72. The first time you start your phone you're prompted to set up your email account, leaving no doubt that the E72 is equal parts a phone and a messenger.
Text entry is a make-or-break feature of devices meant for heavy messaging. Besides the relatively comfy keyboard, you can also use prediction, auto-completion, set the level of spelling correction and a couple of more tweaks.
We suggest trying out the different settings - for example the High setting for spelling correction might be too intrusive and you can set how the suggested word is displayed, either in place or above the currently typed word. If you spend five minutes on this, you'll maximize your typing productivity, while minimizing the number of spelling errors.
On the whole, the E72 great email client and the ability to view and edit office documents will really help keep you up to date while you're away from the office. Just like E52 and E55, E72 also comes with the Nokia Messaging software preloaded along with a lifetime service subscription.
There are three message editors aboard: SMS and MMS share the first one, audio and e-mail have their own. The SMS editor is the familiar application for all Symbian S60 smartphones.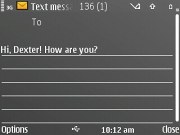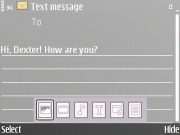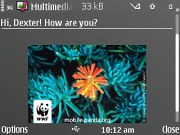 An SMS automatically turns into an MMS when you insert some multimedia content
The email client has great looks and messaging organization. Each of the folders of your mailbox can now be sorted by whatever filters you might like and can then be searched if necessary.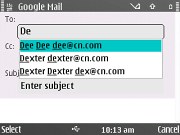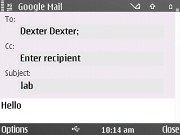 Composing an email on the E72 is as easy as it gets
You can also define what the folders preview should look like, i.e. how many lines per entry, whether title dividers should be applied etc.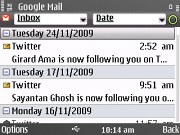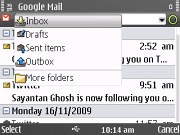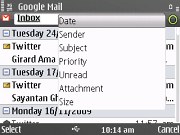 You can sort your email much like on a desktop computer email client
The email client supports a wide range of personal and corporate email standards such as Ovi Mail (obviously), IBM Lotus Notes Traveller, Microsoft Exchange, Gmail, Yahoo! Mail, Windows Live Hotmail etc.
Encryption is also enabled, as well as mobile VPN support for connecting to secure corporate Intranets.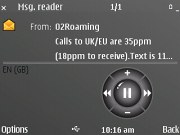 The Message reader can read your messages while you're driving
Quite naturally, the Nokia E72 supports the ultra easy email setup of all recent Nokia handsets. The email setup has been slightly redesigned - you get a list of the six most popular email providers and an "Other" option for the rest. From then on it's the same as before - enter your email address and password and E72 will take care of the rest.
That works only if you are using any public email service among the over 1000 supported providers, otherwise you'd have to enter the settings manually. Just make sure the phone is not in Offline mode, because ours wouldn't add new mailboxes unless we put in a SIM card.
The one gripe we have with the email client on the Nokia E72 is the lack of threads. We know it's a Gmail thing, but it's a great feature. Maybe when other email service providers catch up, threads will get better support outside the Android world.