Image gallery: Eseries spelled with an N
The image gallery is the same as the one found in Nseries phones and looks great. Thumbnails of images and videos are arranged in a horseshoe shape, with the currently selected image top center.
You can scroll left or right and the speed of photo browsing increases if you press and hold the direction buttons on the D-pad. This makes a sort of circular scroller appear along with the month and year the picture was taken. This is great for quick skipping of tons of files if you're not in the habit of sorting out your memory card regularly.
Scrolling in the gallery is also one of the places where the optical trackpad is put to good use. Getting to the next image with a sweep is effortless and makes for a true Nseries experience.
Zooming is very speedy, thanks to the zippy 600MHz processor. It does slow down a bit when you get over 100% but it will go up to 400% zoom. Zooming is done in small increments (about 10%) and panning is quite fast too.
The gallery offers a nice slide show with customizable effects and delay between slides. You can also choose the direction of the slideshow - forward or backward from the currently selected photo and the track to go with it. Music can also be switched off if you prefer.
The gallery also has a very good picture tagging system. In addition to geotagging, which is automatically handled by the camera, you can add as many tags as you like to each photo and then use them as filters.
There's also the option to organize photos in Albums.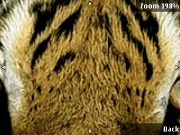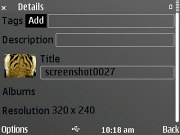 Zooming in • you can add tags to photos
Music player: Symbian regular
Full-featured music ability is not the main focus of a business device but the music player of the Nokia E72 is still pretty decent and we set our hopes for good audio quality high, knowing how recent Eseries devices performed.
The lack of dedicated music keys is easily overcome by the smooth D-pad control. There is a huge number of audio formats supported including MP3, AAC, eAAC+ and WMA. M3U playlists are also managed seamlessly and transferred files are added to the music library trouble-free by choosing the refresh option.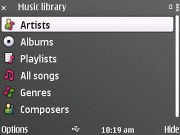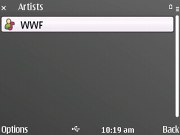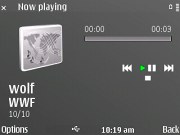 The music player is pretty straightforward
Filtering tracks by artist, album, genre and composer is automatic and searching tracks by gradual typing is also available.
The player comes with five equalizer presets, bass booster and stereo widening effect. You can also create new equalizer presets if the preloaded ones won't do.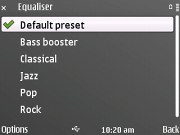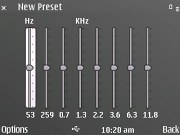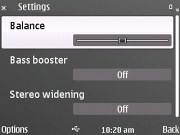 The available equalizer presets • creating a new one
Finally, being one of Nokia's best equipped phones, the Nokia E72 naturally also includes support for the A2DP Bluetooth profile, which allows listening to music on a stereo Bluetooth headset.
Video player is decent
The Nokia E72 features Real player for playing your video clips. The video player works in landscape mode only and that's hardly a surprise. Fullscreen mode is available of course. The softkey functions are hidden in full screen so they don't get in the way, and they only pop up when you touch the trackpad.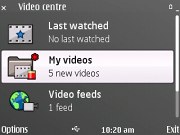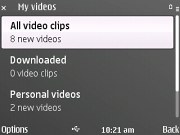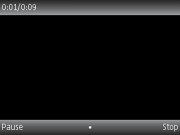 The E72 Video center • the video player has very few controls
The relatively big landscape screen and the MP4 video clips support add up to a passable video watching experience but you will probably resort to another player anyway. The reason for this is quite simple - the E72 lacks DivX and XviD support out of the box. Luckily, finding applications for the S60 3.2 that support those codecs is a fairly easy task (though they can be paid).
FM radio with RDS
The Nokia E72 sports stereo FM radio with RDS, controlled by the well known radio app. Upon starting, the app asks about your location in order to set up the proper frequencies for your area.
The FM radio can automatically scan and save the available stations in your area. Scanning for alternative frequencies when traveling can also be set to automatic. You can save up to 50 radio stations and the option to play music through the loudspeaker is available.
Top-notch audio quality
Here comes another musically-gifted member of the Eseries family. The Nokia E72 has great all-round perfomance that can make some dedicated music handsets jelous, let alone its business collegues.
We told you that the E52 and E55 were the best performers in Nokia's business team as far as audio quality is concerned, but they didn't hold on to that title for long. Differences are not major as you can see from the table but the improvement in E72 is still visible.
Comparing the Nokia E72 to one of its market rivals - the BlackBerry Bold 9700 we notice striking resemblance between their results on most readings. If it wasn't for the BlackBerry's cut-off bass we would suspect that it is the same hardware inside those two. But in the end the better frequency response makes the E72 the winner in this contest.
Cutting to the point - here go the results so you can see for yourselves.
| | | | | | | |
| --- | --- | --- | --- | --- | --- | --- |
| Test | Frequency response | Noise level | Dynamic range | THD | IMD + Noise | Stereo crosstalk |
| Nokia E72 | +0.05, -0.26 | -88.3 | 88.2 | 0.012 | 0.024 | -88.8 |
| BlackBerry Bold 9700 | +0.25, -3.62 | -89.8 | 87.8 | 0.014 | 0.023 | -88.6 |
| Nokia E55 | +0.05, -0.23 | -83.6 | 83.3 | 0.013 | 0.033 | -84.3 |
| Nokia E52 | +0.05, -0.22 | -85.3 | 85.0 | 0.014 | 0.034 | -85.4 |
| Nokia E75 | +0.11, -0.91 | -91.6 | 91.4 | 0.012 | 0.462 | -73.3 |
| Nokia E71 | +0.74, -1.26 | -74.5 | 74.7 | 0.016 | 0.097 | -75.8 |
| Sony Ericsson W980 | +0.31, -1.25 | -86.0 | 89.4 | 0.037 | 0.828 | -86.3 |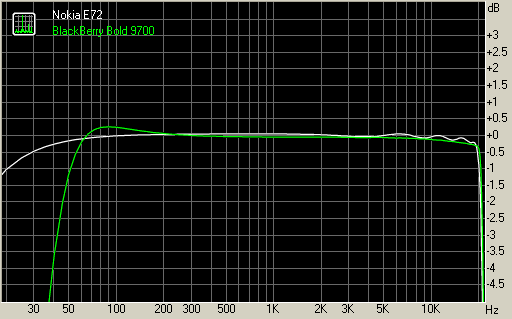 Nokia E72 vs BlackBerry Bold 9700 frequency response graphs
You can find more info about the testing process here.