Top-notch PIM and Office 2007 support
As they say time is money, so time-management is another business phone virtue. There's no wonder then that the Nokia E72 has one of the most elaborate organizer packages we've seen. There are a lot of nice applications, all very user-friendly and functional.
The calendar has four different types of view - to-do, weekly, daily and agenda as well as five types of events available for setting up - Meeting, Meeting request, Memo, Anniversary and To-do. The only change from previous handsets is that things were rearranged slightly to work better with the landscape orientation of the screen.
The agenda view mode is really nice - it allows the dates of the month and the events for the selected day to appear simultaneously on the screen.
Mobile office is also duly covered, with seamless handling of Word, Excel and Powerpoint files. Furthermore, unlike most other Nokia handsets out there, editing documents is supported right out of the box.
With the Nokia E72 you won't need to pay extra for editing your office documents. And there's another thing you get for free - support for Office 2007 documents (.docx, etc.)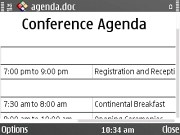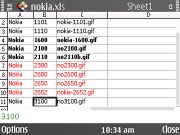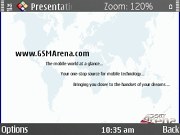 The E72 supports document editing out of the box
A PDF reader is also part of the Nokia E72 preinstalled content and a ZIP manager allows extracting archived files straight on your phone.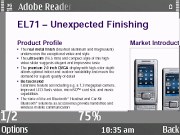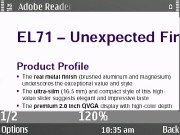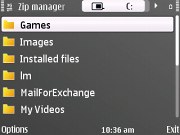 A PDF reader is also available • ZIP manager
The other pre-bundled organizing and time-management applications are: a great unit converter, calculator and voice recorder, as well as the Notes application. We are not going to get into detail with them, as their functionality and performance are familiar enough.
The ActiveNotes application is also on board allowing multimedia content to be added to your notes.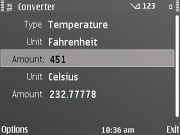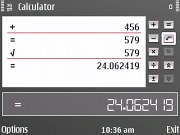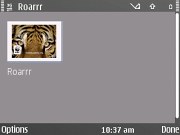 Some of the other organizer apps: unit converter, calculator and ActiveNotes
The Nokia E72 alarm clock application allows a huge number of alarms to be set, each with its own name and start time. You can also customize the snooze time from the settings menu.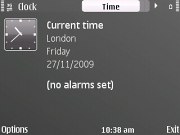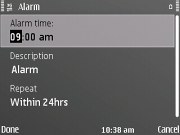 The E72 allows dozens of alarms to be set simultanelously
The useful "Search" application is also at hand on the Nokia E72. Its reserved space in the active standby menu no longer comes as a surprise. After all, an application this useful really deserves to be conveniently placed.
The application itself finds almost every item in your Nokia based on a given keyword. From messages to settings, every bit of data is checked and results are then listed.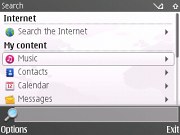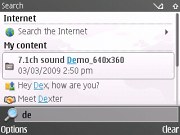 If it's on the phone the Search app will find it
Finally, the Nokia E72 features a dictionary. English comes preinstalled but you can also download dozens of other languages for free from the Nokia website.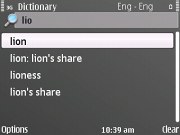 The dictionary has a rich database
The World Traveler app helps you when visiting a new city - it'll offer weather forecast, a world clock, info on foreign currency, flights and even a 3D globe that marks your home and current location.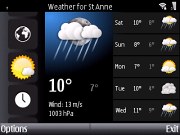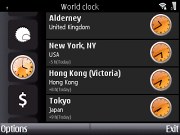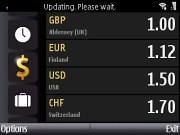 The traveler app can be quite helpful when travelling abroad
Thanks to the wireless presenter you can handle presentations straight from your phone.
The Multiscanner is a helpful looking app, which allows you to scan either business cards or text. It can't scan much text in one go though and the accuracy of the OCR is disappointing.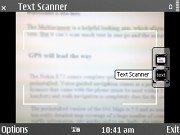 The Multiscanner is not very accurate
But wait, there's more – all the free stuff you can get from the Ovi Store. One of the more interesting apps is the Facebook app made specifically for Nokia E71 and E72. It's great overall though it has a few kinks – it doesn't show any newly shared photos or videos in the News Feed or in fact posts with shared photos or videos.
Still, you can view all the shared media from your friends' profile pages and aside from that hitch the application works very well indeed. It's a clever move from Nokia not to underestimate the importance of social networking in the business world – Nokia, Microsoft, even the US president all have a Facebook page.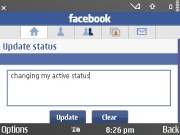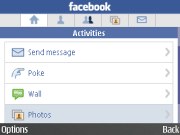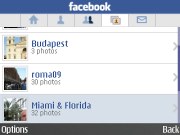 There's a free Facebook app for Nokia E71/E72 at the Ovi Store