Half a month after the Nokia E72 became available across various countries around the globe, it finally made its way to the USA. And as you might guess, the price is considerably lower than elsewhere.
Nokia E72 started shipping in the middle of November and only a few days afterwards we took it for a spin at the office and an in-depth review, which has proven that the successor of Nokia E71 is a great communication tool.
The handset replaced the 3.2-megapixel snapper of its predecessor with a 5-megapixel one and added a better processor while the rest has been kept almost intact.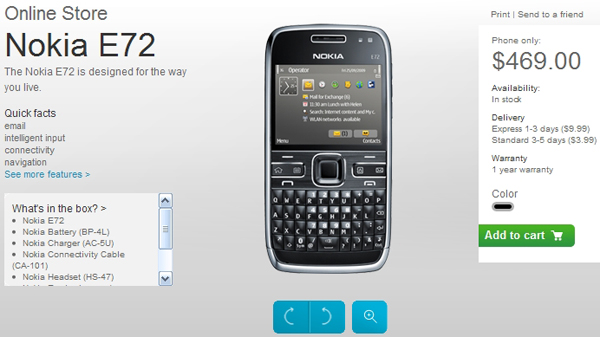 So, guys, yes the waiting was worth it. The only possible deal breaker here might be the price. When bought from Nokia USA's online store the SIM-free phone costs 469 US dollars (approx. 311 euro, tax and shipping excluded) which might be a little high for the US market.
However, this is at least 85 euro less than what Europeans are paying at Nokia online stores across the Old continent. The street price in Europe is higher as well - starting from 350 euro.
j
hi, nokia has manufacture in different countries, e71 used to be in finland, but now the manufacture is out of finland.
L
Hey I just bought my E72 in Vietnam, from a Nokia dealer (does not mean I am 100% certain product is legit). Looks legit, as I had an E71 to compare. Battery had label. The phone is labeled "made in China"...can anyone who give first hand comment whe...
D
Order the phone a pay full price,stop being a cheap a$$
ADVERTISEMENTS