Excellent time-management
Time-management is another business phone virtue. Little wonder then that the Nokia E75 has one of the most elaborate organizer packages we've seen. There are a lot of nice applications, all very user-friendly and functional.
The trip starts with the calendar. It has four different types of view - to-do, weekly, daily and agenda as well as five types of events available for setting up - Meeting, Meeting request, Memo, Anniversary and To-do. The agenda view modes is new to Nokia handsets and is really nice - it allows the dates of the month and the events for the selected day to appear simultaneously on the screen.
Every event has its own unique fields, some of which allow an alarm to be activated at a preset time to act as a reminder. You can also set the synchronization type as private or public.
Mobile office is also duly covered, with seamless handling of Word, Excel and Powerpoint files. Furthermore, unlike most other Nokia handsets out there, editing documents is supported right out of the box. With the Nokia E75 you won't need to pay extra for editing your office documents.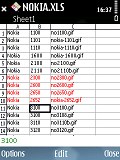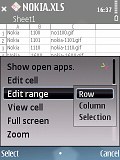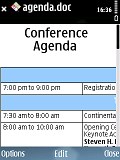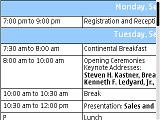 The E75 also supports document editing and creating out of the box
There are still a number of updates for QuickOffice that come at additional cost but most users can do just fine without them. The ones that use MS Office 2007 documents however won't be so lucky as the support for those doesn't come included and they will have to purchase the latest version of the application.
A PDF reader is also part of the Nokia E75 preinstalled content and a ZIP manager allows extracting archived files straight from your phone.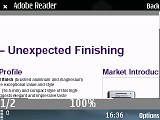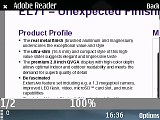 A PDF reader is also available
The other pre-bundled organizing and time-management applications are: a great unit converter, calculator and voice recorder, as well as the Notes application. We are not going to get into detail with them, as their functionality and performance are familiar enough. The ActiveNotes application is also on board allowing multimedia content to be added to your notes.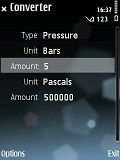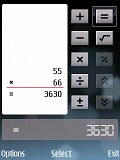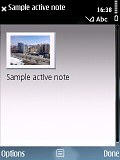 Some of the other organizer apps: unit converter, calculator and ActiveNotes
The Nokia E75 alarm clock application allows a huge number of alarms to be set, each with its own name, start time. You can also customize the snooze period from the settings menu.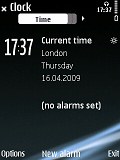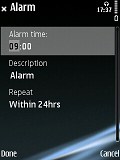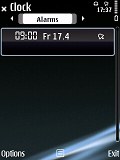 The E75 allows dozens of alarms to be set simultanelously
The useful "Search" application is also present on the Nokia E75. Its reserved space in the active stand-by menu no longer comes as a surprise. After all, an application this useful really deserves to be conveniently placed. The application itself finds almost every item in your Nokia based on a given keyword. From messages to settings, every bit of data is checked and results are then listed.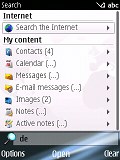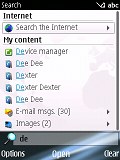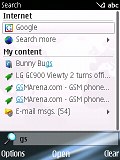 If it's on the phone the Search app will find it
Finally, the Nokia E75 features a dictionary with a really rich database. English comes pre-installed but you can also download dozens of other languages for free from the Nokia website.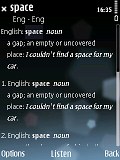 The dictionary has a rich database
GPS navigation is pretty good
The Nokia E75 comes complete with a built-in GPS receiver, A-GPS and Nokia Maps navigation preinstalled. You also get 3 months of free voice-guided navigation with the phone.
The preinstalled version of the Nokia Maps is 2.0 which seems pretty nice to work with. It has really detailed map coverage of a huge number of countries and a lot of extras such as traffic information, city guides and so on. Sadly, the extra features need to be purchased separately, as must the voice-guidance after the trial period has expired.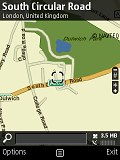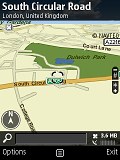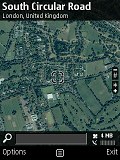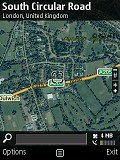 Nokia maps has four different view modes
The app also has very decent looks and easily customizable route planning algorithms. Toll roads and motorways can be avoided and so can tunnels and ferries. Route selection can be set to either fastest or shortest. Nokia Maps is also usable for pedestrian navigation or you can switch the GPS receiver off and simply use the phone as an electronic map.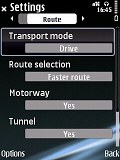 Some of the settings available for the route-planning algorithm
If you don't want to use Nokia Maps, you can opt for any of the numerous third-party applications available on the market.
The overall impression of the Nokia E75 GPS functionality is positive, with the GPS sensitivity pretty acceptable. It is good enough for most users' needs and won't make too many people look for alternatives.
Final Words
Adding value to an already impressive fleet of business handsets is by no means an easy task. And since there's no doubt that the E75 is up to the E-series standard - there's nothing too big to complain about. Though, well, there's nothing too big altogether. Nokia E75 is just an alternative: it's the usual Eseries skill with a different approach to QWERTY and compact design.
But before we dig deeper in the E-series ecosystem, let's look for a meaningful competition to help us better define the Nokia E75. The form factor and the smart platform pretty much narrow the list down to a single nominee outside the touchscreen world. HTC S740 sports an almost identical spec sheet and it costs the same, so it's purely a matter of OS preference here, isn't it?
The side-slide QWERTY form factor is a Symbian debut and the fact that it packs in a pleasantly compact and nice handling piece of gear is only in favor of the E75. Its only problem is it's launched after the stunning E71 and thus risks being burdened with the wrong expectations.
Form factor aside, the only things Nokia E75 has over the E71 are the FP2 and the VGA@30fps video recording but that doesn't give it much of a multimedia edge. Nor does the 3.5 mm jack (that's another novelty) make such a big difference to us.
But anyway, even if the E75 has nothing groundbreaking to offer it still can't be ignored as a viable Eseries option. After all, a handset that sits between E90 and E71 just can't go wrong. There maybe nothing to write home about but write you sure will.