According to analyst company Morgan Stanley, this year is going to be a very successful one for Nokia and its WP smartphones. The Finns made a rapid change an effort changing their focus and direction and now is the fruits of their hard work are going to pay off.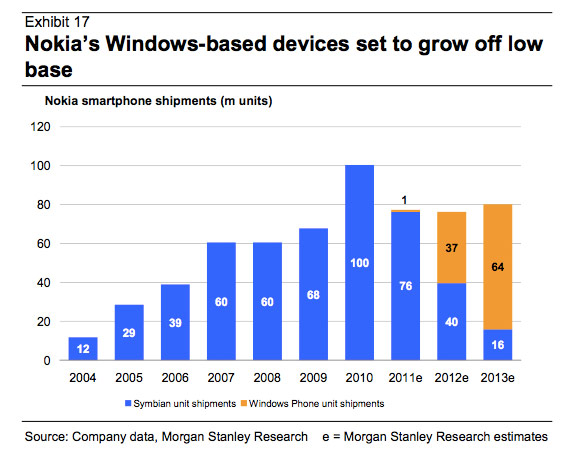 Atleast that's what analysts think. In 2012, Morgan Stanley expects Nokia's Windows Phone shipments to hit 37 million units and double to 64 million in 2013. This means that in the next two years Nokia's Windows Phone devices will overtake their Symbian smartphones' sales.
Just for comparison, Morgan Stanley says that HTC will ship 6 million Windows Phone smartphones this year and 10 million in 2013.
Those numbers sound pretty well considering that Windows Phone 7 OS hasn't been around for as long as its iOS and Android rivals. Maybe 2012 will be the year when Windows Phone finally makes an impact. We know the forecasts don't sound right given the current state of the platform, but things develop at great speed in this business, so they might turn out true.
V
One of the worst predictions I have seen :)
?
obviousaly they will achive
G
I rememember Nokia having originally projected selling 15 million Maemo/Meego devices by 2012... so a 37 million Windows phone volume is quite a staggering in comparison.
ADVERTISEMENTS