This article is outdated. We have already published a full review.
Photos with SkyDrive integration
The Photos hub is where you can view your photos taken using all the different camera lenses.
The main view of the Photos hub offers four options - camera roll, albums, date and people. A swipe to the left reveals what's new, which displays your Facebook friends and liked pages' new picture galleries.
Albums feature the camera roll, the preloaded system pictures and all of your SkyDrive albums automatically.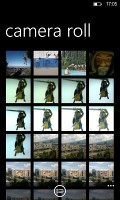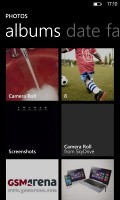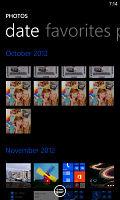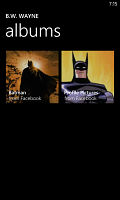 Camera roll • Album, date and people views
The people section is where you can select your friends and contacts so that their galleries on Facebook get displayed right there in your Photos hub. It's a nice feature for social network users but will be only an empty section for those that aren't too fond of Facebook.
The camera roll presents your entire collection of photos and videos captured with the device in a 4x5 grid. You cannot change the layout. Viewing a photo can be done in either portrait or landscape mode. Zooming in on a photo is done by either double tap or a pinch.
One nifty new addition is that the selected photo will now indicate which lens was used to take it. You can then tap on the lens name and that will take you to that lens interface, where you can make further adjustments of the effect.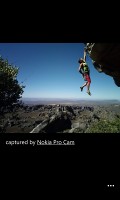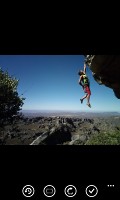 Below each image is a shortcut to the lens used to make it • Tapping it lets you edit from the lens itself
Nokia's Music hub alongside the Music + Videos tab
Nokia is pushing its own music service called Nokia Music ahead on the default Music + Video app. It offers free music streaming (it works out of the box) and has an extensive library of tracks. While it is mostly streaming oriented, you can make tracks available offline (they remain on the device only temporarily though).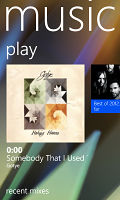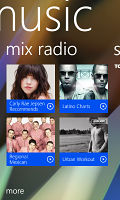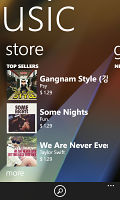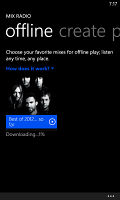 Nokia Music app • making a track available offline
But Nokia Music competes with services like Pandora too - you can give it a list of artists you like and it will automatically build a playlist to your taste. Nokia takes pride in real people creating the mixes (including celebrity-made mixes) instead of computer algorithms.
Unlike competing services you can also browse a specific artist and even buy songs to keep if you like. There are plenty of charts (e.g. Top sellers, Best of 2013, Songs for Fall) if you're looking for something new too. There's even a custom equalizer setting.
The default Windows Phone 8 media players are on-board too. They reside together in the Music + Videos hub, which now bears the Xbox logo or the last played media thumbnail. When you start it, it shows the History, which gives you quick access to the last two items played, or you can go to the full menu and start the music or video player, listen to or watch podcasts, or go to the Marketplace.
The music section is made up of albums, songs, playlists, genres and artists. Videos features all, television, music videos, films and personal - think of them like more of categories you can assign your videos to when syncing with Zune. The third section is where you can store all of your downloaded audio and video podcasts.
The music hub has a simple and straightforward interface. You won't have any difficulties using it. However there are some things missing, like an equalizer. Another missing feature is the ability to scrub through a song with your finger - you have to press and hold on the FF/rewind buttons to simply jump back and forth.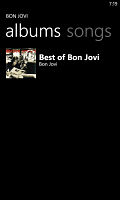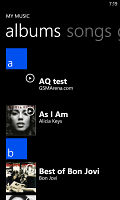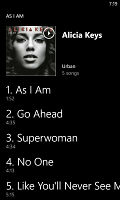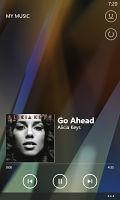 Browsing the music library • Now playing screen
As a music player, it's pretty standard - your tracks are sorted by artist, album, playlists or you can view all songs. The interface is very similar to that of the stock music player, but under the album art it lists the next three songs to be played - really helpful if you're using shuffle. There's no way to manually reorder the upcoming songs, but you can reshuffle them if there's one you don't like.
The video player is integrated into the Music + Videos hub. It has a very simple interface - you have fast forward and rewind controls, a timeline and a video size button that toggles full-screen viewing.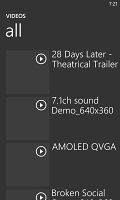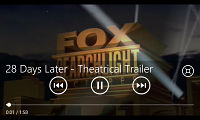 The Video tab • Video player in action
The video player in Windows Phone 8 is identical in terms of performance to the one found on other recent Lumias. It plays XviD (though we had some issues with this codec), DivX and MP4 videos up to 1080p resolution. The few things it won't play are MKV files and videos using the AC3 audio codec. There is no subtitle support at this point.
Since Windows Phone 8 is no longer Zune dependent, you can easily upload videos from your computer via the USB mass storage mode.
Individual items can be pinned to the homescreen - like a song or video.