This article is outdated. We have already published a full review.
HERE Maps and Drive+ get a makeover
Although they are no longer exclusive to Nokia WP-handsets, only high-end Lumia devices such as the Lumia 1020 will get the Drive+ global navigation suite for free out of box.
HERE Drive+ offers free, life-time voice-guided navigation anywhere in the world. All you have to do is download a voice in your language of choice and you're good to go. Of course, to make use of the key selling point of Drive - offline navigation - you have to download a map for a country of your choice, too.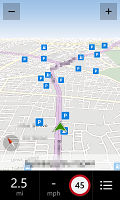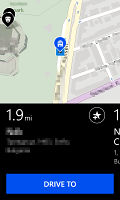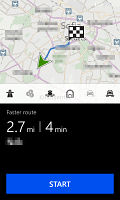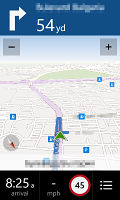 Nokia Drive+ does voice-guided navigation
With Drive+ you can easily plan routes (all offline, unlike the early iterations of this app) and you can tweak various settings for each route - fastest/shortest/economical route can be selected and you can choose whether the app will use or avoid motorways, toll roads, ferries, tunnels, unpaved roads and motor trains. There are icons to remind you of the selected settings.
Drive+ uses big, clear instructions on its screen in addition to the voice prompts, which is ideal for in-car use. You can switch between 2D and 3D mode and switch the color scheme (day, night, auto). There are speed alerts and real-time traffic information.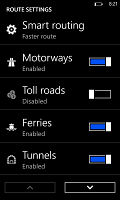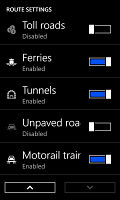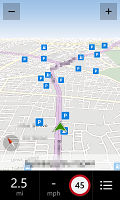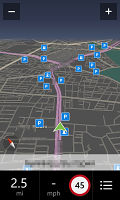 Tweaking the route-planning algorithm • day and night color schemes
We do miss a few options - like setting a starting location other than your current location and downloading maps for an entire continent. Still, Nokia offer quality maps and offline voice-guided navigation out of the box, which puts them ahead of other Windows Phone makers an even other platforms (both Android and iOS require a data connection to plan the route).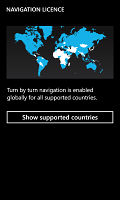 Nokia Drive will work in most of the world
The most recent update to the HERE suite (July 2013) adds an overview of traffic conditions in your area, including your drive to and from work with the My Commute app. My Commute shows you an at-a-glance look at your specified commute with a special Live Tile on your homescreen. You can setup up multiple commutes as well.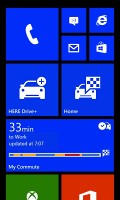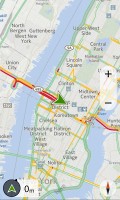 Commute alerts show up on your homescreen as a Live Tile
Nokia Maps takes on other duties - instead of navigation, it's more of a replacement for paper maps that you can take as you explore a city. It will help you discover new places, read a quick description, see photos, read reviews and check what renowned guides like Lonely Planet, Insight Guides and Qype have to say about it.
The Maps app also offers walking, driving and public transport navigation but it only shows a list of instructions. It shares data with Drive so you don't have to download the same maps twice.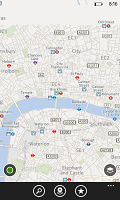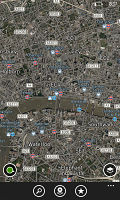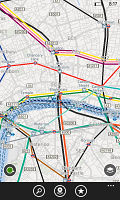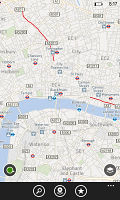 Maps can be used for basic navigation too
The former Local Scout and City Lens features have been integrated into the Places section of HERE Maps, and gives you a quick view of restaurants, shops, galleries and other POIs around you, including an augmented reality view via the camera called LiveSight. Tapping the virtual signs in the camera interface pops up more info about the place, as well as directions.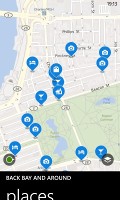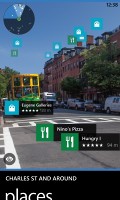 The places interface lets you view POIs on the map as well as through the camera