First look
Nokia Lumia 2520, 1320 and Asha lineup hands-on: First look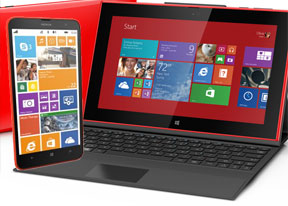 Nokia Lumia 1320 hands-on
Nokia's decided to go big this time around, with two 6-inchers and their first tablet headlining the latest Windows Phone offerings out of Abu Dhabi. Saying that the Lumia 1320 is the lesser of the new smartphone duo is a bit of a misnomer, as there's really nothing small about a handset of such size.
Taking a look at the specs sheet we see that this is decidedly the midrange member of the new smartphone duo, as it features a 720p display, a dual-core 1.7GHz Snapdragon 400 processor, 8GB of internal memory with 1GB of RAM, and a much downgraded 5MP camera (compared to the 20MP PureView shooter on the 1520).
The dual-core processor is a bit of a downer, as most respectable smartphone manufacturers nowadays opt for quad-core CPUs, even in their midrange offerings. Still we've already seen what the two Krait cores can do with the WP8 OS and the result is certainly not bad. It's not the stuff game developers are dreaming on, but your user experience won't be ruined by lag either.
Besides we're expecting some great battery life as the 3,400 mAh juice pack from the 1520 has made its way here, and it won't have to deal with so many pixels on the 720p display. LTE and microSD support also partly compensate for the 5MP shooter and low internal memory, although not if you're a huge photography fan.
Despite the same display diagonal, the Lumia 1320 is slightly larger than its flagship counterpart in every dimension, including packing about 11 grams of extra weight.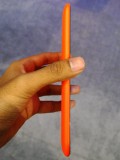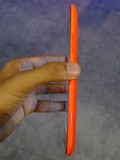 The Lumia 1320 is slightly thicker than the 1520
Fortunately, it retains the same durability as the Lumia 1520, and the matte finish with rounded corners make it pleasing to hold.