The Nokia Lumia 1320 has just been introduced to the UK market and will be available for sale in the region on February 24th. You can pick the phone up from Virgin Mobile, EE, and Carphone Warehouse, in addition to other online retailers.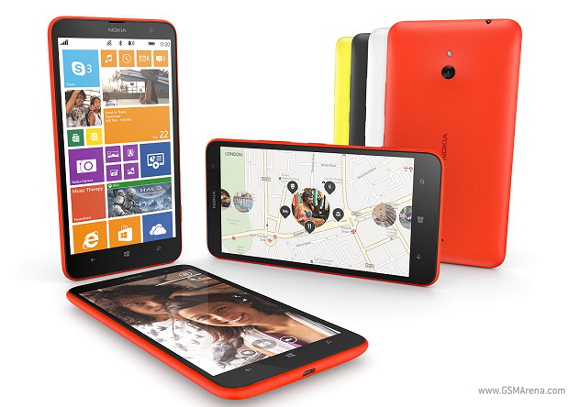 Conor Pierce, VP of Nokia UK & Ireland had this to say:
"We are building on the continued success of the Lumia range by looking to offer the latest Windows Phone in a large-screen smartphone format at a highly competitive price...Consumers and particularly businesses will love its large screen, warm industrial design and the richer imaging experience it is able to deliver. The Nokia Lumia 1320 brings a cost effective addition to our large screen Windows Phone portfolio."
The Lumia 1320 comes with a huge 6" display, a 3400 mAh battery, 1.7GHz dual-core CPU, 5MP primary camera and a 0.3MP front-facing unit, 1GB RAM, and 8GB internal storage with a microSD card slot. Being a Nokia device, it also has a few more bells and whistles than the typical Windows Phone handset. It comes with Nokia MixRadio, a music service that is free of ads or subscriptions, and it allows you to download playlists for offline listening, all for free. The standard Nokia suite of applications, including the excellent HERE Drive navigation, HERE maps, and HERE transit are all on the smartphone right out of the box.
Are you excited about the Nokia Lumia 1320?
A
Okay. If it's non-functional, then it's a device fault. You should be able to claim it under warranty.
D
Lumia 1320 is on sale in Romania since december 2013
B
WP ? I will wait for WP version 20.3 ;) So Maybe in next five years...today is nonfunctional.