Nokia's upcoming phablet, the Lumia 1520 has been doing its rounds in the rumorland for quite some time now. We've only had rumors to rely on when it comes to the topic of what's packed under the hood of the 6-inch beast.
Now, it's all but certain that the Lumia 1520 will be powered by a Qualcomm Snapdragon 800 SoC, according to a tweet from Qualcomm. It looks like the chipset manufacturer (accidentally) revealed the details while responding to a tweet.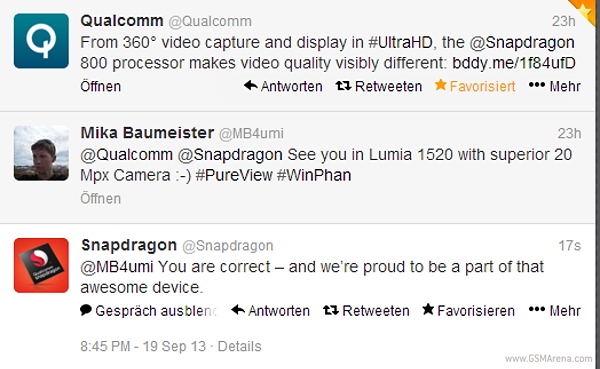 As one can expect, the company has since retracted its statement, but not before we all got to know what's powering the upcoming Lumia 1520 phablet.
Nokia Lumia 1520, which was formerly known as Bandit will feature a 20 megapixel PureView camera with Carl Zeiss lens. The newest addition to the phablet club is expected to make its formal entry on October 21.
a
Nokia is going better but not everything , it not water proof like sony..... And not a boom sound like htc.... and anything bla bla bla.... But Nokia is going good and better like the other smartphone
S
HAHAHAHAHAHAHAH...OMG ROFL...maybe he is looking forward to IPhone 3GS he meant as he can learn better from basics!!!