Deeply integrated Bing services
Bing has seen a much deeper integration in Windows RT 8.1. Bing search is now accessed by a simple swiping gesture from the right side of the tablet's display. It gives you the option to search on the tablet alone, its settings, or the web. The latter can be specified for only images or videos. By default, Bing performs a search on both the tablet and online.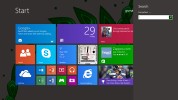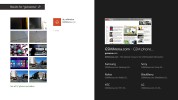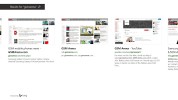 Bing search has been deeply integrated
Bing News shows you trending topics of the day from featured news sites. You can select to view content from a number of news sources, neatly organized by category.
Articles appear in magazine-like style. You can choose between two different font styles, adjust the font size and toggle articles.
Bing Sport works the same way only it's focused on sporting news only. There's a spotlight with the story of the day, a top stories grid, the local sports schedule and, finally, the option to choose favorite teams you'd like to follow closely.
There's an All Sports section which lets you choose a sport or league to check out but the choice is rather limited.
Bing Finance is a mixture of financial news, stocks, currencies and commodities. You can create your own watch list of companies whose stock prices you like to keep track of.
Bing Travel is a great application filled with interesting facts, 360 degree panoramas of popular places around the world and a rich database covering many destinations around the globe.
The app shows a featured destination on the main page each day, followed by a grid of the most popular destinations in the app. There's a nifty option to search for flights or hotels.
Bing Weather is the go-to app for daily forecasts. Opening up the app reveals the weather conditions in your current location (or a preset one) along with an hourly forecast, map view of temperature, precipitation, cloud cover, etc. in your region and nation-wide.
You can choose to be informed for as many locations as you like. Finally there's a World Weather view, which offers information about major cities in the world.