6.7MP Carl Zeiss camera
The Nokia Lumia 2520 features a 6.7MP main camera with a Carl Zeiss lens and a 2MP front-facing unit. The main camera is the same unit as the one in the Nokia Lumia 720 smartphone.
The stock camera UI is very simple. There are three buttons on the left side - one for taking photos, one for capturing video, and a third one for panoramas. Photos can also be captured by simply tapping on the display.
Swiping up in the camera app reveals more options. They include changing the front and back camera, activating a timer, and adjusting exposure and focus. The camera roll access button is also there.
In addition to the stock camera app, Nokia has also added its own. Dubbed Nokia Camera, it allows users to switch the ratio of the images between 16:9 and 4:3.
The 6.7MP multi-format camera sensor allows for taking 4:3 photos of roughly about 6.1MP and 16:9 photos in about 5.3MP.
Image quality-wise the Lumia 2520 camera is quite a capable shooter for a tablet. The photos are pleasantly saturated and in good light they come out generally noise-free. Some of our camera samples did not turn out as sharp as we would have liked but that's only at 100% 1:1 view.
The first set of camera samples (4:3) are shot by the Nokia camera app. The app also allows shooting in 16:9 aspect ratio. It also has touch to focus as an option.
Then there's the Windows stock camera app, which shoots only in 16:9 aspect ratio. It also uses different settings for the image processing. Upon a closer inspection you will notice these shots have a different white balance setting (different as in worse) and they seem to have been processed with a higher contrast setting, which has limited the scene dynamic range captured by the camera for no obvious advantage.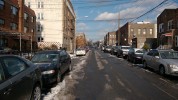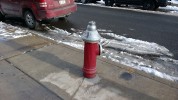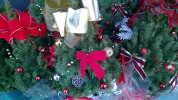 Full HD video output
The Lumia 2520 captures 1080p videos with a bitrate of 19.6Mbps and 30fps. There is also stereo audio. Continuous auto focus during video recording is present, too. Sound is recorded in stereo.
The Nokia Camera app gives users the option to change the size of their videos. Full HD clips can be downsized to 720p, 480p, and 360p, all at 30fps.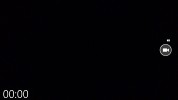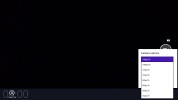 Nokia Camera video interface
As seen on most Lumia smartphones, the video quality is really high. The videos come out smooth and rich in details. The only disadvantage is that there isn't any sort of video stabilization (not even digital) so handheld videos come out somewhat shaky (nothing out of the ordinary, of course).
You can see a couple of samples we captured with the Nokia Lumia 2520 below. The first one is captured with the stock camera app, while the second one is a product of Nokia Camera.
Internet explorer has two faces
Windows 8.1 RT comes with two browsers preinstalled and offers no other options for now. Delivered with the 8.1update, Internet Explorer 11 handles the web and comes in two forms - one in the Modern UI with a touch-centric interface and another one in the more conventional Desktop version.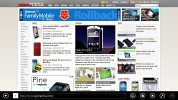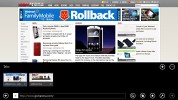 The touch-optimized Internet Explorer 11
In Modern view, IE 11 runs in full screen by default. A swipe from the bottom or top edge of the screen reveals the opened tabs on the bottom. It offers a new tab option, a new private tab, and reopen a closed one. At the bottom is a back button, the unified search/URL bar and options to refresh, pin the current page to start, forward and an extra menu with find on page, view on desktop and "get app for this site" options.
Sharing pages can be done via the Charms menu. Pages can be shared over Mail or the People app, meaning Facebook or Twitter.
Interestingly, if you want to change preferences or settings you can only do so in desktop mode.
IE 11 in desktop mode features a unified URL and search bar, the opened tabs and three virtual buttons for home, bookmark and settings. Opening up a new tab prompts a thumbnail collection of recently opened tabs.
IE 11 is fully Flash-enabled. Watching videos inline is done exactly as you would on any desktop PC. We didn't experience any problems with videos even at 1080p.
Internet Options is well-known IE setting. You can set a home page, choose the level of security, privacy, control the intern content connections, etc. There's an option to open links directly from Internet Explorer in Modern or Desktop mode.
Internet Explorer has come a long way and isn't the once clustered, slow browser many people used only for downloading Firefox and Chrome.
The Lumia 2520 did a phenomenal job in the JavaScript benchmark SunSpider. Its 517.5ms score is among the better ones we've seen.
SunSpider
Lower is better
Apple iPhone 5s
403
Microsoft Surface 2
405
Apple iPad Air
421
Apple iPad mini 2
421
Nokia Lumia 2520
517
Galaxy Note Note 10.1 2014 Edition
569
Samsung Galaxy Note 3
587
Apple iPhone 5
694
Apple iPhone 5c
704
Sony Xperia Z Ultra
750
Sony Xperia Z1
845
LG G2
908
HTC One
1174