Xbox LIVE
Xbox Live is at the heart of the Games hub. It carries over many features from the Xbox - from your avatar to your scores and achievements. The Spotlight feature is available too (it shows info on new stuff) and also Requests - which shows you game invites from your friends.
Anyway, the games themselves are housed in the Collection section. Nothing much to see here, the installed games are arranged in a square grid and there's a Get more games shortcut, which launches the Marketplace.
Not all games support Xbox Live - the ones that do are in the corresponding section in the Marketplace. The 800 MHz processor and Adreno 200 GPU combo on the Lumia 510 won't be compatible with every game that is in the Marketplace, but you'll surely find something to play.
Nokia Maps and Nokia Drive
The Nokia Lumia 510 managed to get a GPS lock quickly (about a minute) and you can make that even faster if you have a data connection for the A-GPS. Wi-Fi and Cell-ID positioning is also available if you only need a rough position.
Nokia Maps comes pre-installed on the Lumia 510. It lets you view maps in three different modes - map, satellite and public transport. You can use pinch zoom to navigate the map (you can also enable old-school zoom controls) and panning around is fast and smooth. Nokia Maps does only 2D mode - there's no 3D option like Google Maps has for example.
It pulls its maps from the Internet, so you'll need an Internet connection to use it.
Nokia Maps takes on other duties too - instead of navigation, it's more of a replacement for paper maps that you can take as you explore a city. It will help you discover new places, read a quick description, see photos, read reviews and check what renowned guides like Lonely Planet, Insight Guides and Qype have to say about it.
Moving on to the more interesting part of the duo - Nokia Drive. It offers free, life-time voice-guided navigation anywhere in the world. All you have to do is download a voice in your language of choice and you're good to go. Of course, to make use of the key selling point of Drive - offline navigation - you have to download a map for a country of your choice too.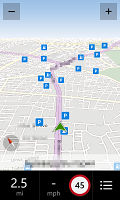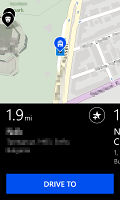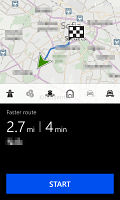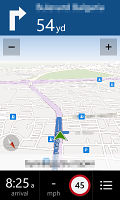 Nokia Drive does voice-guided navigation
With Drive you can easily plan routes (all offline, unlike the early iterations of this app) and you can tweak various settings for each route - fastest/shortest/economical route can be selected and you can choose whether the app will use or avoid motorways, toll roads, ferries, tunnels, unpaved roads and motor trains. There are icons to remind you of the selected settings.
Drive uses big, clear instructions on its screen in addition to the voice prompts, which is ideal for in-car use. You can switch between 2D and 3D mode and switch the color scheme (day, night, auto). There are speed alerts and real-time traffic information.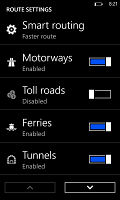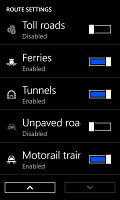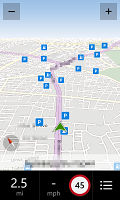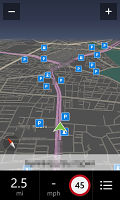 Tweaking the route-planning algorithm • day and night color schemes
Maps aren't that big though - the map for the whole UK, for example, is just 274MB. The 4GB built-in memory will do the job for most of the trips you're likely to take unless you've filled the thing with lots of songs and pictures. It's easy to delete unneeded maps or download new ones on the go wherever there is Wi-Fi.
While navigating, you can zoom in and out depending on your preference to see more of the road ahead or more details. At the top of the screen is an instruction for the next turn in big, easy to read white on blue letters and a big icon noting the turn. At the bottom of the screen you have readings for how much you have to travel before reaching your destination and also you're current speed. Those get pushed to the left side of the screen in portrait mode.
Office stays the same, does excellent job
Office is one of the key selling points of Windows Phone. Document viewing and editing is absolutely free and integrated into the OS.
With Mango SkyDrive integration is one thing that was improved. Now, docs are automatically synced between the phone and your computer through SkyDrive. In case you missed it, Microsoft are offering free 7GB of storage with each SkyDrive account (but individual files are limited to 100MB).
There's more - the Locations tab replaces the old SharePoint tab. This lets you browse Office docs stored on the phone, in SkyDrive, through SharePoint or in Office 365 (a paid service that includes Office web apps).
The Office hub breaks down into three sections - Documents, Locations and Notes.
Anyway, let's look at the two most important apps - Word and Excel. They share the Documents panel, which lists all available documents of the relevant types (in order of last used). Both viewing and editing of files is supported.
The Excel section of the Office hub got better too - it grew the all-time favorite Auto-sum function and you can now tap and drag to select multiple cells.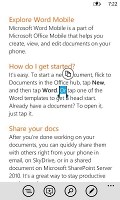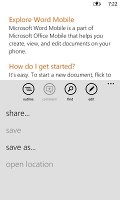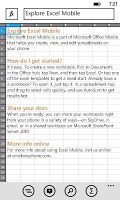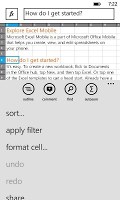 Editing a Word document • Editing an Excel doc
Editing is pretty straightforward and easy to use even on a mobile device. You type in the text and you can use the Format key to change the formatting of the selected text. You can also insert comments.
Formatting options include the standard bold, italic and underline, as well as text size, highlighting and font color. For highlighting and font colors you have only three colors to choose from, which is a little limiting but should be enough for most cases.
PowerPoint files will thrive in the Documents section too - but they are for viewing only, you can't edit them or create new ones.
Collaboration for both Word and Excel files is enabled with SharePoint. It allows syncing, sharing and web publishing but you'd need to use the right SharePoint server. You can attach those files to emails, though you need to do that from the Office hub. You can't do it from the email editor, which caused a little confusion at first.
OneNote is Microsoft's collaborative note taking tool. It has great (and easy to use) support for lists of multiple levels, you can add photos and voice memos and you can send notes via email when you're done. OneNotes can be synced with your SkyDrive or Windows Live account so that they are accessible from everywhere. Pin-to-homescreen is available too and so is the To-Do feature that turns the selected line into a to-do item that can be checked off.
Anyway, the apps support pinch zooming and work very well for viewing even complex documents. But Microsoft's fondness for simplicity may have over-simplified the editors. Still the innovation that Mango has brought to Windows Phone Office is great and shows Microsoft is dedicated to improving the Office experience further.