Retail package
The retail package of the Lumia 520 hasn't got anything special but sees to it that the user's basic needs are met. Inside, aside from the mandatory leaflets, you'll find a single piece wired charger, a microUSB cable and a plain-looking set of headphones.



The retail package covers the basics
There isn't a memory card supplied but the phone has an ample 8GB of built-in storage to get you started.
Nokia Lumia 520 360-degree spin
The Nokia Lumia 520 is about the size of a Lumia 800 - another proof that smartphones have only been getting bigger lately. Four inches of diagonal is no longer too much even for the most basic of offerings. Anyway, what this means in practice is that the 520 has found room for a bigger screen in a body that's just a tad wider - but slimmer - than the Lumia 800's.
It's a reasonably compact device by modern standards and one that's easy to hold and operate with one hand. At 119.9 x 64 x 9.9 mm, the Lumia 520 is not the slimmest smartphone around but by no means too chubby either. It weighs the perfectly acceptable 124g.
Design and build quality
Nokia has created a simple and sensible design that works equally well across their WP8 lineup. Of course, the finish varies from the flagship to the low-end but it's a consistent and recognizable styling that an entry level package is quick to take advantage of.
In a nutshell, the Lumia 520 is cheap without looking it. The curved shape and soft rubbery finish around back make for a handset that's got plenty of grip and style.
There's a hint at a unibody design, reinforced by the seriously sturdy feel of the phone, but the battery cover is actually removable - to get access to the battery, SIM compartment and memory card slot. The Nokia Lumia 520 lacks some of the refinement of a Lumia 720 but you wouldn't know either that you're dealing with the cheapest device in the range.





The Nokia Lumia 520 is one of the better looking entry level smartphones
We have a black and a white Nokia Lumia 520 at HQ but the phone also comes in the more flamboyant red, yellow and cyan. Like the Lumia 820 sibling, the Lumia 520 offers exchangeable rear covers - wireless charging isn't an option though.
Display
The Nokia Lumia 520 comes with a 4" screen of WVGA resolution (480 x 800 pixels), and the resulting pixel density is around 233 ppi. That's higher than the Lumia 720, which has a bigger 4.3" screen but this is where its advantages end.



The display is hardly spectacular
The Lumia 520's screen doesn't use the ClearBlack tech and contrast is the biggest casualty. The display clearly lacks the punch of a CBD like the one on the Lumia 720. On a positive note, the viewing angles are quite good.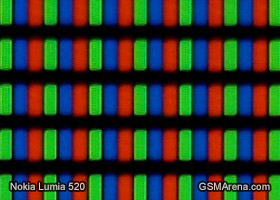 As you can see from the readings in our dedicated test the Nokia Lumia display isn't the brightest around and its contrast is far from great.
Display test
50% brightness
100% brightness
Black, cd/m2
White, cd/m2
Contrast ratio
Black, cd/m2
White, cd/m2
Contrast ratio
Nokia Lumia 520
-
-
-
0.51
422
834
Nokia Lumia 620
-
-
-
0.72
762
1068
Nokia Lumia 720
-
-
-
0.69
813
1172
HTC One X
0.15
200
1375
0.39
550
1410
Nokia Lumia 920
-
-
-
0.48
513
1065
Nexus 4
0.22
314
1447
0.45
608
1341
LG Optimus G
0.14
197
1445
0.33
417
1438
Apple iPhone 5
0.13
200
1490
0.48
640
1320
The glass above the Lumia 520's screen is quite reflective, which means the phone is barely usable when outdoor on a bright sunny day.
Sunlight contrast ratio
Nokia 808 PureView
4.698
Apple iPhone 5
3.997
Samsung I9300 Galaxy S III
3.419
Samsung I9300 Galaxy S4
3.352
Samsung Omnia W
3.301
Samsung Galaxy S
3.155
Nokia N9
3.069
Samsung Galaxy Note
2.970
HTC One S
2.901
Samsung Galaxy S II
2.832
Samsung Galaxy S II Plus
2.801
Huawei Ascend P1
2.655
Nokia Lumia 900
2.562
Nokia Lumia 720
2.512
HTC One
2.504
Sony Xperia Z
2.462
Samsung Galaxy S III mini
2.422
Motorola RAZR i
2.366
Samsung Galaxy Note II
2.307
Apple iPhone 4S
2.269
HTC One X
2.158
Nokia N8
2.144
Oppo Find 5
2.088
BlackBerry Z10
2.051
Apple iPhone 4
2.016
Sony Ericsson Xperia ray
1.955
Samsung Galaxy Camera
1.938
HTC Butterfly
1.873
Sony Xperia V
1.792
Sony Xperia U
1.758
LG Optimus 4X HD
1.691
HTC One V
1.685
LG Optimus Vu
1.680
HTC Desire V
1.646
LG Optimus G Pro
1.552
LG Optimus 3D
1.542
Nokia Asha 302
1.537
Nokia Lumia 610
1.432
Gigabyte GSmart G1355
1.361
HTC Desire C
1.300
LG Optimus L7
1.269
LG Optimus L9
1.227
Meizu MX
1.221
Sony Xperia E dual
1.203
Samsung Galaxy Pocket
1.180
Sony Xperia tipo
1.166
Nokia Lumia 520
1.161
Samsung Galaxy mini 2
1.114
You can find more about our display testing process here.