Photos with SkyDrive integration
The Photos hub is the place where you can browse through the photos taken with the Lumia 620. The idea of a hub is that it is a central place where apps can integrate and add functionality. For example, photo effects provided by a particular app can be accessed from here, if that functionality has been enabled by the app developer.
The main view of the Photos hub offers four options - camera roll, albums, date and people. A swipe to the left reveals what's new, which displays your Facebook friends and liked pages' new picture galleries. Another swipe shows your favorites section, where the photos you've faved are displayed.
Albums feature the camera roll, the preloaded system pictures and all of your Facebook albums. A flick to the left shows all your pictures sorted by date. You can't sort individual camera roll photos into albums, though.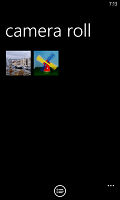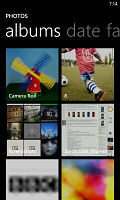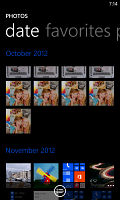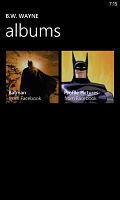 Camera roll • Album, date and people views
The camera roll presents your entire collection of photos and videos captured with the device in a 4x5 grid. You cannot change the layout. Viewing a photo can be done in either portrait or landscape mode. Zooming in on a photo is done by either double tap or a pinch. We like it that the camera roll doesn't downsize pictures and you can enjoy them in full resolution.
Nokia Mix Radio and Music + Videos
Nokia is pushing its own music service called Mix Radio ahead of the default Music + Video app. It offers free music streaming (it works out of the box) and has an extensive library of tracks.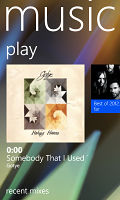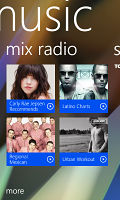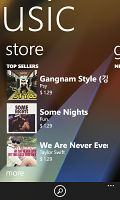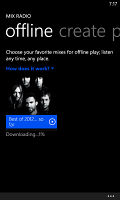 Nokia's Mix Radio app • making a track available offline
But Mix Radio competes with services like Pandora too - you can give it a list of artists you like and it will automatically build a playlist to your taste. Nokia takes pride in real people creating the mixes (including celebrity-made mixes) instead of computer algorithms. It even has an equalizer with Dolby enhancements.
5MP camera with many features
The camera interface remains what we're used to from the new WP8 UI, with the inclusion of a few extras from Nokia. You have your viewfinder and some controls on the right. From top to bottom they are the still/video camera toggle, front/back camera toggle, flash mode setting and the Lens button. On the left you have an arrow that takes you to the images taken with the camera, alternatively you can do a swipe gesture too.
The camera app on Windows Phone offers extensive settings, ranging from scenes and effects to white balance, contrast, saturation, sharpness and ISO among others. You have a dedicated Macro focus mode but no face detection. The flash can be set to auto, forced or off.
Lenses is an interesting feature, enhancing the camera functionality without making a mess of third party apps each with its own UI. Lenses are accessible directly from the native camera app (they show up in the list of installed apps too if you want to pin a Lens to the start screen).
Nokia has preloaded the Smart Shoot lens, which uses Scalado technology to remove unwanted elements from your photos. It snaps several photos, and then lets you pick different facial expressions if you're shooting a group of people, or even erase someone if they happen to walk through your shots.
It's too early to be passing final verdicts on the Lumia 620 image quality, but given the kind of bad weather we've been having around the office recently, it did pretty well. We'll be able to share more when we get to spend more time with the smartphone.