Internet Explorer is great for mobile browsing
The new Internet Explorer in Widows Phone 8 brings a great overall package to the table, with amazingly fast performance for such a low RAM device.
As usual, the URL bar is always visible at the bottom of the screen (but the status bar at the top of the screen auto-hides, so you don't actually lose any screen real estate) and next to it is the refresh button.
The URL bar also serves as a search bar - by default, anything you type that doesn't resolve to an URL will be sent over to the Bing app. You can also pick Google as a search provider, which will open the Google search results page in the browser instead.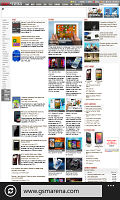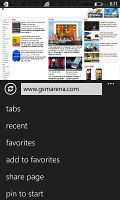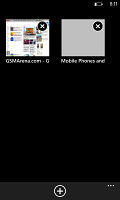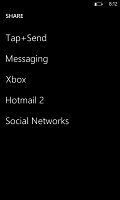 Internet explorer mobile • tabs • sharing a site
In the beginning, we likened the Lumia 620 with the Windows Phone 8S from HTC, as both devices feature the same amount of RAM, the same dual-core Krait processor, and even the same WVGA screen. As such, we were pleasantly surprised to see some great browser performance figures out of the Luma 620 - markedly better than those of the 8S, and in fact scoring closer to some of the more powerful Lumia devices.
SunSpider
Lower is better
Samsung Ativ S
891
Nokia Lumia 820
910
Nokia Lumia 920
910
Apple iPhone 5
915
HTC Windows Phone 8X
923
Nokia Lumia 620
1174
Samsung Galaxy S III
1192
LG Optimus G
1353
HTC Windows Phone 8S
1413
BrowserMark 2
Higher is better
LG Optimus G
2555
Nokia Lumia 920
1774
Nokia Lumia 820
1760
Nokia Lumia 620
1648
Samsung Omnia W
1632
HTC Windows Phone 8S
1556
Samsung Galaxy S III (JB)
1247
Nokia Maps and Drive, other location-based apps
One of the highlights of the Windows Phone Lumia series is the inclusion of Nokia's powerful Maps and Drive applications.
Nokia Drive offers free, life-time voice-guided navigation anywhere in the world. All you have to do is download a voice in your language of choice and you're good to go. Of course, to make use of the key selling point of Drive - offline navigation - you have to download a map for a country of your choice too.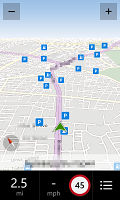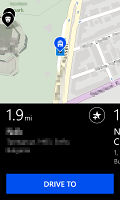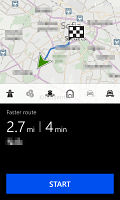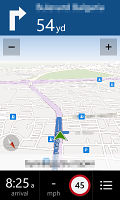 Nokia Drive does voice-guided navigation
With Drive you can easily plan routes (all offline, unlike the early iterations of this app) and you can tweak various settings for each route - fastest/shortest/economical route can be selected and you can choose whether the app will use or avoid motorways, toll roads, ferries, tunnels, unpaved roads and motor trains. There are icons to remind you of the selected settings.
Drive uses big, clear instructions on its screen in addition to the voice prompts, which is ideal for in-car use. You can switch between 2D and 3D mode and switch the color scheme (day, night, auto). There are speed alerts and real-time traffic information.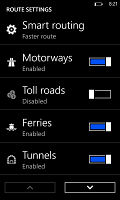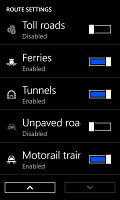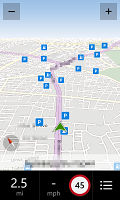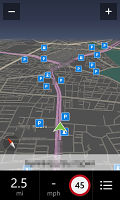 Tweaking the route-planning algorithm • day and night color schemes
Nokia Maps takes on other duties - instead of navigation, it's more of a replacement for paper maps that you can take as you explore a city. It will help you discover new places, read a quick description, see photos, read reviews and check what renowned guides like Lonely Planet, Insight Guides and Qype have to say about it.
Nokia has an exclusive app to help you find things near you too - it's called City Lens and it's an augmented reality app. Basically, it launches the camera and overlays various icons representing the nearby POI (along with distance and star rating), moving as you pan the camera.
You can switch to a traditional list too - you just hold the phone upright and it will switch automatically (it's triggered by the accelerometer). Or if you hold the phone perpendicular to the ground, it will switch to map view.
Tapping on a place will fire up Nokia Maps so you can have a look at the extensive info it offers.
First impressions
We really like what we've seen from the Nokia Lumia 620 so far. The smartphone is decently quick, has a nice youthful styling and arguably gives the best bang for your buck in the Microsoft camp. It's more than certain that the flashy paint jobs will resonate with a younger demographic, but it's exactly the target audience Nokia and Microsoft would want to get on board.
By the way, if Nokia gave the Lumia 620 a slightly more serious styling, it would have probably killed the HTC 8S. Instead, the Finns made it possible for the two smartphones to co-exist, thus giving the platform as a whole a better shot at growth.
The only aspect of the Lumia 620's performance about which we still need to be convinced is battery life. The tiny battery has good ratings on paper, but only after properly testing a retail unit will we know if it's any good in real life. It looks like Nokia will be selling the Lumia 620 as the phone to be seen with. But reasonably fast performance, proper battery backup and a solid software package may as well make it the affordable WP8 smartphone to own.