The Lumia 620 is finds itself in a pretty comfortable position right now. It's far from the hunting grounds of the WP8 powerhouses and yet it provides solid smartphone experience, a very decent screen and a design, which while not as sophisticated as that of the Lumia 820 and 920, has more youthful appeal than either of them.
This might not be the most capable smartphone around, but it can do the basics just fine and it even has a couple of nice tricks up its sleeve. Since there are more casual users than aren't too many power users shopping in this price range, it might even be the most sensible Lumia of this generation.
So let's get down to business - the enemies in plain view. The Lumia 620 costs around €250 right now and its main rival is the HTC Windows Phone 8S, which seems to match it perfectly in terms of hardware. Imaging is on par with two 5 MP snappers. There are two identical sets of chipsets to power both devices, and the HTC smartphone even offers a slightly bigger 4.0" S-LCD of the same WVGA resolution.
Pricing is dead equal too so it appears that it's almost too close to call between those two. Except that it actually isn't. The exclusive software goodies like free-for-life voice-guided navigation and Nokia Music make the Lumia 620 a clear favorite here. True, the HTC Windows Phone 8S can also use Drive+, but only in three countries and it only gets a beta version of the app.
Then there's Huawei Ascend W1. It sports the same dual-core Krait CPU, but it's clocked at 1.2GHz. The camera on the back is also a 5 MP unit and the screen is a 4.0" WVGA IPS unit. It too offers a microSD card slot and it will even cost less money than the Lumia 620 and Windows Phone 8S.
But the Huawei W1 also lacks Nokia's software perks and we find those to be worth the price difference. Feel free to disagree if you don't plan on using them, though.
Next comes a contender, sporting Android. The Sony Xperia P has a marvelous aluminum unibody and 4" Reality display of qHD resolution, meaning slightly more pixels. It's not ClearBlack but does feature the Mobile BRAVIA engine enhancement and the White Magic power for improved outdoor visibility. The camera is an 8MP unit and the smartphone is close to a Jelly Bean update.
The catch is the Xperia P runs on a less capable chipset and even though it has more internal storage, it has no microSD card for expanding that. At the end of the day the Xperia P will be the more functional smartphone, but the Lumia 620 is the smoother one, and the one to offer the more consistently looking interface, so it's your call really.
Finally, we come to the Samsung Galaxy S III mini, which has Jelly Bean out of box. It the same dual-core Cortex-A9 processor as the Xperia P, a 5 MP camera, a Super AMOLED display, microSD card slot for memory expansion and costs the same as the Lumia 620. The latest version of TouchWiz and its Nature UX certainly gives a nice usability and functionality boost to Android, too, though its styling isn't everyone's cup of tea.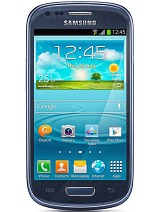 Samsung I8190 Galaxy S III mini
Nokia chose Windows Phone a while ago. More than a couple of years ago, actually. And looking back, it may have been the wiser choice compared to Android. Today Nokia can price its devices, like the Lumia 620, attractively and hold its WP rivals at arm's length with its exclusive software enhancements.
Nokia Maps and Drive play a huge role in Windows Phone but won't make such a big splash on Android where Google provides its excellent Maps app with navigation in quite a lot of countries. On Windows Phone Nokia really has the chance to shine and evade serious internal competition, including the world's leading smartphone maker Samsung. Despite the more than capable Ativ S, Samsung's heart isn't as bent on Windows Phone as it is on Android and is happy to leave the largest part of that to Nokia.
Until recently Windows Phone was only a bottom-of-ladder alternative to bored smartphone users, which come from iOS or Android. Thanks to the Lumia 620 low price point, it will also be an interesting option to newcomers, who don't have a clear idea which OS is best. So the time is ripe and Windows Phone is approaching the next level and Nokia might finally get a chance to start the fight back and recapture some of its territory.