Connectivity - everything's covered
The Nokia Lumia 620 has quad-band GSM/GPRS/EDGE support, quad-band 3G with HSPA but lacks LTE connectivity. HSDPA still offers reasonably good speeds at 21Mbps downlink and 5.76Mbps uplink.
The local connectivity is covered by dual-band Wi-Fi a/b/g/n with DLNA, Wi-Fi Direct and hotspot, and stereo Bluetooth 3.0. Bluetooth is no longer limited as to what it can do - there's file transfer support now.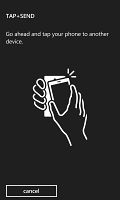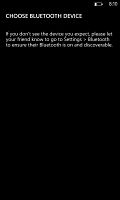 Sending files is easy with NFC and Bluetooth
There is Mass Storage mode and you can upload files without needing to install any software. There is no requirement as to where you put your files (specific folders, etc.). If the phone has the appropriate app to handle a file, you'll have access to it. Since there is no WP file manager, you'll have to access the unrecognizable files only via a computer.
The phone knows music and video, as well as pictures and documents. But if you have a ZIP or a RAR file, you won't be able to attach it to emails, because there is no file manager and there is no app to recognize this file and list it in the phone.
In addition to your phone storage, you also get at least 7GB of SkyDrive cloud space.
The Lumia 620 also has NFC connectivity, which is used in the Wallet app. Unfortunately, we won't know whether that has any potential to expand beyond its out-of-the-box functionality for at least a few more months.
NFC is still useful for file sharing and it works across other platforms with NFC support. Sending a picture with a number of Jelly Bean devices, for instance, wasn't a problem and the same goes for web pages.
NFC comes into play with some accessories too - like the JBL PowerUp speaker that automatically starts playing when you put the Lumia 620 on top of it.
Internet Explorer is smart, fast and sociable
The Internet Explorer on Widows Phone 8 brings a major upgrade, but kept its old looks. Almost everything Microsoft has done on the IE is under the hood and the end result is close to excellent. The Lumia 620 has a big enough screen for comfortable browsing, but the pixel density is only average, so text can get fuzzy at low zoom levels.
As usual, the URL bar is always visible at the bottom of the screen (but the status bar at the top of the screen auto-hides, so you don't really lose any screen real estate) and next to it is the refresh button.
The URL bar is united with the search bar - by default, anything you type that doesn't resolve to an URL will be sent over to the Bing app. You can also pick Google as a search provider, which will open the Google search results page in the browser instead.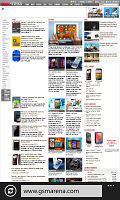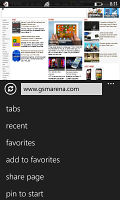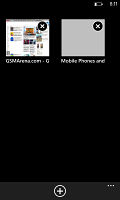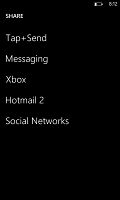 Internet explorer mobile • tabs • sharing a site
You can, of course, bring up the extended settings, which offer a great deal of options - tabbed browsing, recent history, favorites, share options, pin to Start, find on page and settings. The settings menu offers the usual options like location, allow cookies, delete browsing history and it prompts choosing a global preference for mobile or desktop site versions.
The Share option is interesting in that you can not only send the page address in a message, but you can share it with your Xbox (if you have it set up). This way you can easily transfer a page from your phone to your TV and continue browsing there.
The browser makes the controls in web pages look just like their equivalents in native apps. So, a web app can look just like a native app with practically no extra effort from the designer.
And finally, you can open more than six tabs simultaneously, eight or ten worked just fine (WP7.x used to have a restriction on the number of tabs),
We expected the Nokia Lumia 620 to match the other WP8 phones we've tested in terms of performance in the SunSpider and BrowserMark benchmark tests but it didn't deliver. It secured itself a spot further down the line, way below the likes of the Lumia 920 and Android's top smartphones.
SunSpider
Lower is better
Samsung Ativ S
891
Apple iPhone 5
915
Nokia Lumia 920
910
HTC Windows Phone 8X
923
Samsung Galaxy Note II
972
HTC One X+
1001
Motorola RAZR i XT890
1059
Samsung Galaxy S III
1192
Meizu MX 4-core
1312
LG Optimus G
1353
HTC Windows Phone 8S
1413
Nokia Lumia 620
1435
Nexus 4
1971
Oppo Find 5
2045
BrowserMark 2
Higher is better
LG Optimus G
2555
Oppo Find 5
1797
Nexus 4
1794
Nokia Lumia 920
1774
Nokia Lumia 820
1760
Samsung Omnia W
1632
HTC Windows Phone 8X
1556
Nokia Lumia 620
1469
Samsung Galaxy S III
1247
By the way, Windows Phone 8 has built-in mobile data management tools called Data Sense. Its purpose is twofold - it tracks how much data each app has used and can even help you save data by compressing web pages and images before they are sent to the browser (similar to Opera's Turbo). Data Sense depends on carrier support and doesn't work yet (not even tracking data usage).
Nokia is working on the Xpress Browser for Windows Phone, which does the web page compression trick independently of carriers, but that isn't available for the Lumia 620 yet. We're slightly disappointed that Microsoft and Nokia promised stuff that we wanted to try out, only to find out it's not yet available.
Bing search
The looking glass button on the Lumia 620 brings you to the new Bing search app. At first glance, it's the same app overall - you type in a query and you get search results from the web and there's a pretty background photo with several translucent squares you can tap to learn interesting facts about the subject.
We would like to see a Windows 8/Windows RT mode where hitting the search button in any app prompts a unified search within the same app with a context menu to take search further - for instance web, local storage, other apps, etc.
Bing offers more than just web results though - for example, searching for "travel" will offer a travel tool app. This feature is called App connect.
There are three search features you can quickly reach from the default Bing screen. The first one is Local Scout, which lets you search for various points of interest around you. There's the camera scanner too, which can snap a photo of text, run OCR and translate it into another language - this is the so-called Bing Vision camera lens. The third one is the song recognition feature that gives you track and artist name and takes you to the music store so you can buy the track.
Bing also tries to be a bit of a homepage too - you can swipe to the left to browse top videos, locally playing movies and top headlines.