Retail package includes additional back cover
The retail package of the Nokia Lumia 625 is a pretty standard deal. Inside the moderately-sized box you'll find a USB cable, an A/C adapter for your particular region, and a headset. The charger has its own cord rather than relying on the provided USB cable like in most other retail packages.
As an added bonus, Nokia has thrown in an extra back cover - orange in our case, to complement the yellow one that the Lumia 625 came in.





The Nokia Lumia 625 retail package includes an additional back panel
Nokia Lumia 625 360-degree spin
At 133.3 x 72.3 x 9.2mm and 159g, the Lumia 625 comes in larger and heavier than its younger 620 sibling, due to its larger display. One notable improvement is that Nokia was able to trim the phone's profile by almost 2mm, leading to a much more elegant and less bulky feel.
The removable back panel's only benefit is customization - the 2000 mAh battery is non-user-replaceable.The matte finish provides a surface that is very resistant to fingerprints, but still has enough texture so as to provide grip and not feel poorly made.
Design and handling
The replaceable back panel has the added benefit of covering not only the rear of the device, but also the sides, and is even visible from the front as a slim frame around the screen. This means that the back panel on the Lumia 625 does more than just cover the battery and internal slots - it defines it.
We've already mentioned that the matte finish on the well-fitted plastic rear panel is almost impervious to fingerprints, but it also lends to a feeling of quality. The hardware buttons also come as part of the panel, so you don't have to worry about them being a different color when you want to change things up.
Besides our yellow and orange, the Lumia 625 also has bright green, black, and white panels to choose from.




The changeable rear panels bring character to your device
Beyond that, the design strategy of the 625 is largely the same as what you'll find on most other Lumias: rectangular frame with tapered edges, for a subtly curved back. The display on the front also features gently tapered edges, which lend to the overall design aesthetic.




The design scheme is true to Nokia
The Lumia 625 is heavier than its predecessor by just over 30g, but by no means overly so. The added weight can not only be attributed to the larger display, but also to the hefty increase in battery capacity to 2000 mAh.
Display
While you'll find AMOLED displays on high-end Nokia phones - the 925, 928, and 1020 to name a few - or LCD ClearBlack displays further down the ranks, the Lumia 625 has to make do with a garden variety LCD. It's an IPS unit nonetheless, and even one that's covered with Gorilla Glass 2.



The Nokia Lumia 625 has a 4.7" WVGA screen
The display in question measures 4.7" and is of WVGA resolution (480 x 800) - the same as the 3.8-inch Lumia 625 - which results in a pixel density of just under 200ppi. While 200ppi is considered right around average by today's standards, they do tend to get stretched a little thin on such a large display. Here's how the pixels on the Lumia 625 stack up to the Lumia 620 under our microscope: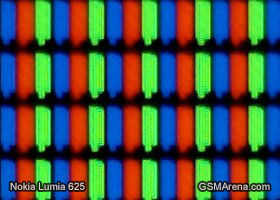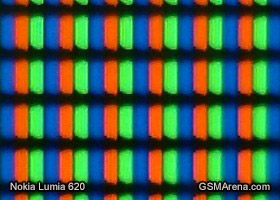 The Nokia Lumia 625 has a setting that allows the user to choose one of eleven saturation levels, should the display appear too punchy for your liking.
The color temperature option is great too - it has 11 settings and goes from cool through neutral to warm. On LCD phones you're usually stuck with either a cool screen or a warm screen, depending on your preference it's either good or bad, it's a matter of luck hitting the right one. Having control over that takes chance out of the equation.
In terms of contrast, the contrast ratio provided by the Lumia is right around the middle of the road. We are content with the side viewing angles, but these are just average as well.
Display test
50% brightness
100% brightness
Black, cd/m2
White, cd/m2
Contrast ratio
Black, cd/m2
White, cd/m2
Contrast ratio
Nokia Lumia 625
0.18
200
1111
0.33
395
1205
Sony Xperia Z Ultra
-
-
-
0.47
467
1001
Sony Xperia Z
-
-
-
0.70
492
705
Huawei Ascend Mate
0.23
222
982
0.67
711
1053
Samsung Galaxy Mega 6.3
0.12
160
1364
0.32
440
1379
Samsung I9505 Galaxy S4
0
201
∞
0
404
∞
HTC Butterfly S
0.15
165
1117
0.43
451
1044
HTC One
0.13
205
1580
0.42
647
1541
Oppo Find 5
0.17
176
1123
0.51
565
1107
Apple iPhone 5
0.13
200
1490
0.48
640
1320
As for the sunlight legibility leaves much to be desired.
Sunlight contrast ratio
Nokia 808 PureView
4.698
Apple iPhone 5
3.997
Samsung I9300 Galaxy S III
3.419
Nokia Lumia 925
3.402
Samsung I9505 Galaxy S4
3.352
Samsung Omnia W
3.301
Samsung Galaxy S
3.155
Samsung Galaxy S4 mini
3.127
Samsung Galaxy S4 zoom
3.118
Nokia N9
3.069
Samsung Galaxy Note
2.970
Sony Xperia Z1
2.950
HTC One S
2.901
Samsung Galaxy S II
2.832
Samsung Galaxy S II Plus
2.801
Huawei Ascend P1
2.655
Sony Xperia ZR
2.672
Nokia Lumia 900
2.562
Nokia Lumia 720
2.512
HTC One
2.504
Sony Xperia Z
2.462
Samsung Galaxy S III mini
2.422
Motorola RAZR i
2.366
Samsung Galaxy Note II
2.307
Apple iPhone 4S
2.269
HTC Desire 600 dual sim
2.262
HTC One X
2.158
Nokia N8
2.144
Oppo Find 5
2.088
BlackBerry Z10
2.051
Apple iPhone 4
2.016
HTC One mini
2.003
LG G2
1.976
Sony Ericsson Xperia ray
1.955
Samsung Galaxy Camera
1.938
HTC Butterfly
1.873
Huawei Ascend P6
1.865
Sony Xperia V
1.792
Sony Xperia U
1.758
LG Optimus 4X HD
1.691
HTC One V
1.685
BlackBerry Q5
1.682
LG Optimus Vu
1.680
LG Optimus GJ
1.666
HTC Desire V
1.646
Sony Xperia Z Ultra
1.578
Samsung Galaxy Core
1.563
LG Optimus G Pro
1.552
LG Optimus 3D
1.542
Nokia Asha 302
1.537
Sony Xperia M
1.473
Nokia Lumia 610
1.432
Nokia Lumia 625
1.371
Gigabyte GSmart G1355
1.361
HTC Desire C
1.300
Nokia Asha 501
1.270
LG Optimus L7
1.269
LG Optimus L9
1.227
Meizu MX
1.221
Sony Xperia E dual
1.203
Samsung Galaxy Pocket
1.180
Sony Xperia tipo
1.166
Samsung Galaxy mini 2
1.114
The screen on the Nokia Lumia 625 uses the Super sensitive touch technology that debuted on the 920. It can respond to fingernails or car keys, and will detect touches even if you're wearing gloves.