5MP camera does very good job
The Nokia Lumia 625 boasts a 5 MP camera which is capable of taking pictures of up to 2592x1936 pixel resolution.
The camera UI is pretty simple - you have your viewfinder and a couple of controls on the right. Those are the still/video camera toggle and the Lens button. On the left you have an arrow that takes you to the images taken with the camera, alternatively you can do a swipe gesture too.
The camera app on Windows Phone offers extensive settings, ranging from scenes and effects to white balance, contrast, saturation, sharpness and ISO among others. You have a dedicated Macro focus mode but no face detection.
Holding the shutter key will wake the phone up with and launch the camera app. The Lumia 520 is not the fastest shooter around and it takes it a couple of seconds before a photo is taken. This is a longer delay than we're used to from smartphones of late.
Lenses are an interesting take at feature add-ons, enhancing the camera functionality without making a mess of third party apps each with its own UI. Lenses are accessible directly from the native camera app (they show up in the list of installed apps too if you want to pin a Lens to the start screen).
Nokia has preloaded the Smart Cam lens, which is by far the most powerful, plus the Panorama, Cinemagraph and Glam Me lenses.
Cinemagraph creates photos that are mostly static, but a part of them is animated. You have to hold the phone steady while shooting. When you're done, the Lens will offer two (sometimes three) areas that can be animated and when you pick an area, you can tweak the animation, trim it, and set the loop pattern.
Nokia Smart Cam uses Scalado technology (Nokia owns the company) - it shoots multiple photos and lets you pick which one to save (a sort of burst mode). You can also pick the best face and cycle through each facial expression a person made while the camera was snapping photos. The third option is Erase, which will remove moving objects (e.g. someone walking in front of the landmark you're trying to shoot just as you press the shutter).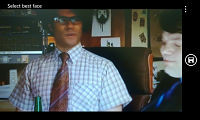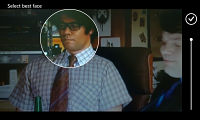 Smart Shoot snaps several photos and you can delete a moving object or pick the best face
The Nokia Lumia 625 fares surprisingly well as far as image quality is concerned. The level of detail is great for the 5 MP league, while contrast, colors and dynamic range are pretty good, too. Noise is kept to a minimum and the little visible noise is of the luminance type, which is more acceptable as opposed to the chroma one.








Nokia Lumia 625 camera samples
The close up mode or otherwise macro is great. The Lumia 625 can focus from a really close distance.
Photo quality comparison
The Nokia Lumia 625 enters our photo quality comparison tool, where you are free to face it with any of the smartphones in our data base - the tool's page will give you information on what to watch out for.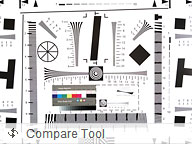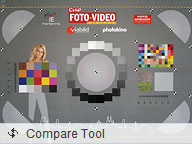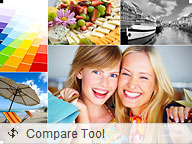 Nokia Lumia 625 in our Photo Compare Tool
Camcorder captures 1080p@30fps
The camcorder interface is identical to the still camera's and has plenty of features too. You can change the white balance and turn the continuous auto-focus on or off. You can use the LED flash as video light.
The Nokia Lumia 625 captures 1080p videos, which are pretty smooth, with lots of detail. Colors are accurate and contrast is good too. The continuous auto-focus sometimes is too sensitive though, but it's nice there is an option to turn it off. Unfortunately there is no touch focus option, you have to rely on the auto-focus for the video, and it sometimes fails when shooting close objects such as our Ferris Wheel for the video comparison tool.
Bitrate is reasonable at 20 Mpbs and the framerate is firmly at 30 fps. The Lumia 625 captures only mono sound at 98 Kbps bitrate and 44 kHz sampling rate.
Here's a 1080p video sample we've uploaded to YouTube.
And here is one untouched 1080p video you can download.
Video quality comparison
The Nokia Lumia 625 is ready to bump heads with the likes of the Lumia 920 and Lumia 925 in our video quality comparison tool. Once again you should consult the tool's page for information on how to operate it and what to look out for.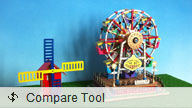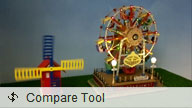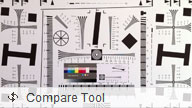 Nokia Lumia 625 in our Video Compare Tool
Connectivity lacks NFC
The Nokia Lumia 625 has quad-band GSM/GPRS/EDGE support, tri-band 3G with HSPA and tri-band 4G LTE connectivity. If you're in range of an LTE network, the 625 will do up to 100Mbps downlink and 50Mbps uplink. If not, HSDPA still offers reasonably good speeds at 42Mbps downlink and 5.76Mbps uplink.
The local connectivity is covered by (single-band) Wi-Fi b/g/n and hotspot, and stereo Bluetooth 4.0. Bluetooth is no longer limited as to what it can do - there's file transfer support now.
Nokia Lumia 625 lacks NFC support and that's why the Tap+Send function is missing.
There is Mass Storage mode for the internal phone storage and you can upload files without needing to install any software. There is no requirement as to where you put your files (specific folders, etc.). If the phone has the appropriate app to handle a file, you'll have access to it. Since there is no WP file manager, you'll have to access the unrecognizable files only via a computer.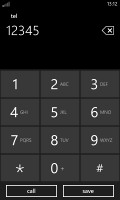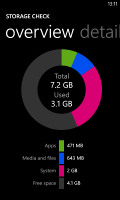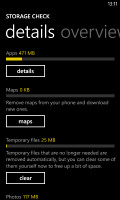 Settings for the phone's storage
The phone knows music and video, as well as pictures and documents. But if you have a ZIP or a RAR file, you won't be able to attach it to emails, because there is no file manager (although a third party app is now in its beta testing stages) and there is no app to recognize this file and list it in the phone.
In addition to your phone storage, you also get at least 7GB of SkyDrive cloud space.
Fast Internet Explorer browser
The Internet Explorer on the Lumia is the classic Windows Phone 8 deal, which has hardly changed with the minor update of the OS. The Lumia 625 has a big enough screen for comfortable browsing and the ~200ppi pixel density is enough though you'll have to zoom in on some tiny fonts.
As usual, the URL bar is always visible at the bottom of the screen (but the status bar at the top of the screen auto-hides, so you don't actually lose any screen real estate) and next to it is the refresh button.
The URL bar also serves as a search bar - by default, anything you type that doesn't resolve to an URL will be sent over to the Bing app. You can also pick Google as a search provider, which will open the Google search results page in the browser instead.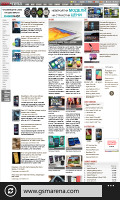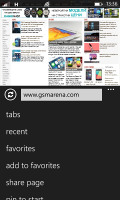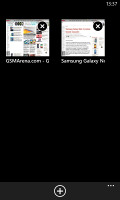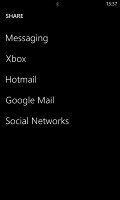 Internet explorer mobile • tabs • sharing a site
You can, of course, bring up the extended settings, which offer a great deal of options - tabbed browsing, recent history, favorites, share options, pin to Start, find on page and settings. The settings menu offers the usual options like location, allow cookies, delete browsing history and it prompts choosing a global preference for mobile or desktop site versions.
The Share option is interesting in that you can not only send the page address in a message, but you can share it with your Xbox (if you have it set up). This way you can easily transfer a page from your phone to your TV and continue browsing there.
The browser makes the controls in web pages look just like their equivalents in native apps. So, a web app can look just like a native app with practically no extra effort from the designer.
And finally, you can open more than six tabs simultaneously, eight or ten worked just fine (WP7.x used to have a restriction on the number of tabs).
The Internet Explorer browser is great, though it's definitely not the fastest on the market.
SunSpider
Lower is better
Sony Xperia Z Ultra
750
Samsung Galaxy S4 (Octa)
804
Samsung Galaxy S4 (S600)
810
Sony Xperia Z1
845
Samsung Ativ S
891
Nokia Lumia 925
897
LG G2
908
Nokia Lumia 920
910
Nokia Lumia 1020
912
Apple iPhone 5
915
Samsung Galaxy Note II
972
HTC One X+
1001
LG Optimus G Pro
1011
Motorola RAZR i XT890
1059
HTC One
1124
Nokia Lumia 625
1138
Samsung Galaxy S4 Active
1196
Samsung Galaxy S III
1192
Sony Xperia Z
1336
LG Optimus G
1353
Nokia Lumia 720 (Amber)
1413
HTC Butterfly
1433
Nexus 4
1971
Oppo Find 5
2045
BrowserMark 2
Higher is better
LG G2
2718
LG Optimus G
2555
Samsung Galaxy S4 (S600)
2438
Sony Xperia Z Ultra
2419
Sony Xperia Z1
2398
Samsung Galaxy S4 Active
2338
HTC One
2262
Sony Xperia Tablet Z
2170
Sony Xperia ZL
2107
Sony Xperia Z
2093
LG Optimus G Pro
1801
Oppo Find 5
1797
Nexus 4
1794
Nokia Lumia 920
1774
Google Nexus 10
1773
Nokia Lumia 1020
1767
Nokia Lumia 625
1610
Nokia Lumia 925
1532
HTC Butterfly
1475
Samsung Galaxy S III
1247
By the way, Windows Phone 8 has built-in mobile data management tools called Data Sense. Its purpose is twofold - it tracks how much data each app has used and can even help you save data by compressing web pages and images before they are sent to the browser (similar to Opera's Turbo). Data Sense depends on carrier support and doesn't work yet (not even tracking data usage).
Bing search
The looking glass button on the Lumia 625 brings you to the Bing search app. It's the same app we used to see - you type in a query and you get search results from the web and there's a pretty background photo with several translucent squares you can tap to learn interesting facts about the subject.
With Local Scout now integrated into the places section of Nokia Maps, there are now two search features you can quickly reach from the default Bing screen. The first one is the camera scanner, which can snap a photo of text, run OCR and translate it into another language - this is the so-called Bing Vision camera lens. The second is the song recognition feature that gives you track and artist name and takes you to the music store so you can buy the track.
What's missing is the homepage-like additional Bing Search screen. It seems the Amber update removes this functionality.