Cortana at your service
Cortana is Microsoft's answer to Siri, S Voice and Google Now. It premiers on Windows Phone 8.1. It does a pretty good job with voice recognition and it has the potential of helping you out on a number of occasions throughout your day.
Cortana is nothing like Google Now though, but very similar to Siri. It recognizes your voice commands and questions in natural human language and provides voice feedback. The voice comes courtesy of Halo's Jen Taylor and indeed, Cortana probably is the most human-like sounding virtual assistant. There is no male voice though.
So, what can Cortana actually do for you? First you need to personalize it in order to utilize its full potential. The Settings are called Notebook and are divided into Interests, Reminders, Quiet Hours, Inner Circle, Places, and Music Searches. In Interests you can assign literally everything you like and Cortana will help you track specific news, plan trips, find restaurants or bars, and many more.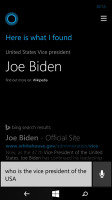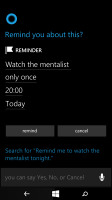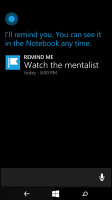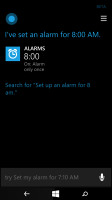 Finding the answers to simple question, making notes and setting alarms are all supported
Cortana supports reminders including people-based ones - you can tell her to remind you of something next time you call some of your contacts. It also supports reminders by location (home, work, university, stores). So it can remind you to congratulate your colleague for their birthday before starting with the work-related questions.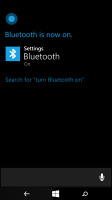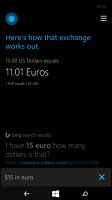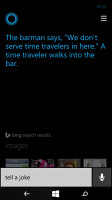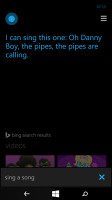 You can turn on your Bluetooth or check the currency exchange rates • she can do fun stuff too
Cortana can also remember places, important people to you (it can even suggest such people based on your activity), plus it can actively control your quiet hours mode.
Cortana can fully interact with your phone and carry out all kind or commands related to it - make a call, send a message, add appointments, take notes, set alarms, play specific music or playlists, navigate you to locations or simply search the web. It can also turn on/off settings or give you straightforward answers to simple questions (such as, who is the president of...). Plus she can even tell jokes and sing songs, even though we don't see her winning Grammy anytime soon.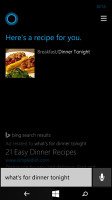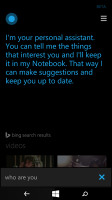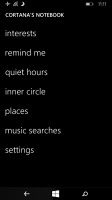 Asking what's for dinner • Who are you? • Settings
Cortana is also capable of checking the traffic in your city and it will remind you to leave early or warn you if your bus or train has been delayed. It can also provide alternatives routes to avoid traffic jams.
Unique among virtual assistants, Cortana can also forward your commands to third party apps, so you can for example ask it to open Skype and call some of your contacts. Only Skype, Facebook and Twitter are said to support that functionality at launch, but others should follow sooner rather than later.
As far as the speed of voice recognition is concerned, WP's virtual assistant does a fine job. Words are recognized almost in real time, although the accuracy often leaves something to be desired. Thick accents and noisy environments don't play nice with Cortana and often result in queries not being properly recognized.
Microsoft reminds you that Cortana is still in beta and it will be capable of much more once it finalized. Siri can do a lot more than Cortana today, while Google Now with its automatically appearing cards is probably the most useful of the bunch but those two have quite a head start. Microsoft is promising it is developing new features as you are reading this.
We'd also like to see Cortana hitting other regions and languages as the US is the only supported one for now. The good news is you can bypass that limitation by simply changing your region in the settings menu - no complicated hacks required.
Meet People Hub - your socialized phonebook
People Hub is one of the best phone/social book to date. It has page layout, just like the rest of the WP interface and supports multiple accounts, including social ones. The first page is your contacts list, the second one is What's New with all of your friends' social updates, then come (chat) Rooms, and Groups.
Just like the People app, viewing a single contact also allows you to check this specific person's social updates plus you can view the complete history of exchange with this contact in one place, displayed chronologically. Everything but status updates is listed here: calls, texts (actually threads from the Messaging hub) and emails.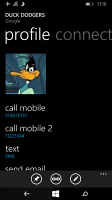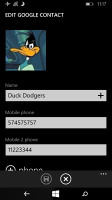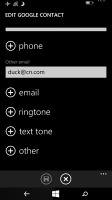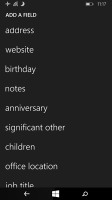 Viewing and editing a single contact
The Me tile is also available, which acts as your collective social hub - you can see all of your social updates here, post statuses across all services, even check-in option is available. You can send IMs to your Facebook/Twitter friends from the Me app too.
Telephony integrates with Skype
The Nokia Lumia 630/635 offers loud and clear in-call sound. Signal reception was problem-free as well.
The phone application shows you the call history, now with call duration courtesy of WP 8.1, there are shortcuts to voice mail, dialer and phonebook. Smart dial is not supported, but you can use Cortana to dial someone in a flash.
One new feature you'll notice in the in-call screen is the Skype button. If you hit it, your call will be automatically transferred into a free Skype video chat. Of course, the other user must have a Skype client installed plus an active internet connection. Since the Lumia 630/635 doesn't have a front-facing camera, it won't be able to offer a face-to-face Skype video call.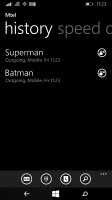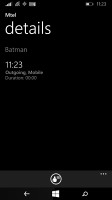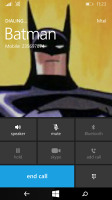 The call log • the in-call screen with Skype integration
One more thing, the Lumia 630/635 doesn't come with a proximity sensor and the screen doesn't go off during a call unless your ear or cheek touches it or you decided to lock the Lumia 630/635. Apparently, the screen can recognize the press of your cheek or ear and turn itself off during calls.
We ran our traditional loudspeaker test and the Lumia 630/635 scored a Good mark, so having missed calls or notifications are rather unlikely in all but the loudest environments.
| | | | | |
| --- | --- | --- | --- | --- |
| Speakerphone test | Voice, dB | Pink noise/ Music, dB | Ringing phone, dB | Overal score |
| Nokia Lumia 625 | 65.3 | 64.8 | 68.8 | Below Average |
| Samsung Galaxy Ace 3 | 66.2 | 62.1 | 66.6 | Below Average |
| Sony Xperia E1 | 63.5 | 65.8 | 75.5 | Average |
| Nokia Lumia 520 | 68.2 | 69.0 | 66.5 | Average |
| Nokia XL | 66.7 | 65.2 | 76.7 | Good |
| Nokia Lumia 630/635 | 68.0 | 65.3 | 75.8 | Good |
| Sony Xperia M | 66.5 | 66.1 | 77.3 | Good |
| Nokia Asha 501 | 73.1 | 68.1 | 78.0 | Very Good |
| Samsung Ativ S | 73.7 | 73.5 | 82.7 | Excellent |
| Motorola Moto G | 81.6 | 75.7 | 82.7 | Excellent |
Messaging has everything
The Messaging hub looks exactly like on Windows Phone 8, but once you open a thread you'll notice two new options - shortcut to go to the contact's full details in People Hub, plus a settings to mute the thread. If you choose Mute, then you'll stop receiving any notifications for incoming messages from this number, though the messages will still be saved in the thread.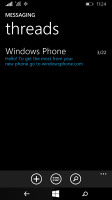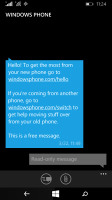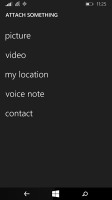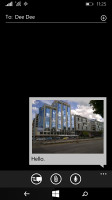 Messaging • adding multimedia content is easy
Threads are the building blocks of all non-email messaging. Although a sort of conversation view, threads mash together SMS, Facebook and Windows Live messages. That's the thing we love about Windows Phone: the Messaging hub removes the old division between texts, IMs, social messages.
The native email client has very simple interface but it offers everything an email client should feature - support for multiple accounts, threaded view, batch operations, search. You can access all folders your account have too.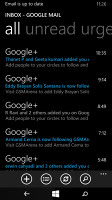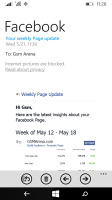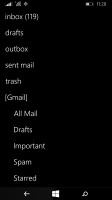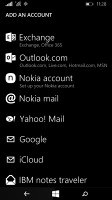 Reading through new emails • only unread emails • email folders • popular email services are supported
Linked Inbox is available too - you can link all of your mail boxes into a single one from the Outlook app's settings.
While retaining the same looks, the virtual keyboard now supports word flow - a Swype-like input method allowing you to quickly input words without lifting your finger by swiping through the letters. It is extremely accurate and you'll fall in love with it. It already managed to set a new Guinness Record for typing on virtual keyboard. It works just like any Swype-like keyboard, but Microsoft made sure theirs is the best. We can just confirm it works like a charm.