Gee, Nokia's new Windows Phone devices just can't catch a break, can they? It's been literally an hour since the Nokia 900 leaked and guess what - its Windows Phone 7 siblings have showed up, too.
The Nokia Lumia 800, previously known by its codename Sea Ray and the Nokia Lumia 710, a.k.a Sabre showed up a few hours before the Nokia World event starts. And just like the Nokia 900, the two Lumia smartphones revealed a large part of their specs sheets in advance.

The photo above was obtained by WinRumors and shows what both phones will look like, but at this point you probably all knew what they look like anyway.
The Nokia Lumia 800 (that's the N9 look-alike) will measure 116.5 x 61.2 x 12.1 mm and will weigh 147 g. Its RAM has been confirmed to be 512MB.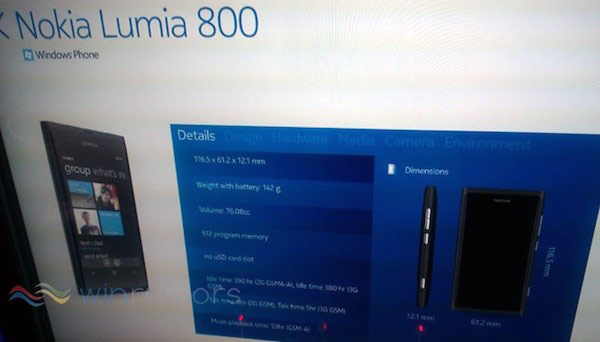 The Nokia Lumia 710 will also pack half a gig of RAM and at 110 x 62.4 x 12.5mm its chassis will be about as big as that of the Lumia 800. 8GB of storage have been confirmed for this one.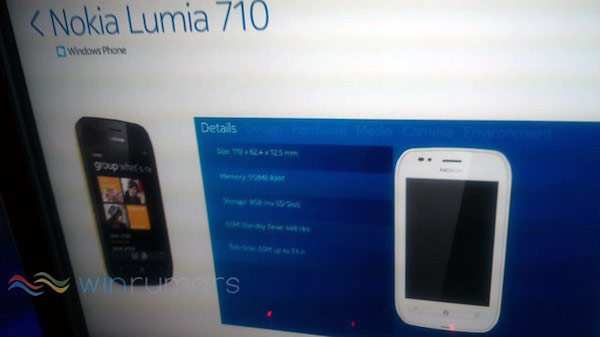 We even got the Nokia Lumia 710 and Lumia 800 release dates. Both smartphones should come out in Europe in November.
The Nokia World is certainly going to be one of the most exciting we have seen with all those new handsets coming up. However, with so many leaks we are left wondering if Nokia and Microsoft will have anything to say to us at the keynote that we didn't know already.
s
right and price very high......
r
I heat this phone not supper to fring vedvo calling software V
ADVERTISEMENTS