Camera with many features, OK image quality
The Nokia Lumia 720 boasts a 6.1MP camera with an F/1.9 aperture, the widest on a mobile phone yet. The camera has a single-LED flash. The sensor is on the small side at 1/3.6", so we were curious to see how it performs. It's similar to that of the 820 and 920 in that it's a hybrid, handling both 4:3 and 16:9 aspects relatively well. It loses only 12% resolution when switching to widescreen mode, rather than 33% like conventional sensors.
The camera UI is pretty simple - you have your viewfinder and some controls on the right. From top to bottom they are the still/video camera toggle, front/back camera toggle, flash mode and the Lens button. On the left you have an arrow that takes you to the images taken with the camera, alternatively you can do a swipe gesture too.
The camera app on Windows Phone offers extensive settings, ranging from scenes and effects to white balance, contrast, saturation, sharpness and ISO among others. You have a dedicated Macro focus mode but no face detection. The flash can be set to auto, forced or off.
The shutter key will wake the phone up with a single press and launch the camera app. The Lumia 720 takes about a second between shots.
Lenses are a powerful feature that enhances camera functionality without making a mess of third party apps. The available "lenses" are accessible directly from the native camera app (they show up in the list of installed apps too if you want to pin a Lens to the start screen). A lens can add all sorts of new functionality - photo filters, HDR, histograms and more.
Nokia has preloaded the Smart Shoot lens, which is by far the most powerful. It uses Scalado technology (Nokia owns the company) - it shoots multiple photos and lets you pick which one to save (a sort of burst mode).
You can also pick the best face and go through every facial expression a person made while the camera was snapping photos. The third option is Erase, which will remove moving objects (e.g. someone walking in front of the landmark you're trying to shoot just as you press the shutter).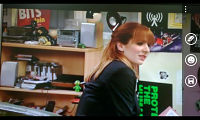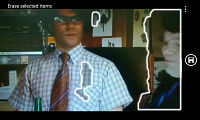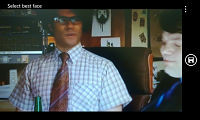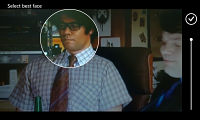 Smart Shoot snaps several photos • and you can delete a moving object • or pick the best face
There are more Nokia lenses you can grab for free - Panorama (a sweep panorama), Cinemagraph (creates animated GIFs of a scene), Glam Me (enhancements for self-portrait shots), SophieLens (various photo filters) and CNN (to send in iReport photos and videos).
Another interesting Lens from Nokia is #2InstaWithLove - it creates an Instagram-like photo (there's only on color effect) that you can post to a global feed, a nod to Instagram to release a Windows Phone app.
Three more lens deserve a mention, these ones by Microsoft. Photosynth can create Photo Sphere-like panoramas though it needs work as it constantly got lost and asked us to start over. Blink does burst shot and implements image stabilization developed by Microsoft. Translator scans written text with the camera and as the name suggests translates it to another language (we've seen similar apps on LG Optimus G Pro and Samsung Galaxy S4).
As can be expected from such a small sensor, the image is grainy but the Nokia Lumia 720 handles it well. There's no color noise or signs of excessive noise reduction. There's a good amount of fine detail (with minor traces of sharpening visible). The colors come out oversaturated in good light. Still, we are happy with the results and we'd say that the Lumia 720 produces very pleasant photos.







Nokia Lumia 720 camera samples
Here are a couple of Cinemagraphs and a panorama we shot with the Lumia 820 too.
We also decided to test how the F/1.9 lens does in the dark against a phone with good low-light chops so we took a few samples with the Lumia 720 and the HTC One in a poorly lit room. Photos were taken from the hand using both the normal and night modes, flash was set to off.
The Nokia Lumia 720 does okay as far as exposure and colors go, but without optical stabilization the slow shutter speed leads to motion blur. The HTC One produced sharper images.



Nokia Lumia 720 normal • Night mode
Photo quality comparison
The Nokia Lumia 720 enters our tool, where you are free to compare it to any of the smartphones in our data base - the tool's page will give you information on what to watch out for.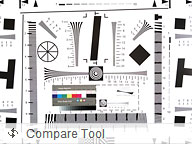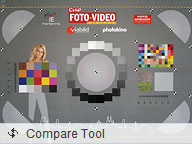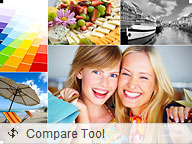 Nokia Lumia 720 in our photo compare test
Video camera is better
The camcorder interface is identical to the still camera's and has plenty of features too. You can change the white balance, sharpness and the video resolution among other things. The LED flash can be made to work as a video light. Better still, the video camera can use Lenses too.
The video recording app lacks touch focus but it does have continuous autofocus, which can be turned on and off.
The Nokia Lumia 720 shoots 720p videos in MP4 files at a bitrate of 10.5Mbps. Audio is mono at 96Kbps bitrate and 44.1kHz sampling rate.
Video framerate is solid 30fps. The amount of fine detail is okay, though the compression does smudge some out. Colors are accurate, and while the automatic exposure is a bit too eager, the continuous autofocus wasn't intrusive at all (you can disable it too for very dynamic scenes).
Anyway, here's a 720p sample we uploaded to YouTube:
You can also download an untouched 720p@30fps video sample.
Video quality comparison
The Nokia Lumia 720 is in our Video compare tool so you can see how it stacks up against other 720p shooters. Check the second image, the low-light one, to see the F/1.9 lens in action. The second image shows how the phone does in low light.