Next week Microsoft has a pre-IFA event scheduled in Berlin, during which it's widely been expected to unveil two new smartphones - the Lumia 830 and the Lumia 730. However, it turns out that a third device may join them - the Lumia 735.
This is basically going to be the LTE-capable version of the oft-leaked Lumia 730, which itself will apparently only come in a 3G dual-SIM iteration.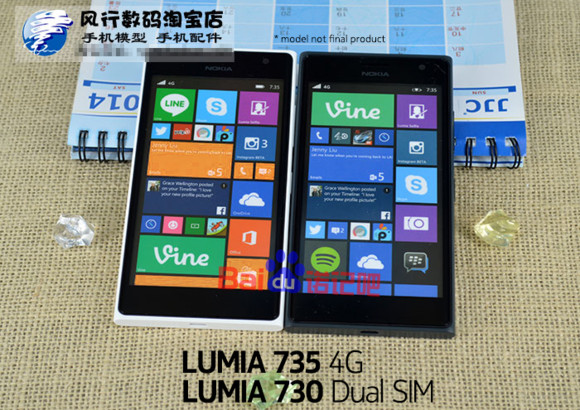 The Lumia 730 and Lumia 735 are allegedly pictured next to each other in the images you see above and below this paragraph. They seem to have starred in a photo shoot over in China.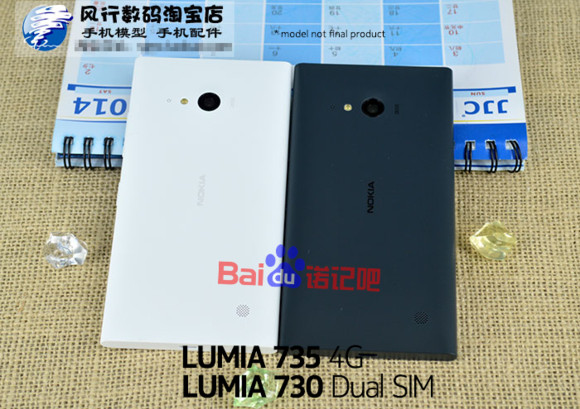 That said, both handsets look like they have a 4G connection at the moment of the shots, so we may in fact be staring at two of the Lumia 735's color versions, the most conservative ones actually: white and black. Undoubtedly, we're bound to see many more daring hues for this model, like for its non-LTE capable sibling.
Previously rumored specs for the Lumia 730 talked about it coming with a 4.7-inch 720p touchscreen, 1GB of RAM, 8GB of storage, and a 5 MP front-facing camera that will probably be the main selling point of the device. So yes, look for Microsoft to try and exploit the selfie craze as best it can.
The Lumia 730 has been said to be powered by a Qualcomm Snapdragon 400 chipset with a 1.2 GHz quad-core CPU. It should sport a polycarbonate unibody construction, and on-screen software buttons. Keeping things running will be a 2,000 mAh battery.
All of these specs are probably going to be found on the Lumia 735 as well, with the only difference between the phones being the types of connectivity they each support, and the price of course. The 3G model could cost around $240.
D
I am hearing about this for the past 2 years, still didn't see it happening, perhaps it is happening inside your mind.
D
I don't understand, why so much craze about heavy duty Hardware as if you are going to play a 3D game on your mobile or something. Every Device should only have the necessary hardware needed, neither more nor less. The craze for a higher hardware spe...
m
Nokia is a RnD company. in terms of Sales volume, it fails. in terms of Trademark, Nokia Leads. Nokia receive royalty from all companies out there. Example: Samsung is paying Nokia for HERE GPS, to keep Samsung as a competitive Lead...