Introduction
With the Nokia Lumia 820 locked up under AT&T exclusivity, the Finnish manufacturer had to resort to rebranding tactics in order to bring its capable mid-range Windows Phone 8 product to other carriers. Such is the case with the Nokia Lumia 810 for T-Mobile. Despite its slightly different design, the Big Magenta exclusive handset does little to hide its common family ties with the Nokia Lumia 820.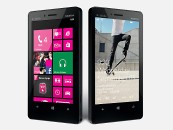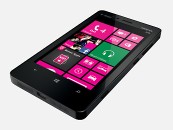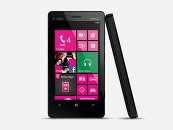 Nokia Lumia 810 official photos
Despite the eye-poking similarities between the two smartphones, the Nokia Lumia 810 has added a couple of extra tricks to its repertoire. Contrary to its model number, the T-Mobile offering sports a larger 1800mAh battery compared with the Lumia 820, a higher-res front facing camera, while, amazingly, turning up lighter in the process. Here goes the full list of talents which the Nokia Lumia 810 has on tap.
Key features
Quad-band GSM/GPRS/EDGE support
Quad-band 3G with 42 Mbps HSDPA and 5.7 Mbps HSUPA support
4.3" 16M-color ClearBlack AMOLED display with WVGA resolution
8 megapixel autofocus camera with LED flash, 1080p@30fps video recording
720p front-facing camera
Windows Phone 8 OS
1.5GHz dual-core Krait CPU, Adreno 225 GPU, Qualcomm MSM8960 chipset, 1GB of RAM
Wi-Fi 802.11 a/b/g/n, dual-band
GPS receiver with A-GPS and GLONASS support
8GB of inbuilt storage, expandable through the microSD card slot
Active noise cancellation with a dedicated mic
Built-in accelerometer, gyroscope and proximity sensor
Standard 3.5 mm audio jack
1800mAh user-replaceable battery
microUSB port with file transfers
Bluetooth v3.0 with A2DP and EDR, file transfers
NFC support
Digital compass
Free lifetime voice-guided navigation via Nokia Drive
Excellent social networks integration
Xbox Live integration and Xbox management
Nokia Music music streaming service
FM Radio
Main disadvantages
App catalog falls short of Android and iOS
No system-wide file manager
No lockscreen shortcuts
Some might argue that design is a bit dull
Price on a contract is a bit high
With a removable battery and a microSD card slot on board, the Nokia Lumia 810 one ups even the Lumia 920 flagship. The WVGA ClearBlack AMOLED display is a perfect fit for Windows Phone OS, even though its resolution is not high by today's high-end smartphones. It's also easy on the relatively beefy battery.
As far as limitations go, the Nokia Lumia 810 suffers from the same disadvantages as any Windows Phone 8 handset. They include lack of quality apps, compares to the major competitors' ecosystems and a lack of proper file manager on board (with none in sight). That second one is true for the iOS ecosystem too, so it's a disadvantage only when compared to Android.
Design on the other hand can go either way. Some of us found it pleasantly understated, while other called the 810 dull, compared to the rest of the current Nokia Lumia lineup.
It was roughly a year ago when T-Mobile began offering the Nokia Lumia 710. Eventually, the handset turned out to be quite a successful product for the Big Magenta. We are now going to find out if its successor has what it takes to expand Nokia's share in today's cut-throat market. Naturally, we will kick things off with an unboxing, followed by a design and build quality inspection.
Editorial: You might notice that this review is shorter than usual and doesn't include some of our proprietary tests. The reason is it has been prepared and written far away from our office and test lab. The Nokia Lumia 810 for T-Mobile is a US-only phone and it will not be making rounds on the Old Continent. Still, we think we've captured the essence of the phone in the same precise, informative and detailed way that's become our trademark. Enjoy the good read!
g
I have had a Lumia 810 since the release by T-Mobile over a year ago. Hands down best smartphone I have ever used. Nokia/windows os work great together. Never had one problem or glitches with phone orsoftware
J
Nokia Lumis 810 Is The Best . It Is The Best.
V
Cool, wish i could have that.....