Introduction
Nokia's new Windows Phone flagship was unveiled at CES and we got to spend some quality time with it. The Nokia Lumia 900 builds on the 800's innovative design and offers improved specs (like the 4.3" ClearBlack AMOLED display) along with some new features.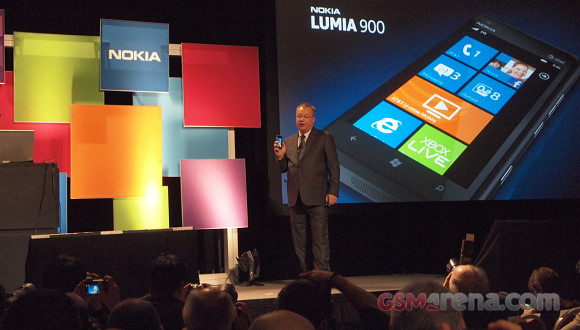 Chris Weber, president of Nokia Americas, says "The Nokia Lumia 900 is designed specifically with the US in mind and the announcement of this collaboration with AT&T, in addition to other recent announcements, signifies a new dawn for Nokia in the US."
Nokia's presence in the US has been waning, but they are ready to make a strong comeback with the Lumia 900. We'll most likely be seeing it worldwide at some point, but any such plans aren't public knowledge yet.
Anyway, the first thing you'll notice about the new phone is the bigger screen. It has grown in size to 4.3", quite a jump from the 3.7" screen of the Lumia 800. The Lumia 900's body is bigger too, but the bezels have shrunk to partially make up for the increased screen size, so the actual difference in size isn't as big as you would expect.
The Nokia Lumia 900 supports LTE connectivity for AT&T's growing 4G network, which allows for blazing fast data of up to 50Mbps downlink and 25Mbps uplink. HSPA+ support is available too with download speeds of 21Mbps and 5.76Mbps for uploads in areas without LTE coverage.
The camera has familiar specs - 8MP stills, wide-angle lens (28mm), F2.2 aperture and 720p videos. Unlike the 800, the Lumia 900 has a video call camera too, a 1MP unit no less.
An agreement with Electronic Arts brings 20 hot games to the Windows Phone Marketplace and it's Nokia's Lumia range that will get them first. Of course, with the 900 you'll be getting those free Nokia Drive voice-guided navigation and Nokia Maps applications too.





Both Stephen Elop and Steve Ballmer talked about the Nokia Lumia 900
The last thing you need to know before we get to the actual hands-on is that the Nokia Lumia 900 will launch on AT&T exclusively at first, but neither Nokia nor AT&T were very forthcoming regarding an exact release date or pricing. It's unclear when it will be available outside the US either.
Okay, now that we've had that covered, we can proceed to the fun part and finally handle the Nokia Lumia 900.
J
I agree this can be a superior business mobile than Android based devices, which are over rated for business. There are group I know in Australia that are changing to all Windows on mobiles just to get have the ability to reconcile properly. Now al...
D
Really missing WP after switching to Anroid a couple of years back. Hope Lumia 900 will reignite interest in WP which has been a great business-oriented OS.
n
Try it first so you know what on it.