The two LTE smartphones, which we have on our hands today, couldn't be more different as far as the manufacturer goals and ambitions are concerned. The Nokia Lumia 900 for instance, carries the burden of turning the fortunes for the Finnish giant. The smartphone was launched with an aggressive price tag, and a massive marketing budget. The Nokia offering has no other choice but to succeed.
The HTC Titan II is on the other side of the urgency scale. Being one of the best established players in the Android realm, HTC needs not bet its fortunes on a smartphone, running a less than popular OS. The Titan II does not need to sell in large numbers - the Taiwanese company has the One Series up to this task. Such lack of pressure is sometimes the key to a great product.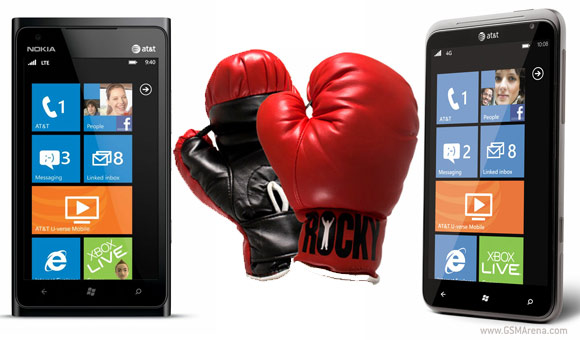 This head-to-head feature should hardly be a surprise - after all the LTE sporting Nokia Lumia 900 and the HTC Titan 2 were both announced during CES 2012. The two Windows Phone handsets also hit the AT&T shelves in the same day. All in all, great news in case you are a fan of Windows Phone devices, shopping around for the latest hardware.
Speaking of hardware, you have probably guessed by now, that the HTC Titan II and the Nokia Lumia 900 have quite a few things in common, thanks to Microsoft's strict hardware policy for the mobile platform. Displays and camera units aside, the two smartphone can almost pass for identical twins hardware-wise.
Here's a quick look at what the two flagship wannabes have to offer.
HTC Titan II over Nokia Lumia 900
A slightly faster CPU, clocked at 1.5GHz
Lighter by 13 grams, despite being larger in measures
Larger 4.7" S-LCD screen
16MP camera sensor with various shooting modes
Video recording has a better continuous auto focus
A number of handy, exclusive HTC apps
Equalizer/sound enhancer preinstalled
Nokia Lumia 900 over HTC Titan II
Arguably better design, and more distinctive looks
Polycarbonate unibody and Gorilla Glass covered display will handle abuse better
4.3" AMOLED screen is a better match for Windows Phone OS; has better pixel density too
8MP camera sensor has excellent dynamic range
Costs half as much with a contract
Better battery life performance
Nokia Drive free lifetime navigation out of the box
If looks are main factor, then the Nokia Lumia 900 is likely the favorite here. Its polycarbonate unibody, coupled with a display, sporting infinite contrast levels and punchier colors, looks like nothing else on the U.S. smartphone market. Free navigation from Nokia Drive is a sweet proposition on the software side of things. In a nutshell, there is plenty to like about the newcomer.
The HTC Titan II on the other hand, sports a faster CPU, and weighs less, despite it being larger overall. Its 16MP camera sensor is the biggest you can find on a smartphone in the United States. HTC's exclusive apps add a much needed dash of Sense-d eye candy to an otherwise generic Windows Phone OS look.





Nokia Lumia 900 and HTC Titan II live photos
We are now going to put these two on each other's path, and try to find out which one deserves your hard earned cash better. Following next is a look at the handsets' design, build quality, and hardware features.
Editorial: You might notice that this feature is shorter than usual and doesn't include all of our proprietary tests. The reason is it has been prepared and written far away from our office and test lab. The Nokia Lumia 900 for AT&T and HTC Titan II for AT&T are US-only phones. Enjoy the good read!
m
How to upgrade titan2(now 7.5)
c
I have used HTC Titan II in South African and assisted my family and work colleagues get them. The best windows phone so with it's 16mpix, 4G(LTE) connectivity. There is no phone on market now so nice and design curved to satisfaction. I just wish wh...
D
How's their battery life a joke?! Do you have any idea about the battery size in the S2 our iPhone 4s our anything? Our ate you just throwing words out of your a**