Nokia Lumia 900 is yet to hit AT&T's shelves (presumably in March), dressed in the mantle of exclusivity. However, in a rather surprising fashion, the UK availability of the Finnish range topper is also all but confirmed, courtesy of the major retailer Carphone Warehouse.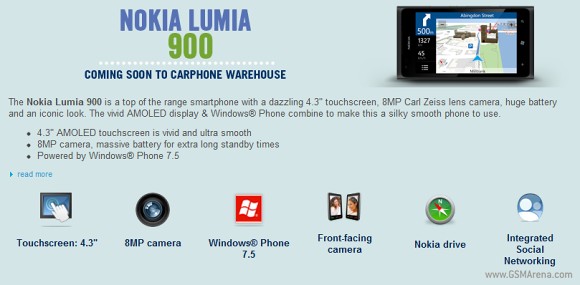 As you can notice in the picture above, the retailer has put up a "coming soon" page for the Nokia flagship, where a June 2012 availability is mentioned. Price is yet to be announced though.
While Nokia executives specifically commented that the device has been developed specifically with the North American market in mind, it would have been a major surprise to see such an appealing piece of hardware get confined to only one continent.
Of course, we can't help but notice the asterisk, which states that the availability is subject to change without notice. In any case, Carphone Warehouse is a big enough retailer, so we can take its claim for availability seriously enough.
Also, there is a handy pre-register form for the overly anxious, allowing you to get an email alert when the device becomes available. In the meantime, you are welcome to check out our first impressions of the Nokia Lumia 900 from CES here.
Update: It would appear that Carphone Warehouse have pulled the Lumia 900's 'coming soon' page, leading us to believe that it either didn't mean to pull the cover off the device's existence in the UK so soon, or we'll get a confirmed release date when the page goes back up. Either way, right now, we're still left guessing.
?
I agree, but neither is Apple, and don't even get me started on Steve Jobs
D
No. I'm right on the spot for calling out Android. Android is a mish-mash of stolen patented technologies and they call it their "innovation". Care to explain why Google is buying Motorola for its patents? That's right, it's because G...
?
Dude u must b referring to Apple's.
ADVERTISEMENTS