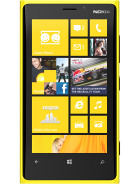 M4360364
Recent Nokia phones looks very cool. I wonder how good will be the WP8 OS. It will compete with Android Jelly Bean? And I am curious how does the Main Menu looks. I hope it's not the same as on WP7, because that list is so simple and I don't like it.
I hope Nokia will have a huge success with their Lumia phones.
Total of 11523 user reviews and opinions for Nokia Lumia 920.