Training videos meant for AT&T staff show us that the exclusivity rights to the Nokia's latest and greats - the Lumia 920 - will only go on for 6 months.
Exclusivity to certain hot smartphones can be a big thing for carriers, potentially driving sales through the roof. However, you won't see any of this year's flagships messing with carrier exclusivity, simply because no carrier can afford that.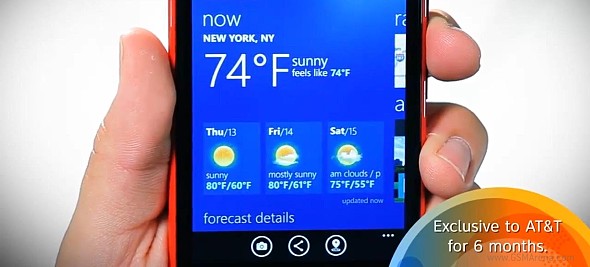 Well, obviously Nokia wasn't expecting hot sales on the US market even for its Lumia 920, since they succumbed to another exclusive deal with US carrier AT&T.
Of course, we're merely guessing here. It might as well be that Nokia just didn't want to bother with making a CDMA version to fit Sprint's or Verizon's networks (though it already has a TD-SCDMA version for China).
Whatever the reason, Nokia has again bet on the same single US carrier to carry them on their second serious attempt at conquering the US market. If you remember, the Lumia 900 was an AT&T exclusive too. Unfortunately, reports show it didn't do too good, despite the major advertising campaign.
And back to today's news, this time around Nokia went for only a 6-month exclusivity period. This sounds like a nice step forward, but when we think about it... In 6 month's time, the Lumia 920 won't be anywhere as hot as today. These phones go out of fashion really quickly, with the product cycle being around a year now. So even if Nokia comes up with a CDMA version in six months, this would still leave the other carriers only with scrapes. So we doubt any of those would pick up the phone at all.
Essentially, in this case even a 6-month exclusivity deal means Americans are not much likely to enjoy the 920 on another carrier.
Source
|
Via
p
And the battery will least for whole 30 minutes.
D
Key Lime Pie 4.2 now fixes those bugs Watch out for Best Android 5.0 googles aim is 99% lag free and 99% bug free. With upcoming terga4 2Ghz Quadcores and 2.5GB RAM will totally smash the laggy blue screen of death single core lumia 800&a...
D
Android OS not created for touch screen??? Ha ha ha You blind said enough stupidity. "Faster"? Thats all relying on the time being taken for the animation rendering..androids default value set to lil bit high but have an option to decrease ...
ADVERTISEMENTS