We all knew this was coming sooner or later - the next line of Lumia smartphones, sporting the Windows Phone 8 OS with a pinch of PureView.
Two leaks showing the alleged Nokia Lumia 920 and 820 have popped up on Twitter courtesy of @evleaks. The Lumia 920 is said to sport a PureView-grade camera, a 4.5" screen and looks to be rocking a polycarbonate body (probably depending on the color scheme).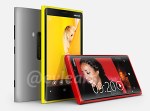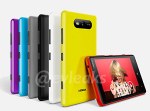 The Nokia Lumia 920 and 820 (click to enlarge)
We can bet good money on the chipset being Qualcomm S4 with dual-core Krait CPU at its heartand the screen offerng HD resolution.
The Lumia 820 is said to have a 4.3" screen (no word on actual resolution). As far as we can tell from the low-res image, it also touts Carl Zeiss optics.
UPDATE: We just came across some alleged live images of the Lumia 820 and they have little to do with the leaked renders. The device has a flat screen, and the camera lens on the bottom are quite different, which could indicate that the two are separate devices or that at least one of the images is face.
Also WPCentral point to the Lumia 820 having not a 4.3 but a 4.65" AMOLED display (probably HD) and a dual-core 1.5 GHz processor along with LTE, NFC and a microSD card slot.





Leaked images of Nokia Lumia 820
We reported on two Nokia WP devices that look very similar to the Lumia 920 and 820 a couple of weeks ago, so this might be real deal. We guess we'll know for sure when the Nokia and Microsoft joint September 5 event kicks off.
D
Hi I found the best price for this top Mobile on prepedia. Check the rate of only EUR 619: http://www.prepedia.de/preisvergleich/6438158527751,nokia-lumia-920-smartphone-11-4-cm-4-5-zoll-wxga-hd-ips-lcd-touchscreen-8-megapixel-kamera-1-5. Hope this h...
B
I think this is a great smartphone and it has 4G LTE technology. I think if the price is lower approx. USD 200,- as the Apple iPhone 5 i would buy this phone. Source: http://www.factitup.com/2012/09/09/nokia-released-flagships-nokia-lumina-920-lumin...
ADVERTISEMENTS