Smart Camera
The Nokia Lumia 925 has an 8.7MP camera that shoots 8MP photos (3264 x 2448) in 4:3 mode and 7MP photos (3552 x 2000) in 16:9 mode. This is the special sensor design Nokia has used since the N9, which loses only 11% of the resolution when going from 4:3 to 16:9 mode instead of the 25% that traditional sensors lose.
Its primary advantage over the competition is the Optical Image Stabilization. It improves low-light performance by allowing longer exposure (the f/2.0 lens helps here too) and eliminates hand shake in videos. The Lumia 925 brings another upgrade over the 920 - its lens is has 6 elements over the 4 of its predecessor. In theory that should result in sharper images with more detail.
The camera UI is pretty simple - you have your viewfinder and some controls on the right. From top to bottom they are the still/video camera toggle, front/back camera toggle, a flash mode setting and the Lens button. On the left you have an arrow that takes you to the images taken with the camera, alternatively you can swipe to get there.
The camera app on Windows Phone has rich settings, ranging from scenes and effects to white balance, contrast, saturation, sharpness and ISO among others. You have a dedicated Macro focus mode but no face detection. The flash can be set to auto, forced or off. A separate setting allows the LED to work as an AF assist light.
In the latest camera software Nokia has raised the maximum ISO setting from 800 to 3,200 and has tweaked image processing in low-light conditions.
SkyDrive is available for photo auto-upload (it's turned off by default), but you can install third-party apps to handle this functionality as well.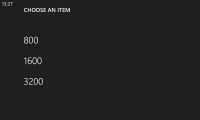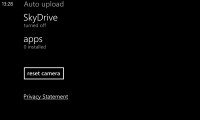 ISO now goes up to 3,200 • SkyDrive or another app can handle photo auto-upload
Lenses is an interesting feature, allowing third-party camera apps to enhance the core camera functionality without the need to access them separately and get use to their different UIs. The so-called Lenses are like plugins for your camera and they are available directly in the native camera app. They show up in the list of installed apps too in case you'd like to pin a Lens to the start screen, for instance.
The shutter key will wake the phone up with a single press and launch the camera app. You can set Nokia's exclusive Smart Camera to be launched instead.
So, we've mentioned Smart Camera several times already and it's time to explain what it does. It's the next generation of Smart Shoot and is based on technology developed by Scalado (now owned by Nokia).
It shoots a burst of 10 photos at 5MP resolution and allows you to edit those photos later. When editing a Smart Camera photo you choose one of several modes by swiping through their respective cards, each with a helpful label.
The basic feature here is best shot - automatically selecting the best photo out of the 10 (you can manually override the selection). You can also select the best expression for each individual face in the photo.
The multiple photos can be used to remove moving objects as well.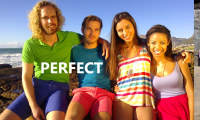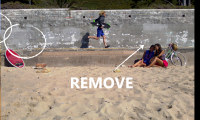 Smart Camera can pick the best expression for each face • or remove moving objects
Then there's Action shot - a moving object is overlaid on the photo several times to create a sense of motion. You can pick which of the 10 photos are used to create the action shot and the multiple copies can either be opaque or semitransparent.
The other mode that enhances motion is Motion focus - it locks the moving object, but blurs the background around it. Imagine turning the camera to track a fast moving object, that's the effect that Motion focus simulates.
We'll look at image quality in a later article, but we have to wonder why Nokia chose to limit Smart Camera photos to 5MP. Sure, Smart Camera shoots 16:9 photos, which eats into the resolution, but Nokia's sensor can do 7MP in this mode. We suspect the midrange chipset is the real answer. 5MP is not far ahead of HTC One's 4MP camera and without the benefit of large sensor pixels. It's also no match for the fine detail captured by high-end 13MP shooters either.
Anyway, Nokia has other Lumia-exclusive Lenses too. There's the Panorama and Cinemagraph (creates animated GIFs), but also GlamMe (to enhance self-portrait shots) and a few more.