Standard retail package
The retail package of the Nokia Lumia 925 is a pretty standard deal. Inside the moderately-sized box you'll find a USB cable, an A/C adapter and a headset of a seemingly high quality. We've certainly seen worse in the retail boxes of the Lumia 925's competitors.



Nokia Lumia 925 retail package and its contents
The other items inside the box are a bunch of leaflets and the SIM eject tool, which can be hooked up to a keychain.
Nokia Lumia 925 360-degree spin
At 129 x 70.6 x 8.5 mm the Nokia Lumia 925 is far thinner than the Lumia 920. The 2mm slimmer pofile makes all the difference in the world, making the phone much more comfortable to hold and carry around. We dare say it's exactly what the Lumia 920 should've been in terms of feel and weight.
Nokia has been favoring polycarbonate unibody as the design of choice for its high-end phones, including the latest Lumia 1020. This makes the Lumia 925 the odd one out - it's the first Nokia phone in a while to feature aluminum accents. The latter, combined with the new AMOLED screen, has helped reduce both the phone's thickness and weight.
As a result, the Nokia Lumia 925, which tips the scales at 139g, is a long way down from the awe-inspiring 185g of the Lumia 920. The updated version is nowhere near as great a burden to carry around. Needless to say you won't be getting sore hands after a long call either.
Design and handling
In terms of looks, the Nokia Lumia 925 is closer to the Lumia 720 than the 920. It's a rectangular phone with rounded sides and a tapered back to hide some of the thickness. The sides are made of exposed aluminum, while the back is polycarbonate with a kind of rubberized finish to it. This provides a bit of extra security when holding the phone.
The metal vs. plastic debate has been heating up in Android land, but the Lumia 925 is somewhere in between. It's not a bad choice as Nokia's polycarbonate has always been top notch and the aluminum still gives a solid, premium feel.





Nokia Lumia 925 and 920 side by side
The aluminum also has another function - it serves as an antenna. The antenna in the grame design became infamous with the iPhone 4, which suffered from the so-called "death grip". That's when touching the metal would compromise reception.
Nokia has promised that the Lumia 925 is immune against it and, indeed, we didn't experience any signal drops. No matter how hard we tried, the phone didn't suffer any signal loss. Kudos to Nokia for pulling that one off.
The polycarbonate on the back has a soft touch finish and will come in three different colors at launch - White, Grey and Black. This propensity for monochrome is uncharacteristic of the Lumia line, which favors bright colors like Red, Yellow or Blue. It's durable and not prone to scratches, which is good, because it ultimately means you won't need to wrap the phone in ugly cases to protect it.



The Lumia 925 has a fairly thick bezel
The Lumia 925 is wider than most phones with 4.5" or so screens - the bezel is pretty thick and the screen has 15:9 aspect ratio, making it wider to begin with. It's also taller than usual, but at least that leaves enough room around the capacitive keys to prevent accidental touches (which are not uncommon on the Samsung Galaxy S4 and others).
That affects the handling - it's certainly not a deal-breaker (it's on par with the Lumia 920), but narrower phones are more comfortable to hold. Pocketability, however, has soared in part due to the reduced thickness but mostly because of the lower weight. 185g is phablet kind of weight, while 139g is virtually the same as the iPhone 4S which many people carry in their pockets without complaint.
We should note that the Nokia Lumia 925 lost some body fat by dropping the wireless charging support of the Lumia 920. You can add that back with a thin back cover that connects to the three pogo pins above the loudspeaker. Nokia has not announced the combined thickness or weight of phone + cover.
Display
For its latest iteration of a Windows Phone flagship - the 925, 928 and 1020 - Nokia chose AMOLED over LCD. AMOLEDs have a number of advantages over liquid crystals - deeper blacks and better contrast, lower power usage in some scenarios (especially on WP, where most of the time the background is black) and great viewing angles.



Nokia Lumia 925 has a 4.5" WXGA AMOLED screen • next to the 4.3" WXGA LCD of the Lumia 920
The display on the Nokia Lumia 925 is a 4.5" AMOLED of WXGA resolution (768 x 1280), which is the maximum the OS supports at the moment. The display has 332ppi density and its matrix has a PenTile arrangement. That's not ideal, but at that kind of density you will need to look long and hard to tell the difference. It does become a tad more obvious if you put the Lumia 925 next to a 1080p Android flagship, though.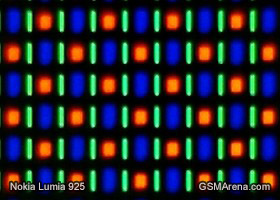 The Gorilla Glass 2 covering the screen is slightly beveled at the edges, which makes it fit better with the aluminum frame around it. This makes swipes from the side of the screen (common in WP) more comfortable.
The screen has excellent contrast thanks to the deep blacks. That's typical for AMOLED but what isn't is high brightness. Nokia advertises 600nits, which is slightly higher than we measured, but this is still one of the brightest AMOLED screens around.
Display test
50% brightness
100% brightness
Black, cd/m2
White, cd/m2
Contrast ratio
Black, cd/m2
White, cd/m2
Contrast ratio
Nokia Lumia 925
0
221
∞
0
492
∞
Nokia Lumia 520
-
-
-
0.51
422
834
Nokia Lumia 620
-
-
-
0.72
762
1068
Nokia Lumia 720
-
-
-
0.69
813
1172
HTC One X
0.15
200
1375
0.39
550
1410
Nokia Lumia 920
-
-
-
0.48
513
1065
Nexus 4
0.22
314
1447
0.45
608
1341
LG Optimus G
0.14
197
1445
0.33
417
1438
Apple iPhone 5
0.13
200
1490
0.48
640
1320
Sunlight legibility turned out very good, with the Lumia 925 landing amongst the top devices in our chart.
Sunlight contrast ratio
Nokia 808 PureView
4.698
Apple iPhone 5
3.997
Samsung I9300 Galaxy S III
3.419
Nokia Lumia 925
3.402
Samsung I9300 Galaxy S4
3.352
Samsung Omnia W
3.301
Samsung Galaxy S
3.155
Nokia N9
3.069
Samsung Galaxy Note
2.970
HTC One S
2.901
Samsung Galaxy S II
2.832
Samsung Galaxy S II Plus
2.801
Huawei Ascend P1
2.655
Nokia Lumia 900
2.562
Nokia Lumia 720
2.512
HTC One
2.504
Sony Xperia Z
2.462
Samsung Galaxy S III mini
2.422
Motorola RAZR i
2.366
Samsung Galaxy Note II
2.307
Apple iPhone 4S
2.269
HTC One X
2.158
Nokia N8
2.144
Oppo Find 5
2.088
BlackBerry Z10
2.051
Apple iPhone 4
2.016
Sony Ericsson Xperia ray
1.955
Samsung Galaxy Camera
1.938
HTC Butterfly
1.873
Sony Xperia V
1.792
Sony Xperia U
1.758
LG Optimus 4X HD
1.691
HTC One V
1.685
LG Optimus Vu
1.680
HTC Desire V
1.646
LG Optimus G Pro
1.552
LG Optimus 3D
1.542
Nokia Asha 302
1.537
Nokia Lumia 610
1.432
Gigabyte GSmart G1355
1.361
HTC Desire C
1.300
LG Optimus L7
1.269
LG Optimus L9
1.227
Meizu MX
1.221
Sony Xperia E dual
1.203
Samsung Galaxy Pocket
1.180
Sony Xperia tipo
1.166
Samsung Galaxy mini 2
1.114
Another common complaint about AMOLEDs is the colors - too saturated for some people's liking. The Nokia Lumia 925 has an extra setting allowing the user to choose one of eleven saturation levels.
The color temperature option is great too - it has 11 settings and goes from cool through neutral to warm. On LCD phones you're usually stuck with either a cool screen or a warm screen, depending on your preference it's either good or bad, it's a matter of luck hitting the right one. Having control over that takes chance out of the equation.
The AMOLED display on the Lumia 925 is laminated to the Gorilla Glass 2 and that reduces screen glare (some of which is caused by the air gap between glass and screen). Nokia's proprietary ClearBlack tech reduces glare even further and the 925 has one of the best screens in terms of sunlight legibility.
The screen on the Nokia Lumia 925 uses the Super sensitive touch technology that debuted on the 920. It can respond to fingernails or car keys, and will detect touches even if you're wearing gloves. You can set the sensitivity to Normal or High and we found even the Normal setting to be capable of working through thin gloves and responding to fingernails.
Nokia's tweaks to the display don't end there - a feature called Glance displays a clock on the lockscreen while it's off (like on the Symbians of yore). That doesn't waste a lot of energy due to the nature of AMOLED and by default it's set to turn the screen completely off after 15 minutes.
Nokia's Glance feature makes it easy to check the time. There's an option to leave it always on (or turn it off completely) and to dim the clock's brightness in a certain interval (it makes it more comfortable to look at in the dark).