According to the latest online gossip, Nokia considers seeking ban for the upcoming HTC flagship – Windows Phone 8X. The Finns accuse HTC of copying the Lumia 820 front panel design for its Windows Phone 8X.
Nokia unveiled the Lumia 820 and 920 in the beginning of September. HTC announced its two WP-powered headsets two weeks later. Shortly after Nokia's EVP of Sales and Marketing tweeted "It takes more than matching color to match the innovation of the Lumia 920." – aimed directly at HTC's new phones.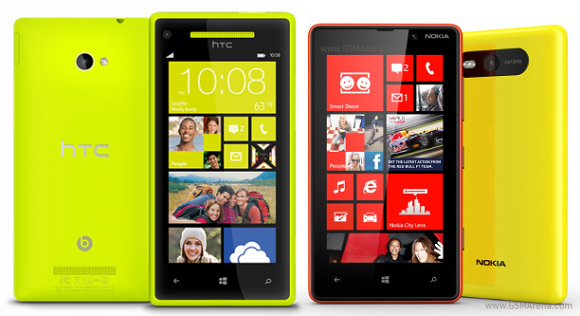 The source says that Nokia is going to take serious actions against HTC and seek a ban on the Windows Phone 8 sales.
No matter what Nokia's intentions are, both Nokia and HTC have huge support from Microsoft (and Qualcomm), and we bet the issue will be resolved without entering the court room. And even if it did, we doubt Nokia will end up victorious – it takes way more than two weeks to develop a smartphone and there's no way HTC managed to redesign the 8X in the short time between the Lumia 820 announcement and its own event.
V
Not really. It think they still have a big market share globally. 19% second highest according to this. http://www.bgr.com/2012/08/14/mobile-phone-q2-2012-market-share-sales/
d
As a designer I know although we like to emphasize designing is this very big thing, A good designer can pan out a design in a couple of hours. Especially in the case of HTC they didn't have to invent any major technologies for the phones and the cas...
R
GOOD LUCK HTC :) please bear in mind not to copy again
ADVERTISEMENTS