Nokia E75
The Nokia E75 is an old acquaintance of those of you that have been following our daily news reports, as it has leaked numerous times online.
The interesting thing about it is that all those countless leaked photos haven't done it any justice at all.
In reality the Nokia E75 is actually a pretty stylish, pocketable device that has a really user-friendly QWERTY keyboard. We initially thought it's going to be big and really thick, but none of those turned out true.
The Nokia E75 comes with a spanking new email client that easily hosts more than one email accounts - Microsoft Exchange and regular public emails such as Gmail work seamlessly together.
Another new thing about the Nokia E75 is that the Nseries image gallery has finally made its way to non-Nseries phones, and you can find it on board the QWERTY slider as well.
As you probably already know the Nokia E75 will be available next month at an estimated price of 375 euro before subsidies and taxes.
Nokia E55
The Nokia E55 seems to be one of the most interesting devices by Nokia at this MWC if you ask us.
With an intriguing ultra-slim design and a QW-ER-TY keyboard, this new E-series communication device promises both rich functionality as well as pocketability.
As you can imagine, the Nokia E55 has the same new email client as the Nokia E75. The application packs some really nice graphical UI and offers all advanced features a modern email client should have.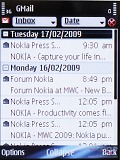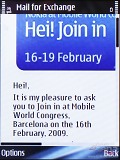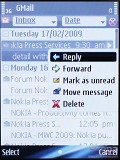 The new email client in E55 packs nice graphical UI and offers advanced features
The Nokia E55 has a semi-QWERTY keyboard, which thanks to the large keys manages well on usability level. We had our doubts when we first saw its pictures, but in reality we are quite pleased with it. The device also offers simultaneous predictive input for two languages.
As you probably already know the Nokia E55 will be available in Q2 2009 at an estimated price of 265 euro before subsidies and taxes.