First look
Nokia Lumia 720, Lumia 520, 301, 105 hands-on: First look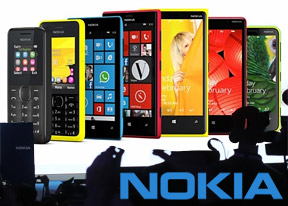 Nokia Lumia 520 hands-on
The Nokia Lumia 520 is the most affordable Windows Phone 8 handset from the Finns, yes even below the 620. Despite the lower price point, the Lumia 520 is actually slightly better than the 620, at least on paper.
It has a 4" IPS LCD screen of WVGA resolution (up from 3.8" WVGA for the 620). The screen image quality, however, is worse than that of the 620, especially in terms of viewing angles (so much for IPS).
The Lumia 520 is actually a millimeter thinner than the 620, it's the same thickness as the 820. The curved back helps mask some of the thickness. Speaking of the back, it features exchangeable covers, but there's no wireless charging option.
The battery inside the phone has 1,430mAh capacity, which isn't all that much, but it's still more than what the 620 has (and only 220mAh lower than the 820 battery capacity).
There's more good news - the storage is 8GB by default, but you can put in a microSD card (up to 64GB) when you run out. So, Nokia didn't cut any corners here.
The camera specs are pretty good too - you get a 5MP camera with 720p video recording. The front-facing camera from the Lumia 620 has been dropped, but other than that you get the same camera experience (with all the Lens except Glam Me) for less money.
The Nokia Lumia 520 is powered by a dual-core Krait processor at 1GHz, but it only has 512MB of RAM to work with (not 1GB like the higher-end models do). You shouldn't have compatibility issues with the 130K apps in the Windows Phone Store, at least not for now. There's no telling what will happen in a year though, 512MB might prove to be as limiting then as 256MB is now.
We also shot a quick video of the phone's user interface. Check it out below.
Shells
Bright colors are becoming a sort of trademark for Nokia phones and the Lumia 720 and 520 have exchangeable back covers, so you can always change things up later. The Nokia Lumia 720 can get an extra feature if you get the appropriate cover too - wireless charging (just like the Lumia 820).
Here are a couple of shots of the color variety that Nokia offers. You can tell the covers apart by looking for a circular hole in the lower-left corner - that's for the loudspeaker of the 720, the 520 has a smaller loudspeaker grill on the right.